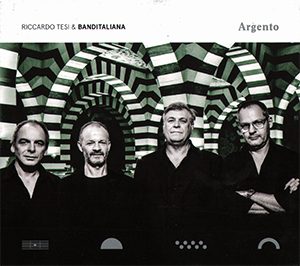 De Italiaanse groep Banditaliana rond de diatonische accordeonist (en etnomusicoloog) Riccardo Tesi stelt nooit teleur. Ook op hun vijfde album 'Argento' klinkt weer het beste uit de Italiaanse folk, gespeeld door vier topmusici en een dozijn gastmuzikanten. Veel eigen werk, avontuurlijk gearrangeerd en uitgevoerd.
English version below
Na het album 'Maggio' (2014) komt Riccardo Tesi met zijn Banditaliana na vier jaar met de nieuwe CD 'Argento'. Een schitterend album dat met zijn melodische composities, eigenzinnige arrangementen, virtuoze passages en popmuziekinvloeden weer ver uitstijgt boven het gemiddelde. Het gemak waarmee het kwartet Riccardo Tesi, Maurizio Geri, Claudio Carboni en Gigi Biolcati musiceert is fascinerend en een enkele keer zelfs betoverend. Steeds klinkt de Italiaanse folk en volkse muziek door in hun composities en zijn stukken als 'Ciociaria' (met zijn repeterende en staccato accordeon) 'Giri' en 'Nordest' regelrecht terug te voeren naar de dansmuziek. 'Napoli' blinkt uit in strakke begeleiding met een bijna bezwerende melodie, die na de prachtige zang van Mauricio Geri, fraai wordt aangevuld met het sax-werk van Claudio Carboni. De stukken 'Bardipo Re' en 'Donna Tita' zijn zeer filmisch. Bijzonder is het traditionele 'Donna Guerriera' dat met de stralende vocalen van Elena Ledda, Lucilla Galeazzi, Ginevra Di Marco en Luisa Cottifogli en met de tsouras in de begeleiding (Grieks snaarinstrument bespeelt door Andrea Salvadori) weer een heel ander timbre laat horen. En over 'andere' instrumenten geschreven…. Percussionist Gigi Biolcati ontwikkelde zijn eigen GGtarra; een percussief snaarinstrument dat prachtig aansluit bij het gitaarwerk van Geri, zoals te horen aan het begin van 'Napoli' en 'Nordest'. Het nieuwe album 'Argento' ('Zilver') blinkt en schittert en maakt Riccardo Tesi & Banditaliana opnieuw tot een van de beste groepen binnen de hedendaagse Italiaanse folk.
Review van de CD 'Da Spunda' van Gigi Biolcati klik hier
YouTube van hun vorige CD
English version
The Italian band Banditaliana led by diatonic accordionist (and ethnomusicologist) Riccardo Tesi never disappoints. Also their fifth album 'Argento' sounds like the best of Italian folk today, played by four top musicians and a dozen guest musicians. A lot of new compositions, adventurous arranged and played.
The last album 'Maggio' was from 2014. Glad that Riccardo Tesi & Banditaliana recorded the fantastic new album 'Argento'. A splendid one, filled that with melodic compositions, quirky arrangements, virtuoso passages and pop music influences. The ease with which the quartet Riccardo Tesi, Maurizio Geri, Claudio Carboni and Gigi Biolcati is fascinating and occasionally even glamorous. In every song the Italian folk resonates in their compositions. Compositions like 'Ciociaria' (with his repetitive and staccato accordion) 'Giri' and 'Nordest' go straight back to folk dance music. 'Napoli' excels in tight accompaniment with an almost mesmerizing melody, which, after the beautiful vocals of Mauricio Geri, is complemented by the sax work of Claudio Carboni. The pieces like 'Bardipo Re' and 'Donna Tita' are very cinematic ones. Special is the traditional 'Donna Guerriera' with the lovely radiant vocals of Elena Ledda, Lucilla Galeazzi, Ginevra Di Marco and Luisa Cottifogli and with the use of the tsouras (Greek stringed instrument by Andrea Salvadori) it shows a completely different timbre. And written about other instruments…. Percussionist Gigi Biolcati developed his own GGtarra; a percussive string instrument that fits beautifully with the guitar work of Geri, as can be heard at the beginning of 'Napoli' and 'Nordest'. The new album 'Argento' ('Silver') shines and sparkles and makes Banditaliana again one of the best groups in contemporary Italian folk.
Riccardo Tesi & Banditaliana: 'Argento' (Visage Music / Xango)
© Mattie Poels.