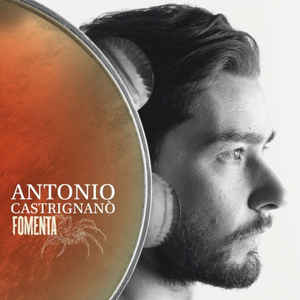 De tarantella is een dans uit Puglia, de streek in het zuiden van Italië in de 'hak van de laars'. De dans is ontstaan omdat men dacht dat de beet van de tarantula-spin dodelijk was. Het enige wat hielp, was dansen op het snelle 6/8ste ritme waardoor je zwetend en hallucinerend het gif uit je lichaam verdreef. Antonio Castrignanò vertaalt meesterlijk de tarantella naar het heden.
English version below
Een groot vernieuwer van het genre is Antonio Castrignanò uit Salento. Hij bespeelt de tamburello, de tamboerijn die onontbeerlijk is voor het genre, waarop hij het snelle ritme met virtuositeit laat horen. Maar wat nog spannender is zijn de arrangementen van zijn werk. Naast de tamburello, horen we de mandola (soort grote mandoline), gitaar en natuurlijk ook de accordeon, maar ook de tuba, Griekse bouzouki, de Orientaalse darbouka (vaastrommel) en elektronica. Zijn muziek is fris energiek en avontuurlijk gearrangeerd met pakkende melodieën die overwegend door Antonio Castrignanò worden gezongen. Op zijn laatste CD 'Fomenta' (uit 2014) wordt hij bijgestaan door de Turkse producer Mercan Dede die furore maakte als ney (fluit) speler en DJ. Op zeer subtiele wijze geeft hij de traditionele tarantella een fijnzinnige en eigentijdse twist. Hij tilt deze eeuwenoude muziek naar het heden met respect voor de traditie door onder andere het gebruik van instrumenten die je weinig in deze stijl tegenkomt zoals de bouzouki, de darbouka en elektronica. Antonio Castrignanò heeft ervoor gezorgd dat de tarantella van dansmuziek van het platteland zich langzaam verplaatst naar muziek voor de concertzaal. Geweldig!
Wie het live wil meemaken – concerten in mei 2018: TivoliVredenburg Utrecht 16 mei / OT301 Amsterdam 17 mei / Muziekpublique Bruxelles 18 mei / Music Meeting Festival Nijmegen 19 mei.
English version
The tarantella is a dance from Puglia, the region in the south of Italy. In former days people thought that the bite of the tarantula spider was deadly. The only thing that helped was dancing at the fast 6 / 8th rhythm of the tarantella, so you sweated and hallucinating the poison out of your body. Antonio Castrignanò translates this wonderful music in a very special way into the present.
More tarantella – try Ambrogio Sparagnia
Antonio Castrignanò from Salento is a great innovator of this genre. He plays the tamburello, the tambourine that is indispensable for the tarantella music, on which he plays the fast rhythm with virtuosity. But even more exciting are the arrangements of his work. Besides the tamburello, we hear the mandola (kind of large mandolin), guitar and of course the accordion, but also the tuba, Greek bouzouki, the Oriental darbouka (vase drum) and electronics. His music is freshly, energetic and adventurously arranged with catchy melodies sung mainly by Antonio Castrignanò. On his latest CD 'Fomenta' (from 2014) he is assisted by the Turkish producer Mercan Dede who caused a furore as a ney (flute) player and DJ. In a very subtle way he gives the traditional tarantella a nice contemporary twist. He lifts this age-old music to the present with respect for tradition. He uses instruments that you hardly encounter in this style, such as bouzouki, darbouka and electronics. Antonio Castrignanò has put the tarantella from 'dance music of the countryside' into music for the concert hall. Absolutely great!
Antonio Castrignanò: 'Fomenta' (Ponderosa Music&Art)
© Mattie Poels.