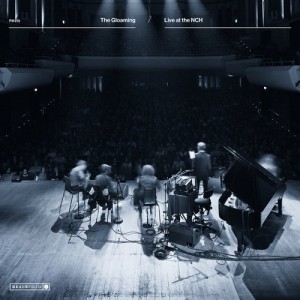 'Live at the NCH' heet het nieuwe album van de Ierse band The Gloaming. Op verdraaid inventieve wijze laat deze supergroep een mengeling horen van Ierse folk(songs), pop en rock en transformeren deze tot eigentijdse kamermuziek. Spitsvondige arrangementen, met zorg gespeeld, soms tegen een minimalistische en meditatieve achtergrond.
English version below
De Ierse violisten Martin Hayes, Caoimhin Ó Raghallaig en zanger Iarla Ó Lionáird komen bij elkaar met de New Yorkse pianist Thomas Bartlett en gitarist Dennis Cahill uit Chicago. Als The Gloaming gaat dit vijftal op zoek naar een mixtuur van (Ierse) folk, jazz, eigentijdse klassieke en experimentele muziek. Het resultaat is verbluffend en niet voor niets wordt de band in 2011 uitgeroepen tot 'supergroep' door The Irish Times. Op subtiele en inventieve wijze integreert The Gloaming diverse stijlen in hun muziek. Hierdoor ontstaat een spannend muzikaal ecosysteem waar van alles op je pad komt. Soms onverwacht en plotseling, dan weer vertrouwd, veilig en muzikaal zeer herkenbaar. Avontuurlijke muziek gespeeld op snaarinstrumenten waarbij de Noorse hardanger-viool de meest opvallende is. Deze 8-snarige viool heeft naast 4 snaren ook 4 resonantiesnaren die alleen meeklinken en de viool een brede klank bezorgt. Zeer fraai zijn de vocalen van Iarla Ó Lionáird (in Gaelic) die in het slotstuk 'Fáinleog' zeer goed tot zijn recht komt. Met 'Live at the NCH' bewijst The Gloaming dat, met respect voor traditie, Ierse muziek springlevend is.
English version
'Live at the NCH' is the new album by the Irish band The Gloaming. In a twisted and inventive way this super group shows a mixture of Irish folk (songs), pop and rock and transforms this into contemporary chamber music. Sophisticated arrangements, sometimes with a lovely minimalist and meditative twist.
The Irish musicians violinist Martin Hayes, Caoimhin Ó Raghallaig and singer Iarla Ó Lionáird come together with the New York pianist Thomas Bartlett and guitarist Dennis Cahill from Chicago. As The Gloaming this quintet goes in search for a mix of (Irish) folk, jazz, contemporary classical and experimental music. The result is amazing. Yes indeed The Irish Times hailed the band as 'super group' in 2011. In a subtle and inventive way The Gloaming integrates various styles into their music. This creates an exciting musical ecosystem with lovely crossover music. Sometimes unexpected and sudden, then familiar and musically very recognizable. Adventurous music played on string instruments where the Norwegian hardanger violin is the most striking. In addition to 4 strings, this 8-string violin also has 4 resonance strings that only sound (resonate) and give the violin a broad sound. Great are the vocals of  Iarla Ó Lionáird who's amazing in the final piece 'Fáinleog'. With 'Live at the NCH' The Gloaming proves that, with respect for tradition, Irish music is very alive and kicking.
The Gloaming: 'Live at the NCH' (Real World Records / Pias)
The Gloaming (foto Rich Gilligan)
© Mattie Poels.