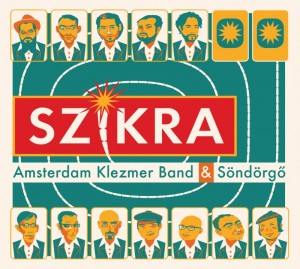 Balkan en klezmer zijn de toverwoorden voor de samenwerking van de Amsterdam Klezmer Band en de Hongaarse groep Söndörgö. Deze muzikale raakvlakken spelen een grote rol op het album 'Szikra' dat 'Vonk' betekent. Deze slaat over als dit twaalfkoppige gezelschap de studio deelt en twaalf nieuw gecomponeerde stukken opneemt.
English version below
De Amsterdam Klezmer Band (AKB) en Söndörgö bestaan beiden meer dan 20 jaar en beiden groepen zijn zeer succesvol. Begin 2017 stelt de AKB aan Söndörgő voor om samen te werken en de klezmer, Balkan en zigeunermuziek te laten versmelten tot een nieuw groot geheel. En dat is gelukt! Bijzonder hoe de muziek van beiden groepen werkelijk versmelt tot één grote band waar de darbouka (trommel) de tambura (snaarinstrument) en de kaval (herdersfluit) van Söndörgö mooi aansluiten bij o.a. trompet, trombone en accordeon van de AKB. Fraai hoe deze muzikanten een evenwicht hebben gevonden tussen de Hongaarse Balkan signatuur en de klezmer en deze met zeer veel enthousiasme brengen. Nieuwe composities met maat- en tempowisselingen en veel ruimte voor improvisatie en solo's voor diverse instrumenten. Zo schreef Janfrie van Strien, de klarinettist van de AKB, het energieke 'Rüzgarla' dat prachtig opent met tambura/fluit-intro, maar daarna losbarst met een trombone-, sax-, kaval- en klarinet-solo. Iets soortgelijks gebeurt in 'Shifted Sirba' van Jasper De Beer. Een snelle opzwepende 6/8ste dans met een hoofdrol voor tambura en accordeon, maar ook met bassolo. In 'Mooncatch' (zie YouTube) en 'Maroka' wordt het muzikaal bed gespreid voor zanger Alec Kopyt, een van origine uit Odessa afkomstige zanger die sinds 2001 vast lid is van de AKB en met zijn natuurlijk vocaal timbre het nummer volledig naar zijn hand zet en zelfs aan het slot van 'Maroka' de hele band aan het zingen krijgt. Een groot feest! In 'Smoked Eel' ontpopt dit gezelschap zich tot een heuse bigband met een statig karakter en strak percussie-werk. 'Szikra' is een energiek album waar de vonken vanaf spatten, een voortreffelijke samenwerking die naar meer smaakt.
Concerten in Nederland 2018: 21 mei Music Meeting Nijmegen / 24-27 mei Jazz Festival Amersfoort / 24 mei Tivoli Utrecht / 7 juli Openluchttheater Valkenburg / 8 sept. Paradiso Amsterdam –
Meer concerten klik hier.
Meer Amsterdam Klezmer Band klik hier
Meer Söndörgö klik hier
English version
Balkans and klezmer are the main words for the collaboration between the Amsterdam Klezmer Band (AKB) and the Hungarian band Söndörgö. These musical interfaces play a major part on the album 'Szikra', which means 'Spark' which twinkles when this twelve-member ensemble shares the studio and records twelve newly composed pieces.
For concerts click here.
More Amsterdam Klezmer Band click here
More Söndörgö click here
Both the Amsterdam Klezmer Band and Söndörgö exist for more than 20 years and both groups are very successful. At the beginning of 2017, the AKB proposes to Söndörgő to work together and create a klezmer, Balkan and gypsy merge into a new, larger entity. And it really works! Splendid how both groups really merge like a big band where the darbouka (drum), tambura (string instrument) and the kaval (shepherds flute) of Söndörgö fit nicely with, among other things, the trumpet, trombone and accordion of the AKB. Beautiful how these musicians have found a balance between the Hungarian Balkan signature and the klezmer. New compositions with many changes in beat and tempo added with a lot of space for improvisation and solos for various instruments. Janfrie van Strien, the clarinet player of the AKB, wrote the energetic 'Rüzgarla' that opens beautifully with tambura / flute intro, but then bursts with a trombone, sax, kaval and clarinet solo. Something similar happens in 'Shifted Sirba' written by Jasper De Beer. A fast exciting 6 / 8th dance with a leading role for tambura and accordion, but also with bass solo. In the songs 'Mooncatch' (see YouTube) and 'Maroka' the musical heart is for singer Alec Kopyt, a musician from Odessa who has been a regular member of the AKB since 2001. With his natural vocal timbre he's the master of the band and even the whole band starts to sings along at the end of 'Maroka'. A real big party! In 'Smoked Eel' this great ensemble turns out to be a real big band with a majestic character and tight percussion. 'Szikra' is an energetic album, an excellent collaboration between two lovely bands with the warm smell of a dancing mood!
 Amsterdam Klezmer Band & Söndörgö: 'Szikra' (Vetnasj records)
photo by Eti Steinberg
© Mattie Poels.