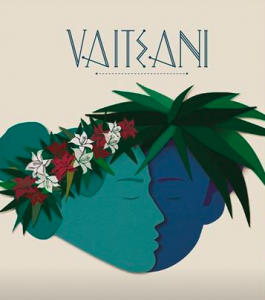 Alhoewel zangeres Vaiteani (achternaam: Teaniniuraiteamoana) het Franse '9 Semaines et un jour' won en optrad op grote festivals zoals het Francofolies festival in La Rochelle, is zij nog redelijk onbekend. Maar daar komt verandering in, nu Vaiteani met haar multi-instrumentalist Luc Totterwitz een adembenemende debuut album opnam.
English version below
Vaiteani wordt geboren en groeit op in Tahiti. Het eiland in de Stille Zuidzee dat deel uitmaakt van Frans-Polynesië. Als kind krijgt ze klassiek pianoles en leert zichzelf later gitaar spelen. Als ze in Frankrijk gaat studeren, begint ze met het schrijven van liedjes en ontmoet ze muzikant Luc Totterwitz. Met hem neemt ze haar debuut-CD op, waarop ze wordt bijgestaan door enkele gastmusici. Het resultaat is een fraaie mengeling van Polynesische folk aangevuld met pop. Ze zingt in het Polynesisch, Engels en Frans over liefde, het leven op Tahiti en menselijke verhoudingen. Haar stem doet hier en daar denken aan Mary Eileen O'Riordan (zangeres van The Cranberries) en de Australische zangeres Missy Higgins, maar het is toch vooral de talentvolle Vaiteani zelf die schittert in composities die origineel zijn met arrangementen waar naast piano, gitaar en percussie inventief gebruik gemaakt wordt van o.a. elektronica, theremin, orgel, klokkenspel en ukulele aangevuld met prachtig verzorgde meerstemmigheid. Dit album is een regelrechte aanwinst voor de tegenwoordig zo populaire folk en pop-markt en het zou me niet verbazen als ze binnenkort op grote festivals in Nederland te zien zal zijn.
English version
Although singer Vaiteani (last name: Teaniniuraiteamoana) won the French contest '9 Semaines et un jour' and performed at major festivals such as the Francofolies festival in La Rochelle, she is still quite unknown. But there is a change coming up. Vaiteani recorded with her multi-instrumentalist Luc Totterwitz a breathtaking debut album.
Vaiteani is born in Tahiti where she also grew up. An island in the South Pacific which is part of French Polynesia. As a child she got a classical piano lesson and later on she learned to play the guitar. When she studied in France, she started writing songs and met musician Luc Totterwitz. With him she recorded her debut CD on which she is assisted by some guest musicians. The result is a beautiful mix of Polynesian folk complemented with pop. She sings in Polynesian, English and French about love, life on Tahiti and human relations. Her voice reminds a little of Mary Eileen O'Riordan (vocalist from The Cranberries) and Australian singer Missy Higgins, but it's the talented Vaiteani herself who shines in her own composed and original songs and sparkling arrangements. Besides piano, guitar and percussion, she uses, in an inventive way, electronics, theremin, organ, clocks and ukulele complemented by beautifully vocal harmonies. This album is an asset to cross-over-music and it would be great if they show upfor some concerts in the Netherlands next year.
Vaiteani: 'Vaiteani' (Motu Hani / Sony Music)
© Mattie Poels.