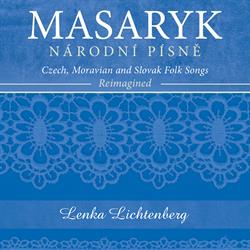 De nieuwste CD 'Masaryk' van de Tsjechische zangeres Lenka Lichtenberg is een collectie Moravische, Slovaakse en Tsjechische liedjes, tussen 1948 en 1968 bij elkaar gebracht door pianist en componist Jan Masaryk en verzameld in de bundel 'Národní Písné'. Liedjes die voor Lenka Lichtenberg grote emotionele waarde hebben en nu opnieuw zijn gearrangeerd en opgenomen.
English version below
De in Praag geboren zangeres Lenka Lichtenberg studeerde aan de Arhus Universiteit in Denemarken maar woont tegenwoordig in Vancouver (Canada). Ze wordt geboren in een Joods gezin (Joodse moeder) en reist in 1987 naar Israël waarna ze zich verdiept in het Jiddisch en het Jiddisch repertoire en ze enkele Jiddische albums opneemt.
Pianist Jan Masaryk componeerde, verzamelde en arrangeerde liedjes uit Moravië, Slovakije en Tsjechië die hij uitbracht in de bundel 'Národní Písné'. Enkele zijn door hem opgenomen met zangeres Jarmila Novotna voor RCA-Records in 1942. Deze liedjes vormen het prachtig cultureel erfgoed en de bundel is van grote betekenis voor Lenka Lichtenberg die deze muziek opnieuw bewerkte in samenwerking met de multi-instrumentalist Tomás Reindl voor haar nieuwe album 'Masaryk'. Bewerkingen die zijn geïnspireerd door het wereld-repertoire: van religieuze psalm/Kerst-achtige melodieën tot jazz, Balkan-brass, Indiase sitar en tabla, tintelende kantele (zither in 'Dobrú Noc'), didgeridoo ('Tece bvoda…'), cimbaal, klassiek en zelfs het gebruik van de originele zang van sopraan Jarmila Novotna die hier en daar is toegevoegd aan de vocalen van Lenka Lichtenberg. Niet alle arrangementen zijn even fraai maar het uitgangspunt van 'de houdbaarheid van de melodie' staat als een paal boven water met Lichtenberg als vocaal boegbeeld, die deze melodieën prachtig ten gehore brengt!
English version
The latest CD 'Masaryk' of the Czech singer Lenka Lichtenberg is a fine collection of Moravian, Slovak and Czech songs that were brought together between 1948 and 1968 by the pianist and composer Jan Masaryk in the bundle 'Národní Písné'. Songs that have great emotional value for Lenka Lichtenberg and have now been re-arranged and recorded.
Singer Lenka Lichtenberg, born in Prague, studied at the Arhus University in Denmark but currently lives in Vancouver (Canada). She was born in a Jewish family (Jewish mother) and traveled to Israel in 1987, to study Yiddish music and recorded some Yiddish albums.
Pianist Jan Masaryk composed, collected and arranged songs from Moravia, Slovakia and the Czech Republic which he published in the bundle 'Národní Písné'. Some songs were recorded by singer Jarmila Novotna for RCA Records in 1942. These songs are a wonderful cultural heritage and the bundle is of great significance for Lenka Lichtenberg, who re-arranged this music in collaboration with the multi-instrumentalist Tomás Reindl for her new album 'Masaryk'. Arrangements which are related to the whole world: from religious psalms / Christmas-like melodies to jazz, Balkan brass, Indian sitar and tabla, tinkling kantele (zither in 'Dobrú Noc'), didgeridoo ('Tece bvoda…'), cimbalo, classical approach and even the use of the original voice of soprano Jarmila Novotna who has been added here and there to the vocals of Lenka Lichtenberg. Not all the arrangements are equally beautiful, but the starting point to 'show the life of these unforgettable songs', sung by Lenka Lichtenberg with her wonderful and sparkling voice, shows the durability of these great melodies!
Lenka Lichtenberg: 'Masyryk – Národní Písné' (ARC Music / Music&Words).
© Mattie Poels.