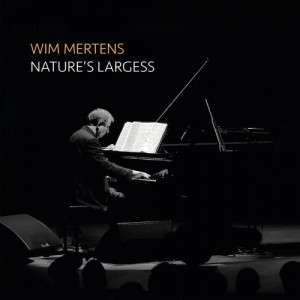 De Belgische pianist Wim Mertens beweegt zich al jaren op het vlak van minimal music, waar hij kleine muzikale miniatuurtjes uitwerkt tot intens fraaie muziek. Op zijn dubbel-cd (met dvd) 'Nature's Largess' horen we hem in een warme bezetting met vijf strijkers, live opgenomen in Bozar (Paleis voor de Schone Kunsten) te Brussel.
English version below
Begin jaren '70 ontstaat er binnen de klassieke muziek de Minimal Music, een stroming waar korte repeterende tonen en thema's een 'verborgen' melodie in zich dragen. Door het gebruik van o.a. onregelmatige maatsoorten en cross-rhythms ontstaat er een bezwerende cadans van opzwepende muziek die steeds populairder wordt door de werken van Terry Riley ('In C'), Steve Reich, Michael Nyman ('The Cook, the Thief…') en Philip Glass ('Koyaanisqatsi' en 'Powaqqatsi'). Begin jaren '80 komt er een tweede stroming op gang binnen de Minimal Music waar componisten gebruik maken van thema's van 8 maten: lange frases met pakkende melodieën waaraan instrumenten, ritmes en variaties worden toegevoegd. Tot deze stijl behoort de muziek van The Penguin Café Orchestra van Simon Jeffs, de Duitse gitarist Michael Rother en de Vlaamse pianist Wim Mertens die begin jaren '80 doorbreekt met zijn groep Soft Verdict waarmee hij de legendarische stukken 'Struggle for Pleasure' en 'Close cover' opnam die beiden te vinden zijn op het nieuwe album.
De muziek van Mertens is lyrisch, weemoedig, filmisch en verdeeld in lagen. Zijn thema's zijn kort en ongecompliceerd en hebben een prachtige opbouw. Bedacht vanuit de piano, omspelen de vijf strijkers rijkelijk het spel van Mertens die hier en daar de thema's aanvult met vocalen. Met kopstem zingt hij een soort vocalises die los staan van de melodie en soms wat vervreemdend overkomen. Wim Mertens is een groot musicus, bracht zo'n 65 albums op de markt en geeft met 'Nature's Largess' een muzikale bloemlezing van zijn oeuvre en waarmee hij bewijst dat Minimal Music, samen met de 'Canto Ostinato-van-Simeon ten Holt-opleving' en 'Philip Glass-in-Nederland', tijdloos is en zich mag verheugen op een maximale revival. Terecht!
English version
For years the Belgian pianist Wim Mertens has been working with Minimal Music. He creates small musical theme's into beautiful music. On his double CD (with DVD) 'Nature's Largess' Mertens is assisted by a warm line-up of five strings, recorded live in Bozar (Center for Fine Arts) in Brussels (Belgium).
In the early 1970s Minimal Music was created within classical music, a movement where short repetitive tones and theme's carry a 'hidden' melody. Due to the use of, among other things, irregular time signatures and cross-rhythms, there is a mesmerizing cadence in this uplifting music which has becoming increasingly popular, due to the works of Terry Riley ('In C'), Steve Reich, Michael Nyman ('The Cook, the Thief…') and Philip Glass ('Koyaanisqatsi' and 'Powaqqatsi'). In the early eighties, a second, new movement emerges in Minimal Music where composers use themes of 8 bars: long phrases with catchy melodies to which instruments, rhythms and variations are added. This style includes the music of The Penguin Café Orchestra by Simon Jeffs, the German guitarist Michael Rother and the Flemish pianist Wim Mertens who breaks through the early eighties with his group Soft Verdict with the legendary pieces 'Struggle for Pleasure' and 'Close cover' which can be found on his new album.
The music of Mertens is lyrical, melancholy, cinematic and divided into layers. His themes are short and uncomplicated and have a beautiful structure. Conceived from the piano, the five strings play richly the music of Mertens, sometimes complemented with vocals; a high falsetto voice with no lyrics, which sometimes seem a little alienating. Wim Mertens is a great musician and composer, has recorded about 65 albums. With his new recording 'Nature's Largess' he gives a musical anthology of his oeuvre that proves that Minimal Music, together with the 'Canto Ostinato-of the Dutch composer-Simeon ten Holt' and 'Philip Glass in the Netherlands', is timeless and heading for a maximum revival.
Wim Mertens: 'Nature's Largess' (Usura Music/Hamonia Mundi)
Foto's JiVe
© Mattie Poels.