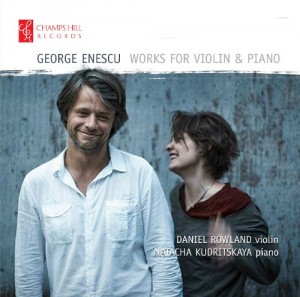 De Roemeense componist George Enescu (1881 / 1955) schreef veel kamermuziek waaronder werken voor viool en piano. Enkele van zijn fantasierijke composities worden schitterend uitgevoerd door de in Nederland opgegroeide Engelse violist Daniel Rowland en pianiste Natacha Kudritskaya uit de Oekraïne.
English version below
George Enescu was een Roemeens violist, componist, dirigent en docent (gaf de jonge violist Yehudi Menuhin nog vioolles) die in Wenen en later Parijs studeerde bij Jules Massenet en Gabriel Fauré. Zijn composities sluiten aan bij de Laat Romantiek, de vroeg Franse muziek uit begin 20ste eeuw met zijn veelvuldig gebruik van chromatiek en de Roemeense volksmuziek, wat vooral goed te horen is in de 'Vioolsonate No 3 in a-mineur Op. 25', waar deze fantastische CD mee opent. De zigeunertoonladder, Roemeense melodieën en speelwijzen laten een Roemeens (Gipsy) signatuur horen die verbluffend energiek en ingetogen worden gespeeld. Het duo Daniel Rowland  / Natacha Kudritskaya voert de werken uit met enerverende precisie. De uitvoering is trefzeker en nauwgezet. Die muzikale diepgang is geweldig en onlosmakelijk verbonden met het luistergenot. Intieme passages klinken ook werkelijk behaaglijk, innig en klein terwijl de dynamische gedeelten energiek excelleren, doortastend en levenslustig zijn. Dat geldt zeker voor zijn jeugdwerk, de 'Vioolsonate in f mineur op. 6' dat Enescu schreef toen hij 17 jaar oud was. Het slotstuk 'Imperssions d'Enfance' is een reflectie op zijn jeugd, op de magische maar ook sombere kant van zijn vroege jaren waarin hij van zijn moeder niet mocht spelen met andere kinderen, bang als zij was dat hij ook ziek zou worden en zou overlijden. De grillige compositie die opent met een markante vioolsolo waarna de piano, in een twinkelend vlechtwerk, de viool betoverend meevoert naar de flageolettonen halverwege waarin de onzekerheid maar ook het doorzetten wordt gereflecteerd van een van de meest opzienbarende componisten uit het Roemenië van de 20ste eeuw.
In deze Youtube geen werk van Enescu maar een compositie van Gershwin waarin het duo duidelijk schittert in een doortastende uitvoering van 'It ain't necessarily so'.
English version
The Romanian composer George Enescu (1881/1955) wrote a lot of chamber music including works for violin and piano. Some of his imaginative compositions are beautifully performed by the Dutch/English violinist Daniel Rowland and the pianist Natacha Kudritskaya from the Ukraine.
George Enescu was a Romanian violinist, composer, conductor and teacher (educated the young violinist Yehudi Menuhin) who studied by Jules Massenet and Gabriel Fauré in Vienna and later Paris. His compositions show characterics with Late Romantic style, the French music from the early 20th century, with its frequent use of chromatics and Romanian folk music, which you hear in the 'Violinsonata No 3 in A-Minor Op. 25', the opening piece of this wonderful CD. The gypsy scale, Romanian themes and the way of playing show a Romanian (Gypsy) signature which is amazingly energetically and subdued. The duo Daniel Rowland / Natacha Kudritskaya performs the compositions with energetic precision. The implementation is very accurate. That musical approach is delicious and inextricably linked to the listener. Intimate passages also sound really pleasing and intimate while the dynamic parts are energetically excellently and lively. Like his youth work, the 'Violin Sonata in F minor. opus 6', that Enescu wrote when he was 17 years old. The last piece 'Impressions d'Enfance' reflects on his childhood, on the magical but also bleak side of his early years when his mother told him not to play with other children, afraid as she was that we would become sick. The capricious composition opens with a distinctive violin solo. The piano enters in a lovely and fine played twinkling mood. This composition reflects the uncertainty as well as the continuation of one of the most remarkable composers from Romania in the 20th century.
Daniel Rowland / Natacha Kudritskaya: 'George Enescu – Works for Violin and Piano' (Champs Hill Records/New Arts International)
Picture Karin van der Meul.
© Mattie Poels.