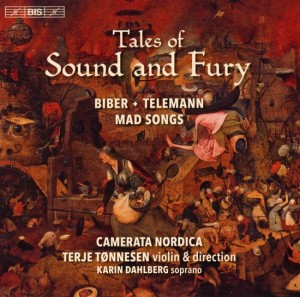 'Tales of Sound and Fury' is de titel van nieuwste album van Camerata Nordica onder leiding van violist Terje Tønnesen. Een CD waarop het strijk-ensemble stukken speelt van o.a. Biber, Purcell en Telemann met als thema de zelfkant van de samenleving waarin 'die anderen' muzikaal worden belicht in speelse arrangementen door Minkel Kerem en Terje Tønnesen.
 English version below
De gek(heid) is door de eeuwen heen steeds anders benaderd. Werden de melaatsen in de Middeleeuwen nog genegeerd en gezien als een straf van God, in de Renaissance en de Barok ontstonden er inrichtingen en werden die 'anderen' gezien als vermaak. Dat uitte zich ook in de muziek en cultuur zoals 'Don Quijote'. Georg Philipp Telemann gebruikte Cervantes' creatie voor zijn werk 'Burlesque de Quixotte'. Een werk dat te vinden is op de innovatieve CD 'Tales of Sound and Fury' van Camerata Nordica. Daarnaast speelt dit Zweeds strijk-ensemble werken van Franz Biber waaronder 'Battalia' waarin de Musketier aan bod komt en zijn bekende 'Sonata Jucunda'. Biber die in zijn tijd opviel als groot vioolvirtuoos die dubbelgrepen voor viool ontwikkelde die tegenwoordig moeilijk speelbaar zijn, aangezien de strijkstok in zijn tijd minder strak werd gespannen en er meer mogelijkheden waren. Deze CD opent met een drum-improvisatie, waarvan er drie te vinden zijn op dit nieuwe Camerata Nordica album, gevolgd door het ongelooflijk mooie anonieme werk 'New Mad Tom of Bedlam' dat met verve is gearrangeerd door Terje Tønnesen. Het Camerata Nordica valt op door de ferme en doortastende speelwijze. De strijkers laten hun instrument breed resoneren waardoor er een prachtig warme klank ontstaat die niet alleen overtuigend klinkt maar ook de kern van de muziek raakt. Alle werken zijn gearrangeerd door Terje Tønnesen die met grote klasse de muziek in zijn waarde laat en deze hier en daar aanvult met nyckelharpa (Zweedse druktoetsen-viool), klavecimbel en percussie. Drie vocale stukken worden gezongen door sopraan Karin Dahlberg die met (net iets teveel) vibrato prachtige solo's neerzet. Camerata Nordica bewijst met 'Tales of Sound and Fury' dat oude muziek in nieuwe arrangementen met gemak zijn weg vindt naar het huidige muziekklimaat en de luisteraar blij mag zijn met zulke fantástische musici!
In deze YouTube geen opname van hun laatste CD – wel de 'Holberg Suite' van Edvard Grieg. Voor wie het werk kent zal het duidelijk zijn dat deze uitvoering geprononceerd is en in zijn articulatie zeer overtuigend overkomt!
 English version
'Tales of Sound and Fury' is the title of Camerata Nordica's newest album, directed by violinist Terje Tønnesen. A CD on which the string ensemble plays, among others, compositions by Biber, Purcell  en Telemann. The theme is the selvedge side of society in which 'those other people' are exposed musically in wonderful arrangements by Minkel Kerem and Terje Tønnesen.
Madness has always been approached differently over the centuries. The lepers of the Middle Ages were still ignored and seen as a punishment of God. In the Renaissance and Baroque period, there were special hospitals and they were seen as 'the others' for entertainment. This vision was also reflected in music and culture like 'Don Quijote'. Georg Philipp Telemann uses Cervantes' creation for his work 'Burlesque de Quixotte'. You find this great work on this innovative CD 'Tales of Sound and Fury' by Camerata Nordica. In addition, this Swedish string ensemble plays works by Franz Biber, including 'Battalia' in which the Musketeer is featured and his famous 'Sonata Jucunda'. Biber was a violin virtuoso who developed double notes for violin, which are difficult to play today. The fiddle bow was less tight in that time, so there were more possibilities. This CD opens with a drum improvisation, three of this kind can be found on this new Camerata Nordica album, followed by the incredibly beautiful anonymous work 'New Mad Tom or Bedlam', arranged by Terje Tønnesen. The Camerata Nordica is characterized by the firm and dramatic play. The strings resonate beautifully, creating a warm sound which is not only convincing but also takes you to the heart of the music. All compositions are arranged by Terje Tønnesen, who easily put the music in it's right position and adds now and then the nyckelharpa (Swedish push buttons-violin), harpsichord and percussion. Three vocal pieces are sung by soprano Karin Dahlberg who sings with (a little too much) vibrato beautiful solos. Camerata Nordica proves with 'Tales of Sound and Fury' that old music in new arrangements leads you with ease to the today's music and makes every listener happy with such a fantastic musicians!
Camerata Nordica: 'Tales of Sound and Fury' (BIS / New Arts International)
Picture: Jan Nordstrom
© Mattie Poels.