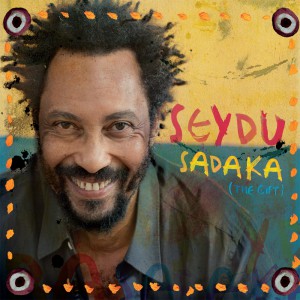 Seydu is een bijzondere zanger en songwriter uit Sierre Leone (West Afrika). Hij werd geboren in de hoofdstad Freetown maar woont tegenwoordig in Spanje. Op zijn nieuwste CD 'Sadaka' (The Gift) gaat Seydu verder met het innoveren van lokale muziek uit Sierra Leone zoals de Palm Wine Music en de maringa en wordt daarmee de opvolger van Ebenezer en S.E. Rogie.
English version below
Palm Wine is een drank uit Sierra Leone en Liberia die door de lokale bevolking wordt gestookt en gedronken, aangezien een geïmporteerd flesje bier een dagloon kost. De muziek die bij het drinken ervan wordt gespeeld heet Palm Wine Music (lokale naam maringa); de uit Trinidid geïmporteerde calypso gemengd met Afrikaanse ritmes. S.E. Rogie is een van de weinige artiesten die internationaal succes heeft met de Palm Wine Music. Hij woonde jarenlang in de V.S., introduceerde de elektrische gitaar in het genre en stierf in 1994. Singer-songwriter Seydu mixt de Palm Wine Music op eigen wijze met Afrikaanse ritmes wat opgewekte en stuwende, maar ook gepolijste muziek oplevert: fris, tintelend en open gearrangeerd. Hij zingt in het Engels, Fullah en Mandinga en schrijft bijna alle stukken. Zijn teksten gaan over de opbouw van Afrika (Return to Africa), de 'diamant'-oorlog (Ashe), water (Mamiwatata) en natuurlijk de liefde. De muziek van Seydu heeft een hoog aaibaarheidsgehalte, klinkt vertrouwd met intieme melodieën die, mede door zijn ietwat hese stem, vriendelijk klinken, met prachtige backing vocals. Een échte uitschieter is op deze CD niet te vinden alhoewel de bijdrage van Mariem Hassan uit Maritanië en die van gitarist/zanger Lokua Kanza uit Congo wel voor een aangename afwisseling zorgen. Lokua Kanza produceerde overigens ook zijn album 'Diamond Tears' uit 2001 met het prachtige 'The Well'. In 2005 richtte Seydu de Diamond Child School of Arts & Culture op, om kinderen in zijn geboorteland Sierra Leone een kans te geven. Zijn nieuwe CD 'Sadaka' is geïnspireerd op zijn ervaringen op deze school, waar kinderen wordt geleerd dat het leven bestaat uit 'geven en nemen', een levenswaarheid die door Seydu op vriendelijke wijze muzikaal wordt vertaald.
English version
Seydu is an extraordinary singer and songwriter from Sierra Leone (West Africa). He was born in the capital Freetown, but lives nowadays in Spain. On his latest CD 'Sadaka' (The Gift) Seydu continues to innovate local Palm Wine Music (maringa) from Sierra Leone and is the successor of Ebenezer and S.E. Rogie.
Palm Wine is a local drink from Sierra Leone and Liberia, which is distiled by the local people because an imported bottle of beer costs a day's wages. The Palm Wine Music (local name maringa) is a mix of African rhythms with calypso music imported from Trinidid. S.E. Rogie was one of few artists who had international success with the Palm Wine Music. He lived many years in the U.S., introduced the electric guitar in the genre and died in 1994. Singer-songwriter Seydu mixes the Palm Wine Music on his own way with African rhythms that generates and driving, but also produces polished music: fresh, tingling and open arranged. He sings in English, Fullah and Mandinga and wrote almost all the songs. His lyrics are about (re)construction of Africa (Return to Africa), the 'diamond' war (Ashe), water (Mamiwatata) and of course love. Seydu's music sounds familiar with intimate melodies, partly due to his somewhat husky voice which sounds friendly, with beautiful backing vocals. A real highlight is not to be found on this CD, although the contribution of Mariem Hassan from Maritania and guitarist/singer Lokua Kanza from the Congo provide a pleasant change. In 2001 Lokua Kanza also produced his album 'Diamond Tears' with the magnificent song 'The Well'. In 2005 Seydu founded the Diamond Child School of Arts & Culture in order to give children a chance in his native country Sierra Leone. His new CD 'Sadaka' he was inspired by his experiences at this school, where children are taught that life consists of 'give and take': a truth that's lovely translated into music by Seydu!
Seydu: 'Sadaka' (folmusica)
© Mattie Poels.