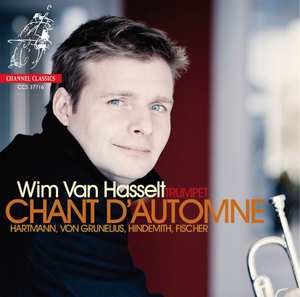 De nieuwste CD 'Chant d'Automne' van de Nederlandse trompettist Wim van Hasselt bevat maar liefst twee wereldpremière opnames: 'Chant d'Automne' van de Duitse pianist en componist Wilhelm von Grunelius (1942) en 'Eine Deutsch-Jiddische Kantate' van Ivân Fischer: een fabuleus werk voor trompet, strijkorkest en een opvallend mooie bijdrage van zangeres Nora Fischer.
English version below
'Chant d'Automne' bevat uitgelezen repertoire waarin we trompettist Wim van Hasselt als een veelzijdig trompettist horen die zich moeiteloos aanpast aan de composities die hij speelt. Zo schittert hij in het openingswerk 'Concertina' van de Duitse componist Karl Amadeus Hartmann (1905-1963). Een beeldende compositie die jarenlang verborgen lag en in 2002, door doortastend optreden van Freddy Grin (trompettist van Koninklijk Concertgebouw Orkest), zijn première kende, nu voor het eerst uitgebracht op CD. Ook in het titelstuk en wereldpremière 'Chant d'Automne' (van Wilhlem von Grunelius 1942) markeert van Hasselt de trompet als een charismatisch instrument dat fier boven het orkest uitstijgt. Terwijl we in het schitterende werk (en wereldpremière) 'Eine Deutsch-Jiddische Kantate' van Ivân Fisher (1951) de transparante veelzijdigheid van de trompet kunnen ontdekken. Zo 'verschuilt' het instrument zich in zacht mêlerende klanken (met sordine) in het 'Wiegenlied' terwijl in de 'Jiddische Arie' de zang en trompet elkaar in alle vurigheid complementair aanvullen, schitterend gezongen door Nora Fisher (dochter van) die met haar ongelooflijk mooie stem een fraaie trefzekerheid en diepe ingetogenheid laat horen. Beide wereldpremières worden met elkaar verbonden door de 'Sonate voor trompet en piano' van Paul Hindemith, virtuoos begeleid door pianiste Eriko Takezawa waarin van Hasselt de trompet terugbrengt naar de essentie, die zeker in het derde deel 'Trauermusik' de kern raakt!
English version
The lastest CD 'Chant d'Automne' by the Dutch trumpet player Wim van Hasselt contains two world premiere recordings: 'Chant d'Automne' written by the German pianist and composer Wilhelm von Grunelius (1942) and 'Eine Deutsch-Yiddish Kantate' by Ivân Fischer: a great work for trumpet, string orchestra and a strikingly beautiful contribution of singer Nora Fischer.
The album'Chant d'Automne' contains exquisite repertoire in which we hear trumpet player Wim van Hasselt as a a versatile musician who effortlessly changes his way of playing to several compositions. He plays virtuoso in the opening piece 'Concertina' by the German composer Karl Amadeus Hartmann (1905-1963). A visual composition that was hidden for years. The trumpeter of Royal Concertgebouw Orchestra, Freddy Grin, played the premiere and now it's for the first time on CD. In the title piece and world premiere 'Chant d'Automne' (by Wilhlem von Grunelius 1942) van Hasselt shows the trumpet to be a charismatic musical instrument that proudly rises above the orchestra. In the brilliant work (and also a world premiere) 'Eine Deutsch-Yiddish Kantate' by Ivan Fisher (1951) you can discover the versatility of the trumpet. It's like a 'hidden' instrument with soft mellow sounds (with sordine) in the 'Wiegenlied' while in the song 'Jiddische Arie' vocals and trumpet complement each other, with wonderful vocals of Nora Fisher (daughter of Ivân) who has an incredible voice with fine accuracy and modest mood. The two world premieres are connected by the 'Sonata for Trumpet and Piano' by Paul Hindemith, virtuoso accompanied by pianist Eriko Takezawa in which van Hasselt brings the trumpet back to the essence, especially the third part, 'Trauermusik', takes your breath away!
Wim van Hasselt: 'Chant d'Automne' (Channel Classics / New Arts International)
© Mattie Poels.