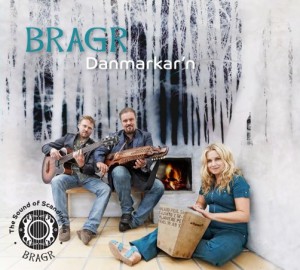 Het trio Bragr bestaat uit de Zweedse muzikant Perry Stenbäck en de Denen Christine Duelholm en Jesper Frost Bylling. Ze spelen traditionele en nieuw geschreven folk waarin de nyckelharpa centraal staat. Een druktoetsenviool uit Zweden die in Nederland meer bekendheid kreeg door o.a. de CD's van Didier François.
English version below
Verrassend is de muziek van het Deens trio Bragr. Er wordt fraai gespeeld waarbij bas, melodie, begeleiding en percussie als een puzzel in elkaar past. De melodieën, veelal door de nyckelharpa, worden mooi gefraseerd met hier en daar kleine versieringen, aangevuld met ronkende fretloze bas en percussie. En juist die percussie, gespeeld door Christine Duelholm, is echt opmerkelijk. Het gebruik van oriëntaalse percussie-instrumenten geeft de muziek een innovatieve kleur. De darbouka (Turkse vaastrommel), daf (raamtrommel) en cajon (Spaans percussiekistje) zorgen voor een open en transparante sound. Bovendien worden deze instrumenten niet, of nauwelijks gebruikt in de folkmuziek wat Bragr in zeker zin uniek maakt. Werkelijk prachtig is Eric Sahlström's 'Andakten' waar naast de nyckelharpa ook de slidegitaar wordt gebruikt. In het energieke 'Hjortingens Polska' speelt nyckelharpist Perry Stenbäck niet onverdienstelijk gitaar en horen we hem ook op de mandoline waarop hij met tremolo het stuk lardeert. De mooiste compositie van 'Danmarkar'n' is 'Tidslösa Valsen/Jiggen'. Een drie-delig stuk met een organische flow die verloopt van een lyrische wals naar een ritmische jig en uitmondt in een virtuoze percussiesolo. Het enige vocale stuk op dit album is de klassieker 'Bryllupsfesten' dat met zijn driestemmigheid niet erg overtuigend overkomt. Bragr is het sterkst als instrumentaal trio waarmee de groep prachtig bewijst dat het folklandschap nog lang niet is uitontwikkeld.
English version
Bragr is a fine trio consisting of the Swedish musician Perry Stenbäck and the Danes Christine Duelholm and Jesper Frost Bylling. They play traditional and newly composed folk repertoire where the nyckelharpa is the central instrument. A keyed violin from Sweden, better known in the Netherlands 'cause of the music by the Belgian Didier François.
The music of the Danish trio Bragr is surprisingly. Beautifully how bass, melody, accompaniment and percussion fit together so easily like in a puzzle. The melodies, often played on the nyckelharpa are nicely phrased with some small ornaments, complemented by roaring fretless bass and tight percussion. And the percussion, played by Christine Duelholm, is truly remarkable. Exciting how she integrates oriental instruments which nicely colors the music. Using darbouka (Turkish vase drum), daf (Oriëntal frame drum) and cajon (Spanish percussion box) provides an open and transparent sound. Moreover, these instruments are hard to find in folk music. In this way Bragr is unique. Lovely is the composition 'Andakten' (written by Eric Sahlström) where the slide guitar is used in addition to the nyckelharpa. In the energetic piece 'Hjortingens Polska' nyckelharpist Perry Stenbäck plays wonderful the acoustic guitar and mandolin on which he lards the piece with tremolo sound. The best composition on 'Danmarkar'n' is 'Tidslösa Valsen/Jiggen'. Through an organic flow this three-part composition developed from a lyrical waltz to a jig rhythm that flows into a virtuoso percussion solo. The only vocal piece on this album is the (not very convincing) classic song 'Bryllupsfesten' sung by Duelholm with vocal harmonies by Stenbäck and Frost Bylling. Bragr is at it's best as an instrumental trio in which this wonderful group shows that folk music still can be innovated!
Bragr: 'Danmarkar'n' (GO' Danish Folk/Xango)
Photo: Ard Jongsma
© Mattie Poels.