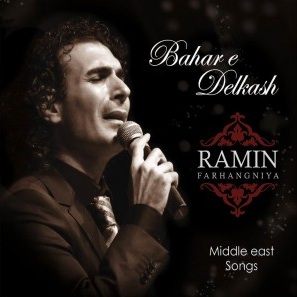 Als klein kind van acht moest de Iraanse zanger Ramin Farhangniya zijn geboorteland ontvluchten vanwege de oorlog met Irak. Dat die gebeurtenis een diepe indruk heeft achtergelaten, horen we op zijn tweede album 'Bahar e Delkash' dat hij opdraagt aan alle vluchtelingen en migranten die vluchtten voor oorlog, geweld en onderdrukking.
English version below
Met musici uit Iran, Azerbaijan, Rusland, Iraq en Turkije vertolkt zanger Ramin Farhangniya de muziek op zijn tweede CD 'Bahar e Delkash – Middle East Songs'. Een uitmuntende collectie met Griekse, Armeense, Iraakse en Turkse liederen. Farhangniya is een voortreffelijk zanger met een ongelooflijk mooie stem zoals je die maar zelden hoort. Zijn hoge (tenor)timbre schuurt langs de rand, waardoor weemoed, verlangen en verdriet prachtig onder het oppervlak verscholen liggen en de muziek in de kern wordt geraakt. Farhangniya zingt over liefde, verlangen, heimwee en diaspora en draagt 'Bahar e Delkash' op aan alle mensen die hun thuisland hebben moeten verlaten; helaas een actueel thema! Mooi hoe deze gevoelige thematiek muzikaal wordt vertaald in sobere en intense arrangementen met een prachtig strijktrio in 'Hey Yar Hey Yar' en 'Bahar e Delkash' en het gebruik van o.a. ney (hese herdersfluit), klarinet, gitaren, piano en lichte percussie/drums gespeeld door zeventien musici. Alleen 'Kerkügün Zíndani' pakt stevig uit. Daar klinken vette elektrische gitaren en drums in een Iraaks lied over de provincie Kirkuk tijdens de oorlog. Ramin Farhangniya is een bevlogen zanger die je op markante wijze meeneemt via een muzikale reis door het Midden-Oosten, zonder omhaal of emotioneel effectbejag, maar puur, eerlijk en oprecht!
Ramin Farhangniya wordt geboren in Iran (1973 in Artavil) en krijgt via de accordeon van zijn vader interesse in muziek. Hij studeert aanvankelijk accordeon maar schakelt al snel over op zang aan het Conservatorium in Baku (hoofdstad van Azerbeidzjaan). Op uitnodiging treedt hij veel op in Turkije, en geeft een concert tijdens de Colorful Migration Night georganiseerd door de Raising Awareness for International Migrants in Istanbul. Farhangniya nam twee CD's op 'Azerbaijan – Love Songs' en 'Bahar e Delkash – Middle East Songs' waarop hij zingt in acht verschillende talen.
English version
As a small child of eight years the Iranian singer Ramin Farhangniya had to flee his native country because of the war with Iraq. It has left a deep impression on him, recognizable on his second album 'Bahar e Delkash – Middle East Songs'. An album which he dedicates to all refugees and migrants fleeing for war, violence and oppression.
Ramin Farhangniya recorded his second album 'Bahar e Delkash – Middle East Songs' with musicians from Iran, Azerbaijan, Russia, Iraq and Turkey. The result is an outstanding collection of Greek, Armenian, Iraqi and Turkish songs. Farhangniya is an excellent singer with an incredible voice as you seldom hear. His high (tenor) timbre rubs on the edges, so melancholy, longing and sadness, beautifully hidden in the top of the melodie. His voice hits easily the heart of the music. Farhangniya sings about love, longing, nostalgia and diaspora and dedicates 'Bahar e Delkash' to all the people who had to leave their homeland; unfortunately, a current theme! Very well done, how this sensitive subject is musically translated into sober and intense arrangements. For example with a wonderful string trio in 'Hey Yar Hey Yar' and 'Bahar e Delkash'. Also the use of the ney (shepherd's flute), clarinet, guitar, piano and light percussion/drums played by seventeen musicians. Only in the song 'Kerkügün Zindani' there are fuzzy electric guitars and big drums sounds. This song is about the Iraqi province Kirkuk during the war. Ramin Farhangniya is a passionate singer who leads us through a musical journey along the Middle East; pure, honest and sincere music!
Ramin Farhangniya was born in Iran (1973 Artavil). His first musical interest he gets through his father's accordion. At first he studied accordion but he soon switched over to singing at the Conservatory in Baku (capital of Azerbaijan). At invitation he performs a lot in Turkey, and gave a concert at the Migration Colorful Night organized by Raising Awareness for International Migrants in Istanbul. Farhangniya recorded two CDs; 'Azerbaijan – Love Songs' and 'Bahar e Delkash – Middle East Songs' on which he sings in eight different languages.
Ramin Farhangniya: 'Bahar e Delkash – Middle East Songs' (Ahenk Müzik/Xango)