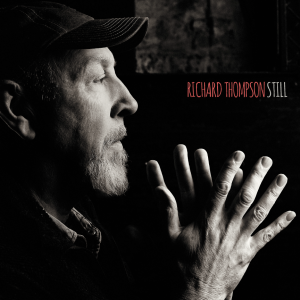 Richard Thompson is vooral bekend als mede-oprichter van de folkrockband Fairport Concention eind jaren '60. Als hij de groep begin 70 weer verlaat, brengt hij jaren lang albums uit met zijn toenmalige vrouw Linda en 30 jaar lang veel solo-werk. Daar wordt eind juni 2015 het prachtige door Jeff Tweedy (o.a. Wilco) geproduceerde soloalbum 'Still' aan toegvoegd.
English version below
'Still' wordt opgenomen in negen dagen in Chicago. Om zijn muziek een nieuwe impuls te geven, nodigt Thompson producer Jeff Tweedy uit om zijn nieuwe album te produceren. Het resultaat is een pop-folkalbum met prachtige liedjes. Het werk van Thompson valt op door zijn doortastende eenvoud. Melodieën gaan net iets anders dan je verwacht met gebruik van onverwachte akkoorden waardoor de muziek ver boven het gemiddelde uitstijgt. Het hoekige 'All Buttoned Up', galopperend in 'Pony in the Stable' of het rockende 'No Peace in Mind'. Het zijn allemaal mooie nummers. Geen wonder dat veel artiesten werk van Thompson coverde waaronder Bonnie Raitt, Elvis Costello en REM. Richard Thompson speelt prachtig akoestisch gitaar zoals in 'Josephine' met een knipoog naar folkgitarist Roy Harper. Opvallende is het slotlied 'Guitar Heroes'. Een gitaar-ode met o.a. een Hot-Club-de-France fragment '….in Django's (Reinhardt) way'; zo zingt Thompson en quotes van de hits 'Suzi Q' van Creedens CR, 'Caravan' (Ellington) en werk van The Shadows. De invloed van producer Tweedy is subtiel die met zijn gebruik van galm en effecten eenduidig een dubbele lading geeft aan deze 42ste CD van Richard Thompson!
'Still' is verkrijgbaar als CD / CD-de-Luxe en L.P.
Tour-Dates september 2015: Zwolle: Hedon 24 sept. / Haarlem: Patronaat 25 sept./ Bergen op Zoom: Gebouw-T 26 sept.
English version
Richard Thompson is best known as co-founder of the folk rock band Fairport Concention late 60s. When he left the group early 70, he recorded albums with his then wife Linda and solo works for 30 years. 'Still' is his last album produced by Jeff Tweedy. His influence is unambiguously. He gives a lovely double feeling to Richard Thompson's 42nd album!
'Still' was recorded in nine days in Chicago. Thompson invited Jeff Tweedy (Wilco) to produce his new album. The result is a pop-folk album with beautiful songs. Thompson's work is pure. He uses unexpected chords in his fine and unexpected melodies. The tight played 'All Buttoned Up', galloping in 'Pony in the Stable' or the rocking 'No Peace in Mind' are all beautiful songs. No wonder that many artists like Bonnie Raitt, Elvis Costello and REM covered Thompson's work. Richard Thompson plays beautiful acoustic guitar on 'Josephine' , a bit familiar to the folk guitarist Roy Harper. Notable is the closing song 'Guitar Heroes'. A guitar ode including a Hot Club de France fragment '…in Django's (Reinhardt) way'; Thompson sings and plays quotes of the hits 'Suzi Q' (Creedens CR), 'Caravan' (Ellington), work of The Shadows and shows that he's not only a gifted composer but also a fine musician!
'Still' is available as CD / CD-de-Luxe or L.P.
Richard Thompson: 'Still' (ProperRecords/Bertus)
© Mattie Poels.