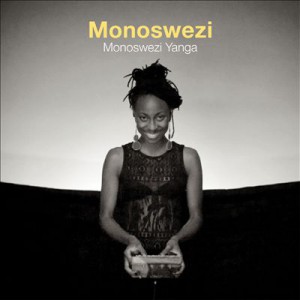 'Monoswezi Yanga' is de derde CD van de kosmopolitische groep Monoswezi. Een globaliserende band uit Zimbabwe, Zweden en Noorwegen waar de mbira (duimpiano) uit Zimbabwe centraal staat, bespeeld door zangeres Hope Masike. Naast een aantal traditionals, schreef Masike ook eigen werk dat beweegt op het snijvlak van Afrikaanse muziek en jazz.
English version below
De mbira is het nationale instrument van Zimbabwe. Een duimpiano die met twee duimen wordt bespeeld, al dan niet versterkt met een kalabas als klankkast. Het instrument heeft een twinkelend geluid en is gestemd in een toonsoort. De mbira is mede door de Zimbabwaanse gitarist Thomas Mapfumo wereldbekend geworden (CD 'Rise Up' uit 2005). Hij bespeelt de mbira en imiteert het instrument met zijn gitaar. De mbira staat ook centraal in de muziek van de groep Monoswezi. In een begeleiding van saxofoon/klarinet, bas en subtiele percussie zingt zangeres Hope Masike in het shona over de liefde, het huwelijk en vriendschap. Ze heeft een vriendelijke stem waarmee ze bezwerende melodieën zingt, hier en daar versterkt door meerstemmige zang, die zich fraai nestelt in de mellow tintelende begeleidingen. Masike bespeelt de (bas-)mbira die als een rode draad door de muziek loopt en een constante link legt tussen de Scandinavische (jazz) en de muziek en ritmes uit Zimbabwe. De naam Monoswezi is een contaminatie van leden van de groep die komen uit Mozambique, Noorwegen, Sweden, en Zimbabwe. Een metafoor waarbij de muziek van twee werelddelen moeiteloos mêleert tot indrukwekkend sferische Afro-Scandi-jazz.
Full Jazz-ahead Concert 2014.
English version
'Monoswezi Yanga' is the third CD by the cosmopolitan group Monoswezi. A global band from Zimbabwe, Sweden and Norway with an important part for the mbira (thumb piano) from Zimbabwe, played by singer Hope Masike. Besides some traditionals Masike also wrote new compositions on the cutting edge of African music and jazz.
The mbira is the national instrument of Zimbabwe. A thumb piano played with two hands (the thumbs), reinforced with a gourd as a resonator. The instrument has a twinkling sound and tuned in one key. The mbira became famous by the Zimbabwean guitarist Thomas Mapfumo (CD 'Rise Up' from 2005). He plays the mbira and imitates the instrument with his guitar. The mbira is also very important in the music of  Monoswezi. In an accompaniment of saxophone/clarinet, bass and subtle percussion Hope Masike sings in shona about love, marriage and friendship. She has a pleasant voice, sings wonderful melodies, occasionally enhanced by vocal harmonies. Her voice fits very well in the beautiful mellow tingling accompaniments. Masike plays the (bass) mbira throughout the CD and give a constant link between the Scandinavian (jazz) music and rhythms from Zimbabwe. The name Monoswezi is a contamination of Mozambique, Norway, Sweden, and Zimbabwe; the lands of the group members. A metaphor for the music of two continents mixed into a spherical African-Scandi-jazz.
Monoswezi: 'Monoswezi Yanga' (RiverboatRecords/Music&Words)
© Mattie Poels.