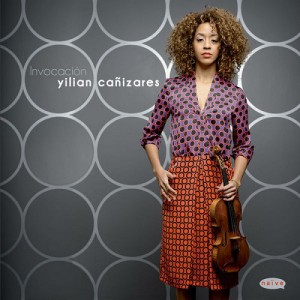 De getalenteerde Zwisters-Cubaanse violiste/zangeres Yilian Cañizares bracht onlangs haar tweede solo-cd 'Invocación' uit. Ze wordt bijgestaan door pianist Daniel Stawinski, bassist David Brito en drummer Cyril Regamey. 'Invocación' is geproduceerd door Alê Siqueira die we ook al tegenkwamen bij Roberto Fonseca, de Kaapverdiaanse Mayra Andrade en zangeres Omara Portuondo.
English version below
Zangeres Yilian Cañizares wordt geboren in Havana, de hoofdstad van Cuba. Daar start ze haar vioolstudie, die ze voortzet in Venezuela en uiteindelijk afrondt in Zwitserland waar ze in 2000 naar toe emigreert. In haar nieuwe thuisland ontdekt ze jazz en geïmproviseerde muziek die ze nu verwerkt in haar eigen composities. En die vliegen alle kanten op. Een heerlijk ongecontroleerde combinatie van Cubaanse, jazz en klassieke muziek. Ze heeft een krachtige stem waarmee ze met gemak de muziek draagt; hier en daar ondersteund met rijkelijk gevulde viool-solo's, met veel blue-notes, soms unisono meegezongen (zoals in 'Laïla' en 'Invocacion'). Want wie kent ze nog; de twee legendarische jazzbassisten Slam Stewart en Major Holley die ook meezongen met hun solo's dat zo'n magisch effect gaf. Yilian Cañizares schreef prachtige composities voor 'Invocación', op de Franse klassieker 'Non, je ne regrette rien' na. Totaal overbodig en, mede door een overdaad aan strijkers, valt dit stuk volledig uit de toon met de rest van de CD. Cañizares zingt in het Spaans, Frans en Yoruba; een West-Afrikaanse taal die ook in Cuba wordt gesproken. In het schitterende slotstuk 'Iya Mi' wordt ze bijgestaan door rapster Akua Naru die en nieuwe stijl toevoegt aan dit gevarieerde album. Opmerkelijk is het pianowerk van Daniel Stawinski die met bloemrijke begeleidingen de luisteraar aan zich bindt en in zijn solo's bij vlagen doet denken aan de Dominicaanse piano-leeuw Michel Camilo. 'Invocación' is een bijzonder album – Yilian Cañizares een bijzonder talent – aan het begin van een roemruchte carrière!
English version
The talented Swiss-Cuban violinist/singer Yilian Cañizares released recently her second solo album 'Invocación'. She is assisted by pianist Daniel Stawinski, bassist David Brito and drummer Cyril Regamey. 'Invocación' is produced by Alê Siqueira who als worked with Roberto Fonseca, the Cape Verdean singer Mayra Andrade and Omara Portuondo.
Singer Yilian Cañizares was born in Havana, the capital of Cuba. There she started her violin studies, which she continues in Venezuela and eventually graduated in Switzerland, what became her new home country in 2000. There she discovered jazz and improvised music which she arranged in her own compositions. On het new album we find a wonderful under control combination of Cuban, jazz and classical music. Yilian has a powerful voice with which fits wonderful in her music. She's a fine violinist as well with lovely solos, with many blue-notes, sometimes sung in unison (as in 'Laïla' and 'Invocación'). Who reembers these two legendary jazz giants: bassists Slam Stewart and Major Holley who also sang along with their solos. Which brings a magical effect. Yilian Cañizares wrote beautiful compositions for 'Invocación'. Besides the French well-known classic 'Non, je ne regrette rien'. This piece is completely out of tune with the rest of the CD, because of it's abundance of strings. Cañizares sings in Spanish, French and Yoruba; a West African language also spoken in Cuba. In the brilliant final piece 'Iya Mi' she is assisted by rapper Akua Naru who adds a new style to this diverse album. Remarkable is the piano work of Daniel Stawinski with broad accompaniments and in his solos related to the Dominican pianist Michel Camilo. 'Invocación' is a special album – Yilian Cañizares a special talent – at the beginning of an illustrious career!
Yilian Canizares: 'Invocación' (Naïve/Harmonia Mundi)
© Mattie Poels.