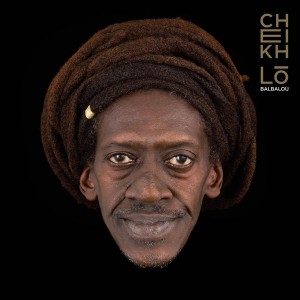 In de na-dagen van de folk-revival eind jaren '60, ontstaat in 1976 onder de rook van Antwerpen Sfinks Folk. Een klein festival dat inmiddels is uitgegroeid tot een meerdaags evenement van Sfinksfestival tot SfinksMixed met tussen 1976 en 2014 zo'n 1200 concerten. Tijdens de 40ste editie treedt vrijdag 24 juli 2015 de Senegalese zanger Cheikh Lô op. In deze blog een recensie van zijn laatste CD 'Balbalou'.
English version below
Cheikh Lô wordt geboren in Burkina Faso als zoon van een juwelier. Hij start als sessie-drummer, werkt in Dakar en Parijs en drumt eind jaren '80 in de band van de Congolese zanger Papa Wemba. In die tijd leert hij gitaarspelen en ontdekt de reggae en funk en mengt deze met Senegalese mbalax en Ghanese highlife. Een mix die we ook aantreffen op zijn nieuwe album 'Balbalou'. Tegenwoordig woont Lô in Dakar en is actief lid van de Baye Fall, een gematigde tak van de Islam. Met zijn nieuwe CD gaat hij terug naar de spiritualiteit van het geloof en keert zich fel tegen Boko Haram die de Islam misbruikt. Cheikh Lô valt op door zijn gemêleerde en soepele stem (soms falsetto) en zingt in het Wolof, Bambara en Frans. Zijn muziek klinkt gemoedelijk in een beweeglijke mix van West-Afrikaanse stijlen met zelfs een Caribische knipoog in 'Baissons les Armes' (met strijkers). Hij zingt een duet met de Braziliaanse Flavia Coelho, de Malinese diva Oumou Sangaré en in het titelstuk klinkt de trompet van Ibrahim Maalouf. Opvallend zijn de talking drums, funky blazers, groovy (muted) gitaren, strijkers in 'Bamba' en werkelijk prachtig is het accordeonspel van Fixi in 'Degg Gui'.'Barbalou' vliegt muzikaal weliswaar alle kanten op, maar klinkt oprecht, openhartig en loyaal!
Cheikh Lô treedt op 23 juli 2015 in North Sea Jazz Club (Amsterdam) / 24 juli Sfinx Mixed in Boechout/Antwerpen.
…and the live version
English version
After the '60s folk revival, the festival Sfinks Folk was created at Boechout (Antwerp/Belgium) in 1976. A small festival that has grown into a multi-day event from Sfinks Festival to Sfinks Mixed with a total of 1200 concerts from 1976 to 2014. During the 2015 – 40th edition the Senegalese singer Cheikh Lô will perform on Friday July 25th. In this blog a review of his last album 'Balbalou'.
Cheikh Lô was born in Burkina Faso, the son of a jeweler. He starts as a session drummer, works in Dakar and Paris and plays drums in the band of Congolese singer Papa Wemba, late '80s. At those days he learned how to play the guitar and discovered reggae and funk which he mixed with Senegalese mbalax and Ghanaian highlife. A mellow mix also to be found on his new album 'Balbalou'. Nowadays Lô lives in Dakar and is an active member of the Baye Fall, a moderate branch of the Islam. With his new CD he goes back to the spirituality of religion, and turned fiercely against Boko Haram who turns the Islam away from humanity. Cheikh Lô is notable for his mixed and smooth voice (sometimes falsetto) and sings in Wolof, Bambara and French. His music sounds pleasant in a volatile mix of West African styles with even a Caribbean touch in 'Baissons les Armes' (with fine violins). He sings a duet with Brazilian Flavia Coelho, the Malian diva Oumou Sangaré and in the title song we hear the trumpet of Ibrahim Maalouf. Notable are the talking drums, funky horns, groovy (muted) guitars, violins in 'Bamba' and really beautiful is the accordion of Fixi in 'Degg Gui'. 'Barbalou' is a twisting and diverse album that sounds sincere, frank and loyal!
Cheikh Lô: 'Balbalou' (Chapter Two/Wagram Music)
© Mattie Poels.