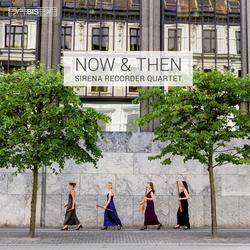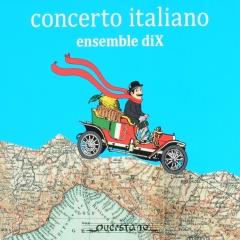 Het Sirena Recorder Quartet en het Ensemble diX bewerkten muziek van oude meesters zoals Bach, Vivaldi en Puccini. Maar spelen ook nieuw werk van Chiel Meijering, Dick Koomans en Staffan Mossenmark.
English version below
Goede muziek behoeft geen krans. Veel composities zitten zo knap in elkaar dat je ze zonder problemen kunt arrangeren voor andere bezettingen. Hét procedé van het Sirena Recorder Quartet en Ensemble diX. Beiden groepen brengen een nieuw album uit waarop werken van o.a. Bach en Vivaldi op innovatieve manier werden bewerkt. Door de nieuwe bezetting krijgt de muziek een frisse kleur en klinkt (over)bekend repertoire verrassend origineel. Maar er is meer. Zo speelt het Sirena Recorder Quartet uit Denemarken/Zweden ook eigentijds speciaal voor blokfluit kwartet gecomponeerd werk. Moderne stukken met gebruik van (zang)stem en speelgoedpiano, zoals het 'Sanctus' van Chiel Meijering (1954) dat prachtig laveert tussen muziek uit begin 16de eeuw en hedendaags. 'Clockwork-Toccata' van de Italiaanse componist Fulvio Caldani met een link naar de minimal music of het werk 'Childhood' waarin de Zweedse componist Staffan Mossenmark zijn jeugd reflecteert. In al deze stukken toont het Sirena Recorder Quartet haar veelzijdigheid, speelt met flair en klinkt bijzonder harmonieus: een intonatie nuancering die bij blokfluit(kwartet)spel zeer nauw komt.
Iets soortgelijks treffen we aan bij het Ensemble diX uit Duitsland dat met fluit, hobo, klarinet, fagot en gast harpiste bezetting de randen opzoekt. Deze komen het best tot uiting in de composities uit de 20ste eeuw te vinden op de tweede helft van de cd. Hierin klinkt het kwartet gedurfder en stralender. Alhoewel het album 'Concerto Italiano' opent met Bach's 'Italienisches Konzert', bestaat de rest van het repertoire volledig uit werk van Italiaanse componisten. Deze stukken vereisen een brede voordracht waarbij volume- en tempoverschillen elkaar voortdurend afwisselen. Door coherent samenspel klinkt dit markant kwartet als een volledig orkest, niet in de laatste plaats door de uitgebalanceerde arrangementen van klarinettist Hendrik Schnöke. Uitermate fraai zijn 'Intermezzo Sinfonico' (van Mascagni) en Puccini's 'E lucevan le stelle'. Absolute klasse!
English version
Good music needs no bush. Many compositions are so cleverly constructed that you can arrange them for any ensemble without problems. The Sirena Recorder Quartet and Ensemble diX recorded a new album with compositions by Bach and Vivaldi, which are arranged on a innovative way. In a new line-up the music gets a fresh colour and well-known repertoire sounds surprisingly original. But there is more. The Sirena Recorder Quartet from Denmark/Sweden plays also contemporary composed work, specially composed for recorder quartet. Modern pieces using (singing) voice and toy piano, like the 'Sanctus' by Chiel Meijering (1954) that jumps in between the beautiful music from the early 16th century and contemporary music. 'Clockwork Toccata' by the Italian composer Fulvio Caldani which links to minimal music or 'Childhood' in which the Swedish composer Staffan Mossenmark reflects his childhood. In all these pieces the Sirena Recorder Quartet shows her versatility, playing with flair and particularly harmonious sound: which become very close in a recorder quartet.
Like the Ensemble diX from Germany which sounds very harmonic too. With a fine line-up of flute, oboe, clarinet, bassoon and guest harpist the group sound is spectacular. The best reflected in the works of the 20th century in the second half of the album, in which the quartet sounds bolder and brighter. Although the album 'Concerto Italiano' opens with Bach's 'Italienisches Konzert' the rest of the repertoire consists entirely of work by Italian composers. These pieces require a broad diction in which volume and tempi changes are continuously changing. These musicians are so familiar to each instrumental sound that this quartet sounds like a full orchestra – not least because of the balanced arrangements by clarinettist Hendrik Schnöke. Extremely beautiful are the pieces 'Sinfonico Intermezzo' (Mascagni) and Puccini's 'E lucevan le stelle'. Splendid!
Sirena Recorder Quartet: 'Now & Then' (BIS/New Arts International)
Ensemble diX: 'Concerto Italiano' (VKJK.de/New Arts International)
© Mattie Poels.