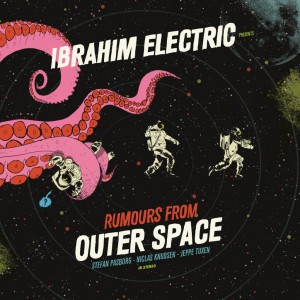 De Deense groep Ibrahim Electric opereert vanuit Kopenhagen. Hun achtste album 'Rumours From Outer Space' is een opeenstapeling van jazz, pop, funk, rock, afro-beat en surfmuziek. Het trio bestaat uit gitarist Niclas Knudsen, Jeppe Tuxen op Hammond B-3 en drummer Stefan Pasborg. Muziek met een gehaaide dosis humor waar je goede zin van krijgt.
English version below
Ibrahim Electric klinkt vet, kamerbreed en bijzonder swingend. Tegen een (teken)filmisch-decor schakelt de groep moeiteloos van scene naar scene, van sfeer naar sfeer, steeds met een smullende ondertoon. Fuzzy & funky gitaren met pitchy, scheurende, sappige orgelpartijen en rollende drums. Er wordt fantastisch gespeeld met een voortdurend laconieke – 'mij maak je niks' – uitstraling. Dit trio klinkt als een volwaardige band met levendig charisma. Arrangementen zijn doorspekt met humor. Zo wordt een blaffende hond ingezet in 'Moondogs on the Run', klinkt er regelmatig een dun maar laaiend surforgel (The Arabians are Coming) en is het Nicolai Elsberg die op Russische wijze een Deense tekst declameert met een turn-around koortje aan het slot. Heerlijke cd waar je niet alleen heel vrolijk wordt maar ook heel blij omdat de 'Rumours From Outer Space' (Geruchten Uit de Ruimte) zo opbeurend zijn; de wereld vergaat niet – we zijn pas net begonnen!
English version
The Danish group Ibrahim Electric operates from Copenhagen. Their eighth album 'Rumours From Outer Space' is an accumulation of jazz, pop, funk, rock, Afro-beat and surf music. The trio consists of guitarist Niclas Knudsen, Jeppe Tuxen on Hammond B-3 and drummer Stefan Pasborg. Music with a fine sense of humor which makes you feel good.
Ibrahim Electric sounds tight, broadloom and very groovy. Against a cinematic animated decor, the group switches easily from scene to scene, from atmosphere to atmosphere, always with a feasting undertone. Fuzzy & funky guitars with pitchy, ripping, juicy organ parties and rolling drums. It is played with a fantastic constantly lovely laconic – 'I'm chill' – look. This trio sounds like a full band with vibrant charisma. Arrangements are laced with humor. As a barking dog is used in 'Moon Dogs on the Run', a frequently a thin raging surf organ sound (The Arabians are Coming) and Nicolai Elsberg declaims a Danish text on a Russian way with a turn-around choir at the end. Wonderful CD that makes you feel happy. Not only because of the 'Rumours From Outer Space' which are so uplifting; but also the world does not perish – we have only just begun!
Ibrahim Electric: 'Rumours From Outer Space' (ILKMusic/New Arts International)
Photo: Mikkel Heriba / Tuala Hjarnø
© Mattie Poels.