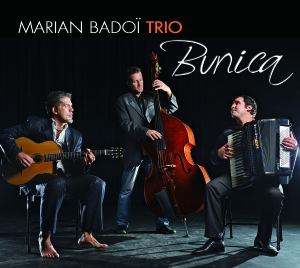 De Roemeense accordeonist Marian Badoï vormt een trio samen met gitarist Olivier Kikteff en contra bassist Tanguy Blum, beiden van de Franse groep 'Droigts de l'Homme'. Hun debuut-cd Bunica is een dampend instrumentaal gypsy jazz-manouche album waarop het trio uitblinkt in originaliteit en virtuositeit.
English version below
Accordeonist Marian Badoï (1987) wordt geboren in Ditesti, centraal Roemenië. Hij groeit op in een muzikaal gezin en is een virtuoos op zijn instrument. Zijn grootvader is violist en vader accordeonist. Krijgt als kind muziekles en speelt veel op feesten en markten. Maar het muzikale balletje gaat pas echt rollen als hij in 2012 de flamenco gitarist Paco Ibáñez leert kennen met wie hij een aantal concerten geeft in Valence en Perpignan. Bovendien neemt hij in datzelfde jaar zijn album Bunica op met twee leden van de groep 'Droigts de l'Homme'. Badoï valt op door zijn verbluffende techniek. Hij 'glijdt' over zijn instrument en speelt met een laconieke vanzelfsprekendheid. Iets soortgelijks komen we ook tegen bij het gitaarwerk van Olivier Kikteff die naast akoestisch gitaar ook af en toe wat effecten toevoegt en zijn gitaar een ruigere sound geeft. Het trio speelt Jazz Manouche of Hot Club de France zoals die werd ontwikkeld door de Belgische gitarist Django Reinhardt en violist Stephan Grapelli, bewerkt met originele arrangementen. Alhoewel 'Bunica' een fantastische cd is met originele composities en Badoï bijzonder fraai de Roemeense en Bulgaarse stijlen laat doorklinken in zijn improvisaties, sneeuwt de muziek af en toe onder in zijn eigen virtuositeit.
English version
The Romanian accordion player Marian Badoï founded a trio with Olivier Kikteff and double bass player Tanguy Blum, both from the French group 'Droigts de l'Homme'. Their début album Bunica is an exciting gypsy, jazz manouche recording: original and virtuous.
Marian Badoï (1987) was born in Ditesti, central Romania. He grew up in a musical family and became a virtuous on his accordion. His grandfather was a violinist and his father an accordion player. At a very young age he got music lessons and played on party's and markets. But in 2012, when he met the flamenco guitarist Paco Ibáñez, he got famous after giving some concerts with him in Valence en Perpignan. Above all, in the same year, he recorded his album Bunica with two members of the group 'Droigts de l'Homme'. Badoï  is a striking musician. He plays his instrument so laconically and confident. Like his fellow musician Olivier Kikteff on guitar, who put sometimes a little effects on the strings to give his guitar more body and raw sound. The trio plays Jazz Manouche or Hot Club de France style developed by the Belgian guitarist Django Reinhardt and violinist Stephan Grapelli. And they put some original arrangements to the music. Although 'Bunica' is a splendid album with great compositions and Badoï's Romanian and Bulgarian accordion style, the music sometimes disappears in it's own virtuosity.
Marian Badoï Trio: Bunica (Lamastrock)