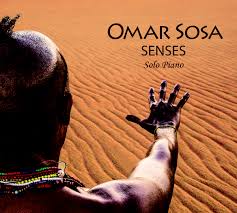 De nieuwste cd van de Cubaanse musicus Omar Sosa is een sensitief album waarop deze meesterlijke pianist op zoek gaat naar rust, naar de stilte tussen de noten. Sosa is een verrassende pianist die tegen een Cubaanse achtergrond muziek schrijft. 'Senses' is zijn meest intense cd tot nu toe.
English version below
Omar Sosa wordt geboren in 1965 in Camaguey, centraal Cuba, maar woont tegenwoordig in New York. Aanvankelijk studeert hij drums en percussie, geeft veel les aan kinderen en begint zijn band Tributo als hij 19 jaar oud is. Midden jaren '90 start hij met het opnemen van piano solo-cd's en wordt in 2002 genomineerd voor een Latin Grammy. Sosa is een pianist met een ziel: alles wat hij uitbrengt, heeft een diepe, intensieve persoonlijke lading. Zo ook zijn nieuwste cd 'Senses'. De muziek voor dit album ontstaat als hij begin 2012 de score schrijft voor de voorstelling 'Miriam' van danser/choreograaf Nora Chipaumire (Zimbabwe/New York) in het Experimental Media and Performing Arts Center (EMPAC) in New York. Tijdens zijn vrije weekenden was Sosa te vinden in de studio waar een ambiance en Yamaha concert vleugel hem inspireerde tot het opnemen van zijn nieuwe album cd. De muziek ademt rust en genegenheid uit. Soms zelfs introvert en nadenkend met een doorlopend karakter, waar klankkleuren en (jazz)harmonieën het winnen van virtuositeit. Melodieën krijgen steeds een andere wending, waarbij harmonieën elkaar razend snel opvolgen en één groot muziekstuk ontstaat waar zelden wordt geïmproviseerd op een thema. Hierdoor zijn alle stukken met elkaar verbonden en vormt 'Senses' een prachtig metafoor voor het geribbeld woestijnzand op de hoes, waar de zinderende glooiing garant staat voor innemende muziek.
More Omar Sosa 'Eggūn' check this.
English version
The new Omar Sosa's album 'Senses' is a sensitive one on which this maestro piano player looks for peace, quietness in between the notes. Sosa is a surprising musician who writes music with a Cuban background.
Omar Sosa was born in 1965 in Camaguey, central Cuba, but lives now in New York. He studied percussion and drums, and gave lessons to children. He started his first band Tributo when he was 19 years old. From the mid '90's he recorded solo piano albums and was nominated for a Latin Grammy in 2002. Sosa is a musician with soul. Everything he released got a deep and sensitive personal feeling. Like his newest album 'Senses'. At the beginning of 2012 he wrote the music for the show 'Miriam' of dancer/choreographer Nora Chipaumire (Zimbabwe/New York) at the Experimental Media and Performing Arts Center (EMPAC) in New York. In his free weekends Sosa recorded his album in the studio where ambiance and a lovely Yamaha concerto grand piano him inspired for sixteen wonderful recordings. The music is full of silence and affection. Sometimes introvert or meditative with a flowing character, with musical colors and (jazz) harmonics that overrule virtuosity. Melodies with a continuing story, with fast chords progressions. In this way we hear one big musical piece with no improvisation on theme's but an improvisation in itself. In this way all the pieces are connected and makes 'Senses' a beautiful metaphor for the corrugated sand on the album cover, where the sweltering sand keeps up this sympathetic ans charming music.
Omar Sosa: 'Senses' (Skip Records/New Arts International)
© Mattie Poels.
(Photo's by Mark Downe, Andy Nozaka and Tom Ehrlich)