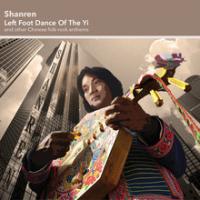 Het kwartet Shanren geeft met hun debuut cd 'Left Foot Dance Of the Yi – and other Chinese folk-rock Anthems' een nieuwe westerse kijk op de traditionele Chinese muziek uit Yunnan. Een provincie in het zuidwesten van China, op de grens met Birma en Vietnam. Opmerkelijk fris klinkende muziek gebaseerd op eeuwenoude traditionele melodieën.

English version below
De yunnan provincie is een bergachtig gebied in het zuiden van China waar zo'n 25 verschillende Chinese minderheden wonen die hoofdzakelijk leven van de rijstbouw. De streek staat bekend om de lusheng (mondorgel) en de meerstemmige zang, te horen in de openingstrack 'Wandering'. Het kwartet Shanren (bet. bergmannen) komt uit de Yunnan provincie en werd opgericht in 1990. Hun motto is traditionele muziek op een toegankelijke manier bewerken voor de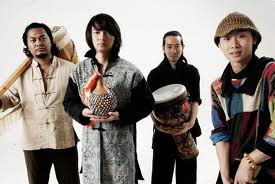 Chinese jeugd. Daarvoor is de groep jarenlang op zoek geweest naar regionale liedjes die ze bewerkten voor hun debuut cd. Zo leerden ze het titelnummer 'Left Foot Dance Of The Yi' van een familie uit Daguokou, een stad in het noorden van Yunnan. Een energieke linksbenige dans begeleidt op de luit, fluit en handgeklap. Shanren gebruikt de bas en gitaar in hun muziek, maar het zijn toch vooral de prachtige traditionele Chinese instrumenten zoals de xianzi en qinqin (resp. 3 en 4 snarige luiten), fluit, mondharp en percussie die de klankkleur bepalen. Elk stuk krijgt een unieke bewerkingen dat een behoorlijk gevarieerde cd oplevert, geïnspireerd op de muziek van o.a. Led Zeppelin en Red Hot Chili Peppers die de groep hoorde op (illegaal) geïmporteerde cassettes. De muziek is licht van aard en de mannen zingen prachtig met hoge stemmen, aangevuld met meerstemmigheid. In een enkel nummer wordt de rock gitaar ingezet, klinken reggae ritmes en wordt gerapt. Maar het geheel blijft toch ietwat braaf en mist de ruigheid die we bij (Mongoolse) groepen als Hanggaï of Huun-Huur-Tu wel tegenkomen. Toch blijft de debuut cd van Shanren de moeite waard met als hoogtepunt 'Happy New Year' (met vuurwerk) waarin de groep vlamt en heerlijk los gaat, met een verbluffende melodische wending: een goede start voor een gelukkig nieuw jaar!
Engish version
The group Shanren brings a new western look on Chinese music on their début 'Left Foot Dance Of the Yi – and other Chinese folk-rock Anthems'. They come from Yunnan, a county in the south of China on the Burma and Vietnamese border. A mountainous region where 25 minorities live by rice agriculture. Yunnan is well known because of the lusheng (mouth organ) and choral vocals, like we can hear in the opening track 'Wandering'. The quartet Shanren (means: mountain people)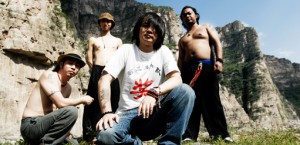 was founded at the beginning of the '90's. Their motto is playing traditional music in a modern way and make it suitable for young people. For years the group collected old songs to arrange for their first cd. So, the title song 'Left Foot Dance Of The Yi' they learned from a family of the city Daguokou, in the north of Yunnan. A energetic left leg dance song accompanied by lute, flute and hand clapping. Shanren used bass and guitar in their music but most of the time we hear the beautiful Chinese instruments like the xianzi and qinqin (3 en 4 string lute), flute, mouth harp and percussion who give the music it's Chinese sound. They play fresh and sparkling music and the men sing with high pitched voices, added with vocal harmonies. Every piece got it's very own arrangement inspired by the music of Led Zeppelin and the Red Hot Chili Peppers, heard on the (illegal) imported cassettes. In a few songs we hear rock guitar, reggae sounds and rap. But it's still a little gallant and we miss the raw edges, like the music of the (Mongolian) bands like Hanggaï or Huun-Huur-Tu. But still it's a valuable cd, with it's highlight 'Happy New Year' (with fireworks). The group rocks and beats with a wonderful melodic movement: a very good start for a wonderful new year!
Shanren: 'Left Foot Dance Of the Yi – and other Chinese folk-rock Anthems' (Riverboat Records/Music&Words)
© Mattie Poels.