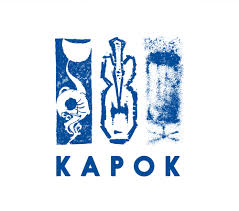 Kapok bestaat uit drie musici die op ongewone wijze de randen van de pop, jazz & geïmproviseerde muziek verkennen. In een combinatie van hoorn/cornet, gitaar en drumkit beweegt het trio door een markant muzikaal landschap en verbaasde menig luisteraar met hun debuut 'Flatlands'. Begin februari 2014 werd daar hun tweede cd 'Kapok' aan toegevoegd.
English version below
Kapok bestaat uit Morris Kliphuis (hoorn/cornet), Timon Koomen (gitaar) en Remco Menting (drumkit); dus zonder bas. Een heerlijk ongewone bezetting waarmee de groep volledig zijn eigen weg gaat. Wars van stijlen duikt de muziek over en door elkaar heen en ontaard regelmatig in een georganiseerde chaos. Arrangementen zitten vol suggestie waarbij alleen díe noten worden gespeeld die er werkelijk toe doen. Dat geeft open, frisse, heldere en vooral originele muziek in een brede context, waarbij je regelmatig het gevoel krijgt dat je naar meer dan drie instrumenten luistert. Thema's en improvisaties, gespeeld op gitaar en hoorn, worden vitaal ondersteund door de percussieve heerlijkheden van Menting die opvallen door innovatieve kracht. Prachtig zijn de verschillende gitaarklanken die variëren van clean, met galm tot vervormde rock. Dat geldt overigens ook voor de hoorn die van warme en ronde klank, kan uithalen tot trombone-achtig 'getetter'. Bijzonder fraai zijn de lange tonen van de hoorn waarmee hij de klassieke invloed verraadt en zelfs Beethoven's landelijkheid wat ruimte geeft. Kapok verslaat alle impro-grenzen. Niet voor niets dat het trio de prijs kreeg voor 'Beste Groep' tijdens de 'Dutch Jazz Competition' en de 'European Jazz Competition 2013' won: op naar de internationale tour.
English version

Kapok are three musicians who innovate the musical borders of pop, jazz & improvised music. In a combination of horn/cornet, guitar and drumkit the group plays an unusual musical language and already astonished listeners with their début 'Flatlands'. In February 2014 they released their second cd 'Kapok'.
Kapok is Morris Kliphuis (horn/cornet), Timon Koomen (guitar) en Remco Menting (drumkit), so without bass. A lovely and unusual combination that give the group it's own musical way. The music dudges to and fro: a few times exploding to organised chaotic. Arrangements are full of suggestion: they only play the really important notes. That brings open, fresh, clear a for all original music in a broad context. It gives you that feeling of listening to more than only three instruments. Theme's and improvisations, played on horn and guitar, are essentially accompanied by the splendid percussion of Menting who's exciting because of his cutting-edged power. Beautiful are the different guitar sounds: clean, with echo to distorted rock attitude. Familiar to the horn with it's warm and soulful sound – to trombone 'blare'. Beautiful are the legato tones of the horn which betray the classical influence and give a little shape to Beethoven's landscape. Kapok defeats all the improvisation borders. So it's easy to understand why this trio got the price for the 'Best Group' in the 'Dutch Jazz Competition' and won the 'European Jazz Competition 2013' award.
Kapok: 'Kapok' (New Arts International)
© Mattie Poels.