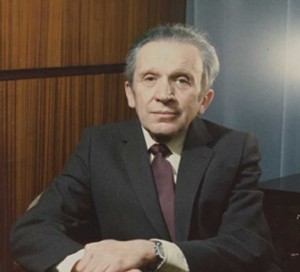 De Poolse componist Mieczyslaw Weinberg (1919–1996) is in Nederland relatief onbekend. Daar komt langzaam verandering in. Guy van Hulst organiseerde in november 2011 het 'Weinberg Festival' in Vredenburg (Utrecht) en begin 2014 komen er drie cd's op de markt met tijdloze werken van deze bijzondere componist.
English version below
De Joodse componist Mieczyslaw Weinberg groeide op in Warschau. Hij speelt in het rondreizend theatergezelschap van zijn vader en studeert als 12-jarige jongen aan het Conservatorium. In 1939, 40 jaar oud, vlucht hij vanwege het Nazi regime met zijn zus naar Minsk (Wit Rusland). Ook daar studeert hij aan het Conservatorium, maar vlucht in 1941 naar Tasjkent, de hoofdstad Oezbekistan. Zijn zus keert terug naar Warschau en wordt samen met zijn ouders door de Duitsers vermoord: iets wat Weinberg pas ver na de oorlog te horen krijgt. In Oezbekistan werkt hij voor de opera en leert Natalja Vovsi kennen, waarmee hij later trouwt. Op aandringen van zijn schoonvader en Joods acteur Salomon Michoëls, stuurt hij het manuscript van zijn eerste symfonie naar Dmitri Sjostakovitsj in Moskou. Deze is zeer onder de indruk van zijn werk. Hij nodigt Weinberg uit om in Moskou te komen wonen, wat ook gebeurt in 1943. Zo ontstaat een levenslange vriendschap tussen de beide componisten die duurt tot 1975, wanneer Sjostakovitsj overlijdt.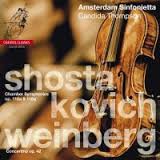 Mieczyslaw Weinberg heeft zeer uiteenlopende muziek geschreven waaronder zeven opera's, 22 symfonieën, 17 strijkkwartetten, kamer-, ballet-, theater- en filmmuziek en solo concerten. Composities met een diep menselijk karakter. Doorleefd, markant en dissonant maar ook warm, humoristisch en lyrisch zoals het 'Concertino voor viool en strijkorkest' uit 1948. Een aangrijpende compositie die met verve wordt uitgevoerd door violiste Candida Thompson samen met het Amsterdam Sinfonietta op cd 'Shostakovich Weinberg'. Uitgebracht t.g.v. het 25-jarig bestaan van het Amsterdam Sinfonietta.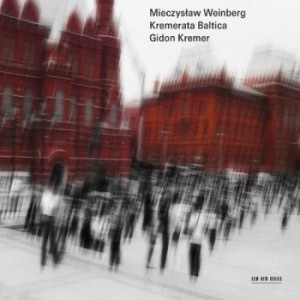 Het Kremerata Baltica uit Letland bracht een dubbel-cd uit met kamermuziek van Weinberg, waaronder de magistraal intense 'Sonata no. 3 (op. 126)' voor viool solo. Een werk uit 1979 dat Weinberg opdraagt aan zijn vader en waar de viool je in een verhalende lijn meeneemt door het volledige strijkorkest, vurig gespeeld door Gidon Kremer. Daarnaast vinden we een (strijk) 'Trio (op.48)', 'Sonatina (op. 46)' voor viool & piano, 'Concertino (op.42)' en 'Symfonie No. 10 (op. 98)' waarin Kremerata Baltica de solisten op (alt)viool, cello en contrabas moeiteloos door de diverse muzikale lagen heen begeleidt.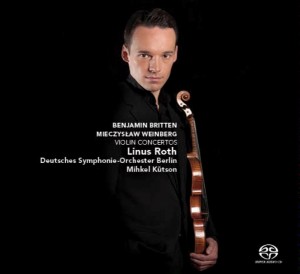 Ongelooflijk spannend en intrigerend is het 'Concerto for violin op. 67' dat Linus Roth opnam met het Deutsches Symphony-Orchester Berlin. Roth nam begin 2013 ook al alle Weinberg viool sonates op, samen met de Argentijnse pianist José Gallardo: voor review klik hier. Weinberg's 'Concerto for violin op. 67' is een dynamisch werk waarin Roth het onderste uit zijn viool haalt en een prachtig doorlopend gesprek voert met het orkest in een ferme uitvoering. Bijzonder daarbij is het laatste, het vierde deel: met een vette knipoog naar Mozart na een cantabilé derde deel. Veelzijdig knap.
Mieczyslaw Weinberg schreef zeer uiteenlopende muziek: met 'het hart op de tong' en uit 'een groot hart'. Wellicht niet voor iedereen even toegankelijk. Maar wie de moeite neemt iets te begrijpen van zijn (Joodse) achtergrond, hoort de weemoed tussen de noten. Ongehoord dat deze bijzondere muziek zo lang verborgen lag: daar is gelukkig de laatste decennia verandering in gekomen!
English version
The Polish composer Mieczyslaw Weinberg (1919–1996) is rather unknown. But it's slowly changing. November 2011 Guy van Hulst organised the 'Weinberg Festival' at Vredenburg (Utrecht-Netherlands) and at the beginning of 2014 three cd's were released with timeless compositions of this excellent composer.
The Jewish composer Mieczyslaw Weinberg grew up in Warsaw. He played in the travelling theatre orchestra of his parents and studied, 12-year old, at the Conservatory. In 1939, 40 years old, he fled with his sister to Minsk (Belarus) because of the Nazi regime. He studied there at the Conservatory as well, but fled again in 1941 to Tashkent, the capital of Uzbekistan. His sister returned to Warsaw and got killed with his parents by the Germans. Weinberg didn't know that for a long after the war. He worked at Uzbekistan for the opera house and got introduced to Natalja Vovsi, who became his wife. Her father, the Jewish actor Salomon Michoëls, took care of Weinberg's First Symphony and sent it to Dmitri Sjostakovitsj in Moscow. Sjostakovitsj was very impressed and invited Weinberg to come to Moscow, which he did in 1943. The beginning of a life long friendship, until Sjostakovitsj died in 1975.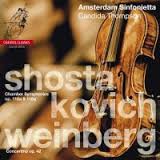 Mieczyslaw Weinberg composed varied music: seven opera's, 22 symphonies, 17 stringquartets, chamber-, ballet-, theatre- and filmmusic and solo concerto's. Compositons with a deeply human character: striking and dissonant but also warm, humoristic and lyrical like the 'Concertino for violin and stringorchestra' from 1948. A touching composition, played with verve by the violinist Candida Thompson together with the Amsterdam Sinfonietta on the cd 'Shostakovich Weinberg'. Released for Amsterdam Sinfonietta's 25th anniversary.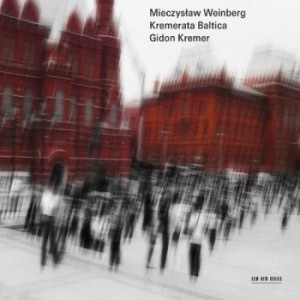 The Kremerata Baltica from Letvia released a double-cd with chambermusic of Weinberg, with for example the intense 'Sonata no. 3 (op. 126)' for solo violin. A work from 1979 that Weinberg dedicated to his father. The violin takes you in a storytelling path through the whole stringorchestra. Vivacious played by Gidon Kremer. Beside that, there are a few striking compositions like the 'Trio (op.48)', 'Sonatina (op. 46)' for violin & piano, 'Concertino (op.42)' and 'Symfonie No. 10 (op. 98)' in which Kremerata Baltica beautiful follows the solo parts of the violin, cello and double bass.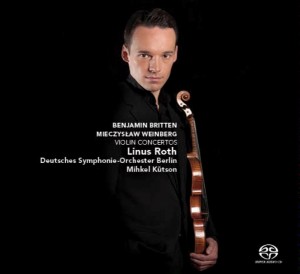 Incredible exciting and moving is the 'Concerto for violin op. 67', recorded by Linus Roth and the Deutsches Symphony-Orchester Berlin. In spring 2013 Roth released already all Weinberg sonates for piano & violin together with Argentinian pianist José Gallardo: for a review click here. In this 'Concerto for violin op. 67' he gives you the bottom of his violin: a beautiful conversation with the orchestra in a striking version. Specially the last part with an eye wink to Mozart in a cantabilé piece. Multilateral ably!
Mieczyslaw Weinberg wrote varied music. Maybe not suitable for everyone. But if you look at the man's Jewish past, you'll heart the melancholy between the notes in music which was hidden for a long time, now eventually available for all of us!
Amsterdam Sinfonietta; '25 Years' (Channel Classics/New Arts International)
Kremerata Baltica/Gidon Kremer: 'Mieczyslaw Weinberg' (ECM New Series/New Arts International)
Linus Roth and the Deutsches Symphony-Orchester Berlin: 'Violin Concertos' (New Arts International)
© Mattie Poels.