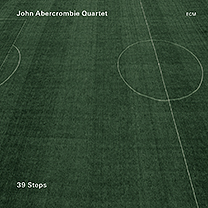 Gitarist John Abercrombie is een muzikaal verhalenverteller. Speelde eind jaren '70 anderhalf jaar met pianist Marc Copland bij drummer Chico Hamilton. Met hun gaf hij ook zijn eerste concerten in Europa tijdens het Montreux Jazz Festival in Zwitserland. Op zijn nieuwste cd '39 Steps' horen we naast Copland ook bassist Drew Gress en drummer Joey Baron.
English version below
John Abercrombie (New York 1944) is een veelzijdig gitarist. Speelt in veel verschillende bezettingen jazz, rock, elektrisch, akoestisch zowel gecomponeerd als vrije improvisaties. Hij brengt meer dan 25 albums uit en is te gast op meer dan honderd(!). Abercrombie is een groot improvisator die de juiste noten kiest zonder te vervallen in nodeloos gepiel. Emotie en diepgang vind je terug in al zijn werk en improvisaties. Hij start als puber met gitaarles, studeert aan de fameuze Berklee School of Music en speelt met veel grote jazz musici waaronder Michael Brecker, Jack DeJohnette en Ralph Towner. Als gitarist sluit hij aan bij Jim Hall en Larry Corell. Abercrombie speelt met een 'directe' toon, heeft een sprankelende articulatie en maakt in zijn improvisaties gebruik van glissando, waar de ene toon naar andere glijdt. Hij schreef bijna alle stukken op '39 Steps' die etaleren in melodische eenvoud, op 'Shadows Of A Doubt' na, dat wordt gecreëerd door collectieve improvisatie. '39 Steps' is een warm en sereen album waar veel plaats is voor nuance: waar harmonieën en inventief drum- en basspel prachtig gearrangeerd is. En waar pianist Marc Copland thema's (unisono) meespeelt, ze bloemrijk versiert en er inventief over improviseert. Muziek waar instrumenten als een puzzel in elkaar grijpen en alles 'vanzelfsprekend' op zijn plek valt.
English version

Guitarist John Abercrombie is a musical all-rounder. Played in the 70's for one and a half year with drummer Chico Hamilton and pianist Marc Copland. With them he gave his first concerts in Europa at the Montreux Jazz Festival in Switserland. On his new cd '39 Steps' we hear besides Copland also bass player Drew Gress and drummer Joey Baron.
John Abercrombie (New York 1944) played in lots of different kind of groups: jazz, rock, electric, acoustic, composed as well as free-improvising. He recorded more than 25 albums and played as guest musician on more than a hundred(!). He's a great improviser, always choosing the right notes, emotion and depth in his work. As a fourteen old young guy he started guitar playing, studied at the famous Berklee School of Music and played with well known jazz stars like Michael Brecker, Jack DeJohnette and Ralph Towner. Influenced by Jim Hall and Larry Corell. Abercrombie has a direct guitar sound with the sparkling articulation. In his improvising he uses the glissando: where one note flows into the other. He wrote almost all the pieces on '39 Steps' that exceed in melodic sincerity, except 'Shadows Of A Doubt', that's created by collective improvisation. '39 Steps' is a warm and serene album with lost of space for nuance. Where harmony and bass/drums are beautiful arranged. Where pianist Marc Copland plays theme's unisono with the guitar and lovely variates and improvises. A musical puzzle where instruments fit perfect into the music with a remarkable self-evident sound!
John Abercrombie Quartet: '39 Steps' (ECM/New Arts International)
© Mattie Poels.