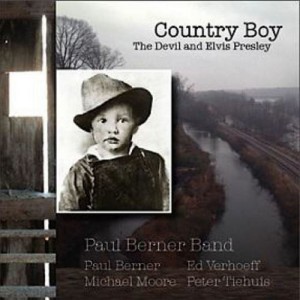 'Country Boy – The Devil and Elvis Presley' is alweer de derde cd die contrabassist Paul Berner (1953) uitbrengt op zijn Twister Records. Sinds 1990 woont hij in Amsterdam, speelde met half Nederland, maar vooral met de gitaristen Ed Verhoeff en Peter Tiehuis. Op 'Country Boy' horen we Michael Moore op rieten. Resultaat: bevlogen Folk Jazz.
English version below
'Country Boy' is een warme cd met melodische muziek. Zwevende, goed in het gehoor liggende thema's, liedjes eigenlijk, met een heerlijk melancholische ondertoon. Veelal gespeeld door Michael Moore op altsax en klarinet. De gitaristen Verhoeff en Tiehuis verdelen de begeleidingspartijen. Waar de één 'n ritmisch patroon neerzet, speelt de ander juist liggende akkoorden. Het spelen van korte rifjes (melodietjes), chorus (zwevende toon), tremolo (herhaling van tonen) of het gebruik van vervorming, het wordt allemaal subtiel toegepast. Heel beheerst, met overgave en zeer muzikaal waarbij ze, samen met de bas, suggestief de taak van de drummer overnemen. De helft van de stukken zijn geschreven door Paul Berner, een bassist die opvalt door zijn markante en zelfverzekerde manier van spelen. Hij heeft een groot gevoel voor melodie. Zijn warme bas klank mengt bijzonder fraai met de drie instrumenten, doorspekt met korte solistische fragmenten. Berner, geboren in Californië, is weliswaar klassiek geschoold, maar werd in New York de vaste begeleider van jazz trompettist Red Rodney en speelde o.a. met Stan Getz, Freddie Hubbard en klaviergigant Monty Alexander. Zijn voorliefde voor folk (Gillian Welch), country, blues en veel improvisatie is op 'Country Boy' overduidelijk, waaraan ook een aantal bewerkte hits van Elvis Presley zijn toegevoegd die de cd nog indrukwekkender maakt.
English version
'Country Boy – The Devil and Elvis Presley' is the thirth cd of double bass player Paul Berner (1953) on Twister Records. Since 1990 he lives in Amsterdam and played with a lot of Dutch jazz musicians, but mostly with guitarists Ed Verhoeff en Peter Tiehuis. On 'Country Boy' we hear also Michael Moore on reeds.
'Country Boy' is a warm and melodic album. Floating, attractive theme's, real songs, with a wonderful melancholic atmosphere, mostly played by Michael Moore on alto sax and clarinet. The guitarists Verhoeff and Tiehuis share the accompany. One plays a rhythmic pattern and the other legato chords. They play short riffs (melodies), chorus, tremolo (repeating tones) or distortion in a subtle way. Self-possessed, dedicated and very musical. On a suggestive way they fill in the drum parts in collaboration with the double bass. Half of the repertoire is written by double bass player Paul Berner. He's a striking and self-assured musician with a great feeling for melody. His warm bass sound mix beautifully with the three other instruments, larded by solistic fragments. Berner was born in California and, although classical educated, he became a jazz musician in New York and played with jazz trumpet player Red Rodney, Stan Getz, Freddie Hubbard and piano lion Monty Alexander. His preference for folk (Gillian Welch), country, blues and improvisation is obvious on 'Country Boy', on which we also find a few Elvis Presley hits, which makes this album even more impressive.
Paul Berner Band: 'Country Boy – The Devil and Elvis Presley' (Twisterrecords.nl)

© Mattie Poels.