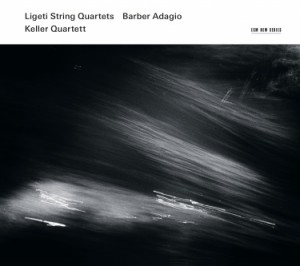 Het Hongaars Keller Quartett nam in het verleden veel cd's op met muziek van verschillende componisten. Het strijkkwartet heeft zich nooit beperkt tot één bepaalde stijl, wat ook blijkt uit het werk op hun laatste cd, waar de strijkkwartetten no.1 en no. 2 van hun landgenoot György Ligeti worden gespeeld naast het 'Adagio for Strings' van Samuel Barber: een markante combinatie.
English version below
De cd opent met Strijkkwartet no.1 – 'Métamorphoses nocturnes' van György Ligeti uit 1953. Een stuk geïnspireerd op de gedaante wisselingen in de nacht, voortreffelijk muzikaal vertaald. De compositie bestaat uit diverse korte gedeelten, beknopte frasen met ieder hun eigen melancholie, ongrijpbare melodie en (fugatisch) korte motiefjes die op verschillende wijze worden gespeeld. Con arco: 'gestreken', pizzicato: 'getokkeld' of glissando: 'met glijdende toon'. Deze wisselingen gaan soms zo snel dat inleving, snelle muzikale schakeling en vakkundigheid onmisbaar zijn. Het Keller Quartett speelt Ligeti met een natuurlijke trefzekerheid en plaatst melodie en samenklank in het centrum van de muziek. Bovendien weet het kwartet verdraaid goed waar de belangrijke en minder belangrijke elementen verborgen zitten en tovert deze naar de oppervlakte, waardoor de luisteraar steeds aangenaam wordt verrast. In het 5-delige Strijkkwartet no.2 (1968) gebeurt iets soortgelijks maar zijn het de delen afzónderlijk, die van kleur verschillen. Het 2de deel is langzaam en gedragen, het derde wordt overwegend pizzicato gespeeld, deel 4 is brutaal en assertief en het laatste deel klinkt als 'een bloem die langzaam opent en je toelacht'. De cd is aangevuld met het bekende 'Adagio for Strings' (1936) van Samuel Barber. Een stuk geschreven in post Romantische stijl. Een vreemde keuze wellicht, maar buiten dat dit een prachtige compositie is, toont het Keller Quartett hiermee aan, dat het in staat is om een voor strijkkwartet bewerkt stuk te laten klinken als een volledig orkest. Ongeëvenaard mooi!
English version
The Hungarian Keller Quartett recorded several cd's with music from different composers. The string quartet never restricted their repertoire to one specific style. Like on the last cd with compositions from their compatriot György Ligeti and 'Adagio for Strings' from Samuel Barber: a remarkable collection.
The cd opens with the String Qurtet no. 1 – 'Métamorphoses nocturnes' (1953), written by György Ligeti (photo). A piece inspired by the changes of the night, splendid translated to music. The composition insists of several short and terse pieces with their own specific, untouchable melodies, played in different ways. Con arco: 'bowed', pizzicato: 'plucked' or glissando; 'gliding'. The changes are sometimes that quick, that empathy, fast musical changes and craft are indispensable. The Keller Quartett plays Ligeti with a natural significant way. They put the melody and harmony in the center of the music. Moreover, the quartet knows extremely well how to show the major and less important elements and conjure these to the surface and surprise the listener. In the 5-piece String Quartet no.2 (1968) every part got it's own musical color. The second part is slow, the third part is mostly played pizzicato, part four is intrepid and assertive and the last piece sounds like 'a slowly opening flower with a smiling face'. 'Adagio for Strings' (1936) of Samuel Barber is added to the two Ligeti string quartets. A post Romantic piece. A remarkable choice, maybe, but in this wonderful music you hear the Keller Quartett sound like a string orchestra in a composition that's arranged for string quartet. Splendid!
Keller Quartett: 'Ligeti String Quartets / Barber Adagio' (ECM New Series/New Arts International)
© Mattie Poels.