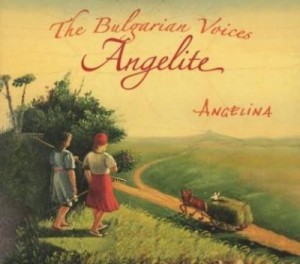 De nieuwste cd van het Bulgaarse koor The Bulgarian Voices Angelite sluit aan bij de zang traditie die door Philip Koutev (1903-1982) in de jaren '50 werd ontwikkeld. Hij arrangeerde dissonanten harmonieën van dorpszangers naar West Europese voorbeeld: inmiddels de Bulgaarse standaard.
English version below
De Bulgaarse vrouwenkoren staan bekend om hun heldere, maar snijdende dissonanten samenklanken gezongen in onregelmatige maatsoorten. Bovendien horen we regelmatig de drone: een melodie op één toon, gezongen door lage vrouwenstemmen. Meer dan zestig jaar zingt het koor The Bulgarian Voices Angelite op deze manier. Een Bulgaars Staats Televisie koor dat wordt opgericht in 1952, maar vanaf 1991 (onder de leiding van Tanja Andreeva) een nieuwe samenstelling krijgt en haar naam veranderd in The Bulgarian Voices Angelite. Na de val van het IJzeren Gordijn concert tournees maakt door Europa en Amerika en samenwerkt met diverse (pop)artiesten. Het koor heeft zich verder ontwikkelt en mengt op 'Angelina' de Bulgaarse folklore met eigentijdse muziek. De stemmen zijn uitgesproken transparant en het koor klinkt als een perfecte eenheid waar je niet alleen goede zangeressen voor nodig hebt maar ook een fantastische dirigent; Georgi Petkov. Studeerde in Plovdiv en is sinds '99 artistiek directeur van The Bulgarian Voices Angelite. Naast a capella stukken wordt traditioneel en nieuw gecomponeerd werk begeleid op tapan (trommel), darbuka (vaastrommel), gadulka, kaval (Theodossi Spassov), gaita en tambura (snaar instrument uit de Rhodope. z/w Bulgarije). Deze instrumenten worden niet in elk nummer gebruikt waardoor 'Angelina' een zeer uitgebalanceerde cd is met veel variatie. Je hoeft geen kenner te zijn om deze Bulgaarse muziek mooi te vinden. Wie de moeite neemt om 'Angelina' rustig te beluisteren, wordt verwelkomt in het Bulgarije van Nu, waar intense samenzang, improvisatie maar vooral diepgang nog steeds een grote rol spelen.
English version
The newest cd of the Bulgarian choir The Bulgarian Voices Angelite is written in the style Philip Koutev (1903-1982) created in the fifties. He arranged dissonant harmonies of village singers in a West European way, which became the Bulgarian standard.
Bulgarian woman choirs are famous all over the world because of their special harmonies sung in irregular meter's. They also use the drone: a melody sung on óne note by low female voices. The Bulgarian Voices Angelite is one of the most famous choirs of Bulgaria. From 1952 until 1991 the choir was associated with the Bulgarian State Television and developed under the licence of Tanja Andreeva to The Bulgarian Voices Angelite. After the fall of The Iron Curtain, the choir made concert tours throughout Europa and the U.S. and worked together with several (pop)artists. On the new cd 'Angelina' they mix Bulgarian folklore with contemporary music. The voices are extremely transparent and the choir sounds like an unity. That implies good singers, of course, but also a excellent conductor: Georgi Petkov (pic left) who transforms nineteen singers into one colour. He studied in Plovdiv and works together with The Bulgarian Voices Angelite since '99. We hear a capella pieces, traditionals and new composed songs, accompanied by tapan (drum), darbuka (drum), gadulka, kaval (Theodosii Spassov), gaita en tambura (string instrument from the Rhodope. s/w Bulgaria). 'Angelina' is a lovely cd with a wonderful mixture of old and new songs played on variable instruments. You don't have to be an expert of Bulgarian music to like this. So, take your time and listen to these excellent heavenly voices, rich harmonies, full of depth in a today's Bulgaria.
Wonderful 'Vrabche' (Sparrow) written by Theodosii Spassov.
The Bulgarian Voices Angelite: 'Angelina' (JARO.de)
© Mattie Poels.