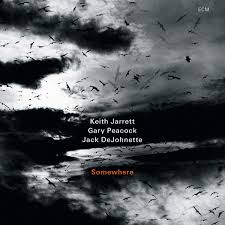 Keith Jarrett (1945) is samen met Oscar Peterson en Thelonious Monk een van de meest invloedrijke pianisten van eind 20ste eeuw. Speelde o.a. met Art Blakey, Miles Davis en Charles Lloyd. Maar vooral zijn trio met bassist Gary Peacock en drummer Jack Dejohnette is legendarisch. Ter gelegenheid van het 30-jarig jubileum van dit trio, komt de cd 'Somewhere' uit.
English version below
Het Keith Jarrett/Gary Peacock/Jack DeJohnette trio is vooral bekend vanwege de 'standards' uitvoeringen. Overbekende liedjes die door veel musici zijn bewerkt en gespeeld, zijn tot het 'standaard' repertoire gaan behoren. Het trio kwam in 1983 voor het eerst bij elkaar voor de opnamen van het album 'Standards Live', dat twee jaar later verscheen. Het hoogtepunt van hun samenwerking is de cd box 'At the Blue Note – The Complete Recordings' (1994). Zes cd's, opgenomen tijdens drie avonden met publiek in de Blue Note Jazz club in New York. Jarrett laat overbekende melodieën (standards), klinken als nieuw gecomponeerd werk. Hij omspeelt thema's die duidelijk herkenbaar zijn, maar een nieuwe glans krijgen en klinken als nooit tevoren. Het trio heeft een groot empathisch vermogen waarbij ze elkaar veel muzikale vrijheid geven, elkaar volgen en versterken en zo een muzikaal verhaal vertellen dat niet alleen ongelooflijk coherent in elkaar steekt maar ook sensitief en doortastend is. Jarrett lardeert de standards met eigen werk: zo opent 'Somewhere' met 'Deep Space'. Een klassiek georïenteerd stuk, organisch gevolgd door 'Solar' van Miles Davis. Het overbekende titelstuk 'Somewhere' van Leonard Bernstein's West Side Story wordt gevolgd door 'Everywhere' waarin Jarrett's verbluffende linkerhandtechniek te horen is, die prachtig wordt aangevuld met de (Gospel) melodielijnen in de rechterhand. Het overbekende 'Tonight' (Bernstein) krijgt een swingtiming met een 'zingende' drumsolo van Dejohnette die even boven de maat lijkt te zweven. 'Somewhere' werd in 2009 live opgenomen Luzern (Zwitersland). Een cd voor Anywhere at Any Time: tijdloos!
4 juli 2013: Keith Jarrett, Gary Peacock & Jack DeJohnette vieren 30 jarig jubileum in de Doelen/Rotterdam
English version



Keith Jarrett (1945) is, together with Oscar Peterson and Thelonious Monk, one of the most inspiring pianist of the end of the 20th century. He played with Art Blakey, Miles Davis and Charles Lloyd. But most famous are his trio recordings with Gary Peacock (bass) and Jack Dejohnette (drums). The 30 years jubilee is a good oppertunity to release their album 'Somewhere'.
The Keith Jarrett/Gary Peacock/Jack DeJohnette trio is most known from their 'standards' performances. Famous songs which are often been played and released by several musicians and so became 'standard' repertoire. This trio got together in 1983 to record their first album 'Standards Live', releases two years later. The most remarkable release was their cd-box 'At the Blue Note – The Complete Recordings' (1994). Six cd's, live recorded at the Blue Note Jazz Club in New York, in three nights. Jarrett makes well known melody's (standards), sound like new composed work. He improvises on the melody's, still easy to recognize and he lets it shine and sound like you've never heard before. The trio got a magical empathy in which they give each other musical freedom, follow and fortify to tell their musical story, which is coherent, sensitive and energetic. Jarrett lards the standards with his own compositions. Like the opener is 'Deep Space'. A wonderful classical flavoured piece, organically followed by Miles Davis's 'Solar'. The well known title piece 'Somewhere', form Leonard Bernstein's West Side Story is followed by 'Everywhere'. A piece in which Jarrett's left hand technique is marvelous, added with his right hand (Gospel) melody lines. Also well known is 'Tonight' (Bernstein). It gets a swing timing and a 'singing' drum solo by Dejohnette who's floating above the beat. 'Somewhere' was recorded in 2009 in Lucerne (Swiss): a cd for Anywhere at Any Time: timeless!
Youtube's full concert in 1985.
Keith Jarrett, Gary Peacock, Jack Dejohnette: 'Somewhere' (ECM/New Arts International)
© Mattie Poels.