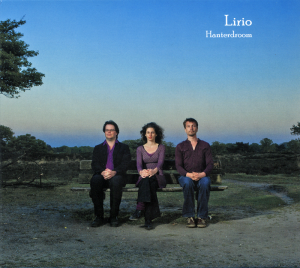 Balfolk is een fenomeen overgewaaid uit Gent (België). Avonden waar gedanst wordt op West-Europese dansmuziek. Het Nederlandse trio Lirio startte iets meer dan tien jaar gelden met het organiseren van deze bijzondere dansavonden in Utrecht. Inmiddels groeide de bekendheid van de groep en verscheen hun tweede cd 'Hanterdroom'; vol met dansbaar folkrepertoire.
English version below
Lirio bestaat uit: Gerdien Smit – viool, Sander van der Schaaf – gitaar en Wouter Kuyper – diatonische accordeon die alle stukken schreef. Waltzen, mazurka's en bourée's die aansluiten bij de traditie: melodisch prikkelend met een heldere (dans)structuur. Bijzonder in de folk muziek is de melancholische inslag die ook op 'Hanterdroom' prachtig aanwezig is: de muziek is vrolijk en weemoedig tegelijk, een heerlijk paradoxale dualiteit. De accordeon staat in het middelpunt en klinkt in elke stuk. Deze wordt op eigengereide wijze harmonisch en ritmisch aangevuld door viool- (solo in 'Mixoscottisch') en gitaarbegeleidingen (solo in 'Scottish'), gelardeerd met melodische en solistische fragmenten. Hierdoor blijft de muziek verrassen en wint in diepgang. Fraai zijn de accordeon trillers op één toon ('Hanterdroom') die we veel tegenkomen in de Bretonse muziek en opzwepend werken. Lirio geeft met hun tweede cd 'Hanterdroom' een nieuwe folk impuls waarbij 'droom' en 'werkelijkheid' dansbaar in elkaar overvloeien. Saillant detail: in het begeleidende cd-boekje staan voor de liefhebber de genoteerde melodieën met akkoorden.
English version
Balfolk is a kind of danceparty where West-European folkmusic is being played and people dance in couples. The Dutch folk trio Lirio started the organisation of these wonderful events about ten years ago in Utrecht (central of the Netherlands). It gave the group lots of succes. Their second album 'Hanterdroom' is again danceable folk orientated cd.
Lirio: Gerdien Smit – violin, Sander van der Schaaf – guitar en Wouter Kuyper – diatonic accordion, who wrote all the pieces. Waltz, mazurka, bourée which fit in the tradition: with exciting melody's and a fresh (dance)structure. Folk music got this melancholic sense which you can feel on 'Hanterdroom': the music is joyful and melancholic at the same time, a lovely dual feeling. The harmonics and rhytmics are filled in an original way by the violin- (solo in 'Mixoscottisch') and guitar-accompinies (solo in 'Scottish'), lard with melodic en solistic fragments. This brings surprising music. Really beautiful are the accordion ornaments on one note ('Hanterdroom'), found in the exciting Brittany music. 'Hanterdroom' ('Hanterdream') is Lirio's second album and brings a new fresh folk impulse where 'dream' and 'reallity' fit wonderful together in danceable movement. Remarkable detail: in the cd-book you'll find the score and the chords of the melody's.
Lirio: 'Hanterdroom' (Music&Words/CUP 8053)
© Mattie Poels.