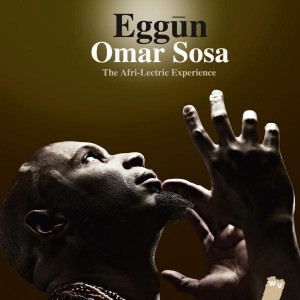 De Cubaanse pianist Omar Sosa, die al jaren in Barcelona woont, kreeg in 2009 de opdracht van Joan Cararach (Barcelona Jazz Festival) om een cd te maken die wordt opgedragen aan Miles Davis, die in 1959 het legendarische album 'Kind of Blue' uitbracht. De cd 'Eggūn' (Voorouders) is het resultaat: waar de geest van Davis's (muted) trompet als een watermerk in verweven is.
English version below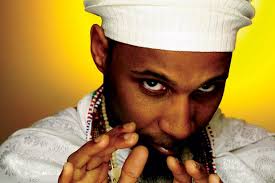 Omar Sosa is een muzikaal kunstenaar die van elk album een speciale editie maakt. 'Isolanos' (2008) is een samenwerkingsproject met de Tenores di Oniferi uit Sardinië, 'Afreecanos' een Cubaans/Afrikaans/Braziliaanse connectie en zijn solo cd 'A New Life' draagt hij op aan zijn zoon Lionious en zijn vrouw Montserrat. En dat zijn maar drie van de meer dan twintig albums die Omar Sosa opnam. Het album 'Eggūn' is een hommage aan de klassieker 'Kind of Blue' uit 1959. Maar 'Eggūn' is geenszins een kopie van dit legendarische album. Met een briljante band van blazers, percussie en gitaar werkt Sosa als een muzikaal katalysator die fragmenten van Miles Davis' muziek aan elkaar smeedt in zijn nieuw gecomponeerde stukken die balanceren op de rand van jazz, funk en Afro muziek. Wat 'Eggūn' zo bijzonder maakt, is de ziel, het gemak, de doordachte arrangementen, de vele kleine versieringen en de gevarieerde muziek die in een trance voorbij danst en wordt gespeeld in de geest van Miles Davis. Sosa heeft fantastische musici die meespelen op 'Eggūn', zoals gitarist Lionel Loueke uit Benin en percussionist Pedro Martinez. De trompet vervult een grote rol, prachtig gespeeld door de Duitse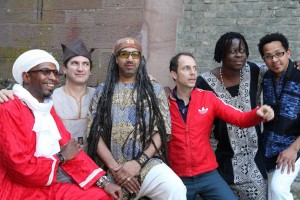 trompettist Joo Kraus, die gebruik maakt van de sordine: de demper, veel te horen in het latere werk van Davis. De vijftien composities op 'Eggūn' worden door korte 'Interludio I t/m VI' aan elkaar geregen en afgesloten met het prachtige slotstuk 'Calling Eggūn' waarin de 'Voorvaderen' worden geëerd. Pracht cd!
English version
Omar Sosa (1965/Cuba) lives in Barcelona (Spain). In 2009 Sosa was asked by Joan Cararach (Barcelona Jazz Festival) to record a tribute to Miles Davis, who released in 1959 the legendary album 'Kind of Blue'. The result is 'Eggūn' (Ancestors), an album where Davis' trumpet sounds like a watermark through Sosa's music.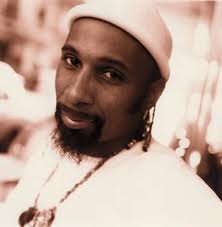 Omar Sosa is a musical wizard who translates every record into a special edition. 'Isolanos' (2008) is co-orparation with Sardinian singers Tenores di Oniferi, 'Afreecanos' a Cuban/African/Brazilian connection and his solo album 'A New Life' is dedicated to his son Lionious and his wife Montserrat. These are only three cd's of the more than twenty albums Sosa recorded. The album 'Eggūn' is a homage to the classic cd 'Kind of Blue' from 1959. But 'Eggūn' is no copy of this legendary album. With a band of fantastic musician Sosa works as an catalysis who melts musical fragments of Miles Davis' music to new composed music, balanced on the edge of jazz, funk and Afro music. 'Eggūn' is very special because of it's soul, it's so easily played, the remarkable ornamented arrangements and the varied music. It flows like a trance, so comfortable with Miles Davis in mind. Sosa's band got some fantastic musicians like guitarist Lionel Loueke from Benin and percussionist Pedro Martinez. The trumpet performs a big part, played by the German Joo Kraus, who uses often the sordine, used by Davis in his later work. The fifteen compositions on 'Eggūn' are split by 'Interludio I to VI' and closed by the wonderful final piece 'Calling Eggūn', in respect for the 'Ancestors'. Great cd!
Omar Sosa: 'Eggūn – The Afri-lectric Experience' (Skip/New Arts International)
Picture Omar Sosa Sextet: Reiner Engwicht
© Mattie Poels.