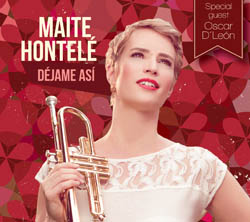 De Nederlandse trompettiste Maite Hontelé is een ster in Colombia waar ze jaren geleden in de voetsporen trad van Joe Arroyo en Carlos Vives. Met haar nieuwe cd 'Déjame Así' hoopt ze Nederland te veroveren. Ze wordt in acht tracks o.a. bijgestaan door pianist/producer en componist Juancho Valencia en haar elf vaste begeleiders.
*English version below

Maite Hontelé (1980) leerde als kind van negen trompetspelen in het harmonieorkest van Haaften (Gelderland) en studeerde later aan het Rotterdam's Conservatorium. Na diverse concerten (o.a North Sea Jazz Festival) en succesvolle Colombiaanse tournees, brengt ze haar zelf gefinancierde debuut cd 'Llego la Mona' uit; speciaal voor de Colombiaanse markt. Het Colombiaanse succes en de liefde zorgt ervoor dat ze in 2009 emigreert naar Medellín (centraal Colombia) waar ze inmiddels een beroemdheid is.
'Déjame Así' is de derde cd van Maite Hontelé. Een doorgewinterd salsa album met muziek geschreven door pianist Juancho Valencia die de cd ook produceerde. Geen baanbrekende stukken, maar goed in het gehoor liggende salsa, met enkele uitschieters. Nummers als 'Coquin Coquin', het titelstuk 'Dejame Así' en de cumbia 'Juanita Bonita' zijn regelrechte salsa hits die we nog veelvuldig zullen horen. Hontelé's trompet valt op door de warme trefzekerheid met een lekker luie timing. Hiermee geeft ze het opzwepend salsa karakter een hartelijk timbre mee, in tegenstelling tot de superstrak gespeelde ritme- en blazerssectie. Op 'Déjame Así' spelen meer dan een dozijn musici waaronder enkele gast vocalisten: de Venezolaanse bassist Oscar D'Leon (1943) zingt prachtig de bolero 'Perdón' en Alain Pérez horen we schitteren in 'Qué Bonito'. Maite Hontelé is een bevlogen musicus die met 'Déjame Así' bewijst dat de salsa scene niet langer een door mannen gedomineerde wereld is..!
N.b. op de cd staan naast acht tracks, drie videoclips
Maite Hontelé – 6 juni: Bimhuis – Amsterdam / 15 juni: De Groene Engel – Oss / 16 juni: Houtfestival – Haarlem
*English version
The Dutch trumpetplayer Maite Hontelé became a star in Colombia like Joe Arroyo and Carlos Vives. The music on her new cd 'Déjame Así' is composed and arranged by pianist Juancho Valencia and gives Holland the upportunity to embrace her music.

Maite Hontelé (1980) learned to play the trumpet at the age of nine in a woodwind and brassband at Haaften (East of the Netherlands). She studied at the Rotterdam's conservatory. After several concerts (North Sea Jazz Festival) and a success tour in Colombia, she financed her debut cd 'Llego la Mona': especially for the Colombian market. After the Colombian success and falling in love with an Colombian musician, she decided to emigrate to Colombia, to Medellín (central Colombia) in 2009, where she became a star.
'Déjame Así' is Maite Hontelé's third album. A experienced salsa cd with music written by pianist Juancho Valencia, who also produced the album. No groundbreaking, but familiar music, with a few heartbreaking pieces. Songs like 'Coquin Coquin', the title piece 'Dejame Así' and the cumbia 'Juanita Bonita' are really salsa hits. Remarkable is the sound of Hontelé's trumpet: warm and significant with a lazy timing. That gives the exciting salsa a kind and warm sound: in contrast with the tight played rhythm- and horn sections. On 'Déjame Así' play more than a dozen musicians with a few guest vocalists: the bass player Oscar D'Leon (1943) from Venezuela sings wonderful the bolero 'Perdón', in 'Qué Bonito' we hear the flexible voice of Alain Pérez. Maite Hontelé is a passionate musician who demonstrates with 'Déjame Así' that the salsa scene is no longer a man's world…!
'Déjame Así' is enhanced with three video clips.
Maite Hontelé: 'Déjame Así' (Merlin Producciones)
© Mattie Poels.