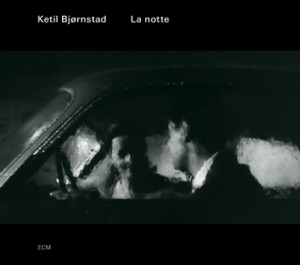 De Noorse musicus Ketil Bjørnstad, van origine klassiek pianist, gaat al vroeg op zoek gaat naar 'nieuwe' muzikale wegen. Zijn interesse beweegt zich tussen klassiek, jazz en folk die hij coherent laat samenkomen op 'La Notte'. We horen bevlogen muziek van een bewogen musicus die, wars van etiketten, een nieuwe nacht creëert.
English version below
'La Notte' brengt 'de dag in de nacht' met prachtige melodieën die met gemak het zonlicht verdragen. Het resultaat is filmisch gerelateerde muziek, verdeelt over de composities I t/m VIII. De muziek is door-gecomponeerd met ongebruikelijke akkoord reeksen, die weliswaar onverwacht zijn, maar toch zeer herkenbaar. Thema's hebben een heldere (folk) structuur en zijn orkestraal uitgewerkt, doorspekt met improvisaties op cello, gitaar en sax die behoorlijk tekeer gaan in de delen V en VII. 'La Notte' is live opgenomen tijdens het Molde International Jazz Festival in 2010 met een opmerkelijk bezetting: we horen celliste Anja Lechner in een adembenemend IVde deel, saxofonist Andy Sheppard en percussioniste Marilyn Mazur (startte ooit bij Miles Davis), aangevuld met de Noorse musici: gitarist Eivind Aarset en bassist Arild Andersen. Ketil Bjørnstad is een meester in het componeren van sobere, maar gedetailleerd fascinerende muziek met een licht melancholische inslag die zelfs na meerdere keren luisteren zijn diepgang niet verliest.
Saillant detail

: 'La Notte' is opgenomen door geluidsman Jan-Erik Kongshaug (Rainbow Studios in Oslo). Een legendarisch technicus die in de jaren '70 de vleugel van Keith Jarrett al kamerbreed liet klinken en de drums van Jack DeJohnette sterretjes gaf.
Ketil Bjørnstad wordt geboren in 1952 en krijgt enige bekendheid als klassiek pianist. Studeert in Londen en Parijs, maar zijn bloed gaat pas echt stromen als hij in 'Club 7' (in Oslo) musici, dichters en schilders leert kennen die elkaar beïnvloeden en hem stimuleren op zoek te gaan naar zijn 'eigen' muziek. Speelt in '73 met drummer Jon Christensen die enkele jaren later op tournee gaat met pianist Keith Jarrett. Bovendien leert hij platenbaas Manfred Eicher kennen, eigenaar van ECM records, die hem alle vrijheid geeft om zich muzikaal te ontwikkelen. Internationaal breekt hij door met gitarist en landgenoot Terje Rypdal met wie hij de lp 'The Sea' (1995) opneemt -scroll voor youtube-. Bjørnstad werkt overigens ook met de in Zweden wonende Cornelis Vreeswijk (1937 /1987) en is naast musicus ook schrijver en muziekcriticus en bracht meer dan 60 lp/cd's uit.
English version



The Norwegian musician Ketil Bjørnstad, classical trained, was an early inventor of 'new music'. His musical interest lies between classical, jazz and folk which he brings together on 'La Notte'. You hear a passionate and unlabeled musician who creates his own 'personal night'.

'La Notte' brings 'the daylight into the night' with wonderful melodies. The result is storytelling music, told in compositions I to VIII. Bjørnstad uses unconventional chords progressions, unpredictable but also easy to listen to. Folk-related melodies are well orchestrated and added with wonderful (firm) cello, guitar and saxophone solo's: specially in the pieces V en VII. 'La Notte' is live recorded at the Molde International Jazz Festival in 2010 in a remarkable setting: celloplayer Anja Lechner in a breathtaking part IV, saxophone player Andy Sheppard and percussionist Marilyn Mazur (Miles Davis), added with the Norwegian musicians guitarist Eivind Aarset and Arild Andersen on bass. Ketil Bjørnstad is a master in composing sober, but fascinating music with a melancholic treasure: still breathtaking after a few times listening.
Interesting detail

: 'La Notte' is recorded by the legendary technician Jan-Erik Kongshaug (Rainbow Studios in Oslo). In the 70's he made Keith Jarrett's grand piano and Jack DeJohnette's drum sound extremely well.
Ketil Bjørnstad was born in 1952 and became known as a classical pianist. He studied in London and Paris but got interested in 'new music/ideas' at the 'Club 7' (in Oslo) where musicians, poets and painters got together and invented 'new art'. He played in '73 with drummer Jon Christensen, who went on tour with Keith Jarret, a few years later. He got introduced to Manfred Eicher, the boss of ECM records, who gave him all the freedom to invent new musical ideas. International he got famous with the record 'The Sea' (1995), recorded with the Norwegian guitarist Terje Rypdal. He worked also with the Dutch singer Cornelis Vreeswijk (1937 /1987), who lived in Sweden. Alongside musician Bjørnstad is also a writer and musicjournalist and released more than 60 albums.
Ketil Bjørnstad: 'La Notte' (ECM/NewArtsInternational)
© Mattie Poels.