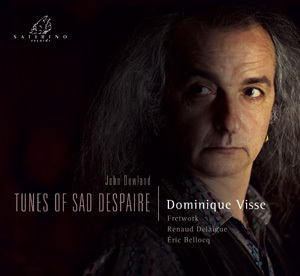 De Engelse componist John Dowland is de bedenker van het tegenwoordige 'kunstlied', waar tekst en muziek perfect op elkaar aansluiten. Hij schreef o.a. drie liedbundels met 'ayres': melancholische liederen die zeer populair waren in de 16de eeuw. Een compilatie wordt nu voortreffelijk gezongen door countertenor Dominique Visse.
*English version below

John Dowland (foto rechts) werd vermoedelijk geboren in Londen, 1563. Werkte vanaf 1580 in Parijs en later in heel Europa waar hij bekendheid kreeg door zijn ayres, zichzelf begeleidend op de luit. Hij gebruikte verschillende innoverende compositie technieken die voor die tijd ongebruikelijk waren: nieuwe harmonieën en ritmen die de voorloper vormden voor de Barokke periode. Hij gebruikte chromatiek in zijn melodieën waarmee hij de weemoed muzikaal vertaalde en bovendien herhaalde hij sommige tekstgedeelten (of woorden) om de muziek meer dynamiek en de tekst (daardoor) meer diepgang te geven. Door tijdgenoot Claudio Monteverdi werd het beschreven als: 'stile rappresentativo': "de tekst beschríjft niet de emotie, maar ís de emotie" waardoor tekst en muziek één geheel vormen. De muziek van John Dowland werd in zijn tijd 'semper Dowland, semper dolens': 'altijd Dowland, altijd melancholisch' genoemd. Een beladen uitspraak die veel vergt van uitvoerenden omdat de muziek de emotie al in zich draagt. Zanger Dominique Visse zingt met een helder en non-vibrato countertenor. Met een vlijmscherpe intonatie raakt hij de kern van de melodie en daarmee de ziel van de muziek. Zijn stem is opmerkelijk soepel en vanzelfsprekend en daardoor een genot om naar te luisteren. Enkele stukken zijn duetten waar hij wordt bijgestaan door de bas Renaud Delaigue, een Franse zanger die fraai mêleert met het timbre van Visse. Naast deze twee zangers horen we luitist Eric Bellocq en het viool ensemble Fretwork die naast begeleidingen ook enkele instrumentale stukken spelen. 'Tunes of sad despaire' is een voortreffelijke cd: waar we 'droevige wanhoop' rustig mogen vertalen in 'melancholische weemoed'.
In this youtube you hear Dominique Visse in 'Here the deities approve' by Henry Purcell with lutist Éric Bellorq and ensemble Fretwork
*English version
The English composer John Dowland is the inventer of the commen 'artsong': text and melody fits perfect together. He wrote three songbooks with 'ayres': melancholic songs which were very popular in the 16th century. Those songs are performed extremely well by countertenor Dominique Visse together with the ensemble Fretwork.

John Dowland was probably born in London, 1563. He worked form 1580 in Paris and throughout Europe, accompanying himself on the lute singing the ayres. He used new composing technics: new harmonies and rhythms which look forward to the Baroque period. He used chromatics to improve the musical sensetivity and he repeated 'words' or 'lines' to improve the dynamic of the lyrics. The contemporary composer Claudio Monteverdi described it as: 'stile rappresentativo': "the lyric doesn't descríbe the emotion, but ís the emotion". The music of John Dowland was described at his time as: 'semper Dowland, semper dolens': 'always Dowland, always melancholic'. Dominique Visse is a wonderfull sparkling singer with a non-vibrato countertenor voice. With a remarkable intonation he crosses the essence of the melody and so the soul of the music. His voice is flexible and sounds self-evident. A joy to listen to. A few pieces are duets, sung by Visse and bass Renaud Delaigue, a French singer who wonderfull mix with Visse's timbre. We also hear lutist Eric Bellocq and the violin ensemble Fretwork who play a few instrumental pieces as well. 'Tunes of sad despaire' is a splendid piece of work: which we could easily translate to 'melancholic nostalgia'.
Dominique Visse – Fretwork – Renaud Delaigue & Éric Bellorq: 'Tunes of sad despaire' (Satirino/Challenge/Newartsinternational)
© Mattie Poels.