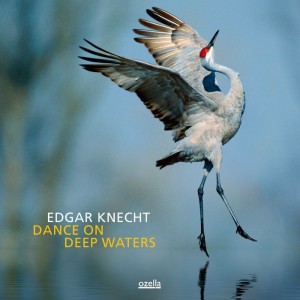 De Duitse jazz pianist Edgar Knecht breekt door met zijn tweede cd 'Dance on Deep Waters'. Een glashelder album waar droom en werkelijkheid elkaar voortdurend afwisselen in metaforische thematiek. Knecht schreef nieuw gecomponeerde, (op traditionals), gebaseerde stukken: uitgevoerd met piano, bas, drums & percussie.
*English version below

Edgar Knecht heeft een opmerkelijk manier van musiceren. Zijn frisse thematiek is geïnspireerd op (Duitse) volks wijsjes, die hij bijzonder scherp neerzet. Thema's die vertrouwd en herkenbaar klinken met afwisselende en soms verrassende harmonieën met veel invloeden uit het klassieke repertoire. Deze thema's vormen een schril contrast met zijn improvisaties die uitdagend, inventief en complementair zijn waar bas, drums (mooie solo in 'Gedankenfreiheit') en percussie zich perfect mengen in de piano acrobatiek van Knecht (zoals in Frühling) en elkaar aanvullen zodat de muzikale puzzel compleet wordt. Bij vlagen, zeer ritmisch en ingetogen (soms per maar maat wisselend) waardoor het verhalende karakter steeds de boventoon voert en je het gevoel krijgt dat je 'op water danst': heerlijk!

Some youtube's from his first album: 'Good Morning Lilofee'
*English version
The German pianist Edgar Knecht has a remarkable way of playing. His fresh theme's are inspired by (German) folky tunes, which he plays very direct and sensitive. The melodys sounds familiaire and obvious added with surprising harmonies in which he puts a lot of classical influences. His sober melodic theme's are in sharp contrast with the improvisations which are provocative, inventive and complemantairy. Bass, drums (wonderfull solo in 'Gedankenfreiheit') and percussion: they mix perfect with the piano acrobatics of Knecht (like in Frühling) and finally supplement the musical puzzle. His music is rhythmic and modest (sometimes per beat or part) which innovates the story of his playing and makes you feel like 'dancing on water': wonderfull!
Edgar Knecht: piano / Rolf Denecke: bass / Stephan Emig: percussion&drums / Tobias Schulte: drums
Edgar Knecht: 'Dance on deep waters' (Ozella Music)
© Mattie Poels.