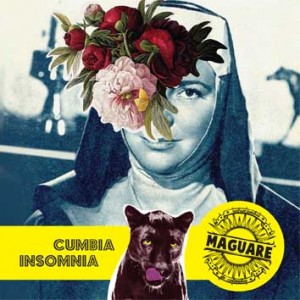 De cumbia is de oorspronkelijke muziek van de Indianen en de slaven uit Colombia; zang en dans met percussie begeleiding. Later kwamen daar blazers en keyboards bij. Het Belgisch orkest Maguaré gaat echter nog een stapje verder en verbindt deze opzwepende stijl met de bigband signatuur waardoor de 'banda cumbia' ontstaat.
*English version below
Maguaré is een band rond de Colombiaanse zangeres Paola Marquez. Ze heeft een soepele en beweeglijke stem, een sprankeling in de hoogte met een sympathieke uitstraling. Zij woont al enkele jaren in België, studeerde zang aan het Gent's Conservatorium en richtte Maguaré op. Dit dit elf koppig gezelschap gaat op zoek naar de randen van de cumbia. De blazers sectie bestaat uit zes musici, dit in tegenstelling tot een gemiddeld cumbia orkest dat er twee heeft: een riet- en een koperblazer. Dat biedt veel mogelijkheden die volop worden benut en regelmatig een big band geluid laten horen waar partijen over en door elkaar heen duiken en de muziek heel speels maakt. Aangevuld met toetsen, accordeon, bas en percussie horen we vallenato, Cubaanse kleuren (sucu-sucu) in 'Ritmo de Juventud' en retro sounds in 'Jungle Fever' en 'Mi Cumbia' steeds gelieerd aan de cumbia. In 'Noche Ausente' keert de groep zelfs terug naar de originele cumbia zoals die gezongen werd op de stranden van Colombia: gedanst met kleine pasjes die nog stammen uit de slaventijd toen slaven geketend waren en ze geen grote passen konden maken. 'Cumbia d'Insomnia' is een bijzondere cd met een ode aan de Belgische Zuster Sourire (hoes), die in de jaren '60 een wereldhit had met het lied 'Dominique' dat door Maguaré bewerkt is tot vallenato en zorgt voor een vette, nationale knipoog!
Maguaré  – 8 juni 2013 People's Place Amsterdam
*English version
The Colombian cumbia is the mixed music from the native Indians and the slaves: song and dance only with percussion. Later on, horns and keyboards were added. The Begium group Maguaré develloped the cumbia to a big band style: a kind of 'banda cumbia'.
The Colombian singer Paola Marquez formed Maguaré. She has a flexible voice with a sparkling tone and a sympathetic appearance. She lives for several years in Belgium and studied at the Conservatory in Gent. With eleven musicians she innovates the cumbia borders. The band consists of six wind instrument players, quite a lot; comparing the two of an averaged cumbia band. That gives the arrangements a lot of possibilities and that's why Maguaré sounds more often like a little big band where the different voicings are played disorderly, what makes the music friskily. Added with keyboards, accordion, bass and percussion we hear vallenato, Cuban colours (sucu-sucu) in 'Ritmo de Juventud' and retro sounds in 'Jungle Fever' and 'Mi Cumbia', all focused on the cumbia. In 'Noche Ausente' they play the original cumbia, as sung on the beaches of Colombia: danced with little steps used by the slaves who's feet were shackled. 'Cumbia d'Insomnia' is a wonderful cd with an ode to the Belgium nun Sister Sourire (cover), who had a big hit in the '60's with the song 'Dominique', arranged by Maguaré to a vallenato: a tiny national blink!
Maguaré: 'Cumbia Insomnia' (Zephyrus Music)
© Mattie Poels.