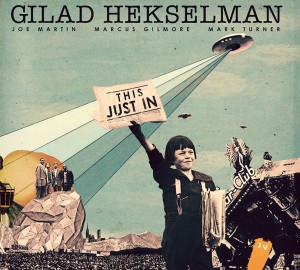 Gitarist Gilad Hekselman (1983) wordt geboren in Israël maar woont tegenwoordig in New York. Zijn tweede cd 'This Just In' is een zelfverzekerd album waarop hij te horen is als een veelzijdig (akoestisch) gitarist. Hij wordt bijgestaan door bassist Joe Martin, drummer Marcus Gilmore en op drie tracks door saxofonist Mark Turner.
English version below

Gilad Hekselman heeft een ferme speeltechniek. Hij vertelt wat hij muzikaal te vertellen heeft, zonder zich te laten verleiden door grootspraak. Thema's hebben een heldere structuur en zijn pragmatisch uitgewerkt waardoor de muziek in diepgang excelleert. Opmerkelijk zijn de solo's waarin Hekselman enerzijds gebruik maakt van een open gitaargeluid (met een tikkie Pat Metheny flavour) maar ook zijn gitaar laat fuzzen (vervorming) waardoor het geheel rauw en robuust aandoet. 'Dreamers' is daarentegen het enige stuk waarop hij akoestisch gitaar speelt. Daarnaast versiert hij zijn de solo's met tegen-melodieën: korte melodische frasen die hij onder de solo doorspeelt. De opvallend inventieve drummer Marcus Gilmore (kleinzoon van de legendarische Roy Haynes) ondersteund het geheel fantasierijk met solide instrumentbeheersing, waarbij hij regelmatig gebruik maakt van 'cross' ritmen: waardoor het lijkt alsof hij 'boven' de maat zweeft. Op drie stukken wordt het trio bijgestaan door tenor saxofonist Mark Turner die met zijn korte, ritmische spel een nieuwe kleur toevoegt. De vijf 'Newsflashes' (korte met synthesizer bewerkte miniatuurtjes) zijn de verbindende factor en maken van 'This Just In' een nieuws-waardig album!
Gilad Hekselman speelt 28 juni 2014 in het Bimhuis – Amsterdam
*English Version
Guitarist Gilad Hekselman (1983) was born in Israël, but now lives in New York. His second cd 'This Just In' is a self-assured  album on which we can hear him as a multifaceted musician. His trio consits of bassplayer Joe Martin, drummer Marcus Gilmore and on three tracks saxofonist Mark Turner.
Gilad Hekselman has an energetic way of playing. He tells his musical story without being seduced by bragging. His theme's are fresh and pragmatic which gives the music easily it's depth. Remarkable are his solo's. On one hand with an open feel (a bit like Pat Metheny) and on the he other adds a little fuzzy (noisy) sound: that makes it more raw and 'big'. 'Dreamers' is the only tune on which he plays the acoustic guitar. He ornamates his solo's with harmonie-voicings: short melodic frase which he plays 'under' his solo. The strinking drummer Marcus Gilmore (grandson of the legendary Roy Haynes) gives the music fantasy by playing the drums iventively and using cross-rhythms. It feels like the drums floats above the music. Saxfonist Mark Turner is the sideman in three songs and add a new colour to the music. The five 'Newsflashes' (short synthesizered pieces) are the 'tie ups' and make 'This Just In' a newsworthy album!
Gilad Hekselman: 'This Just In' (Jazz Village/Harmonia Mundi)
© Mattie Poels.