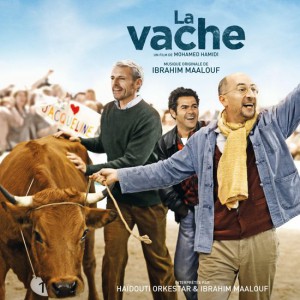 Als de Algerijnse boer Fatah een uitnodiging krijgt voor de landbouwbeurs in Parijs, neemt hij de boot naar Marseille en gaat met zijn koe Jaqueline te voet naar de Franse hoofdstad. Daarover gaat de komedie 'La vache' met muziek die de trompettist Ibrahim Maalouf schreef in de Oost-Europese Roma traditie voor het Haïdouti Orkestar, een Roemeens/Turks/Frans blaasorkest.
 English version below
De Libanese, in Parijs wonende trompettist Ibrahim Maalouf is een veelzijdig muzikant die met charme en muzikale daadkracht al veel bijzondere albums uitbracht, waaronder zijn solo-CD's 'Ullusions', 'Wind' (muziek voor de zwijgende film 'La Proie du Vent' uit 1926 van René Clair) en zijn drie CD-box 'Dia'. Het gebruik van elektronica, stevige jazz en zijn trompetsectie met vier trompetten op 'Illusions' maakt hem een pionier die de trompet voortdurend in een breder perspectief plaatst. Met de filmmuziek voor de komedie 'La Vache' kleurt Maalouf meer tussen de lijntjes. Hij schreef Oost-Europese Roma blaasmuziek voor het Haïdouti Orkestar, met stevige pompende ritmes op drie dampende tuba's met ondersteunend slagwerk aangevuld met accordeon, koperblazers en saxofoon. Stukken die prachtige passen binnen de traditie van bijvoorbeeld trompettist Boban Marković, Goran Bregović, Kočani Orkestar uit Macedonië of de Roemeense Fanfare Ciocărlia. Vernieuwend is het niet maar wel traditiegetrouw, feestelijk en bijzonder geschikt voor een komedie met opvallend accordeonspel van Ramic Jasko. Een Servisch musicus die studeerde aan het Conservatorium van Moskou en een prachtig assimilerende rol vervult binnen de muziek van het Haïdouti Orkestar, met enkele virtuoze solo's. Wat overigens ook geldt voor Maalouf die schittert met de lead trompet met sprankelende trillers. In het slotstuk 'L'Incompris' keert de muziek even terug naar Frankrijk, naar de musette, waarmee dit album met een vette accelererende melancholische knipoog prachtig wordt afgesloten.
 English version
The comedy 'La Vache' ('The Cow') is about the Algerian peasant Fatah who receives an invitation for the agricultural fair in Paris. He takes the boat to Marseille and walked, with his cow Jaqueline, on foot to the French capital. The music of this lovely movie is written by the trumpeter Ibrahim Maalouf. Compositions in the eastern European Roma tradition for the Haïdouti Orkestar, a fine Romanian / Turkish / French brass band.
The Lebanese, Paris based trumpeter Ibrahim Maalouf is a versatile musician who creates with charm and musical power wonderful solo albums like 'Ullusions', 'Wind' (music for the silent film 'La Proie du Vent' 1926 by René Clair) and his three CD box 'Dia'. The use of electronics, solid jazz and trumpet section with four trumpets on 'Illusions' makes him a pioneer who put the trumpet in a broader perspective. For the comedy 'La Vache' Maalouf wrote eastern European Roma brass music for Haïdouti Orkestar, with solid pounding rhythms on three tubas (big sound) with percussion complemented by accordion, brass and saxophone. Pieces which wonderful fit in the tradition like the music of trumpeter Boban Marković, Goran Bregović, the Kocani Orkestar from Macedonia or the Romanian Fanfare Ciocarlia. His music is not innovative. but it sounds traditional and very suitable for a comedy. Remarkable is the accordion of Jasko Ramic. A Serbian musician who studied at the Moscow Conservatory and plays some virtuoso solos ('La balade de Fatah'). Like Maalouf, who plays the lead trumpet with his sparkling sound and lovely ornaments. The final piece 'L'incompris' is a fine French musette. The music returns from Eastern Europe back to France with exciting and accelerating melancholy.
Ibrahim Maalouf / Haïdouti Orkestar: 'La Vache' (Quad / Harmonia Mundi)
© Mattie Poels.