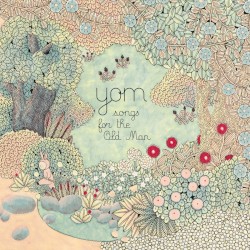 De Franse klarinettist Yom (Guillaume Humrey) brengt met 'Songs for the Old Man' een nieuwe collectie Joodse getinte klezmericana; een crossover tussen Klezmer en Americana. Zat zijn vorige album 'The Empire of love' (2013) nog vol met synthesizers, op dit nieuwe album klinken bijna alleen akoestische instrumenten zoals bas, drums en diverse snaarinstrumenten en natuurlijk klarinet.
English version below
Het maakt niet uit in wat voor muzikale omgeving je de Parijse klarinettist Yom plaatst. Deze van huis uit klezmer musicus gebruikte in het verleden diverse muziekstijlen in zijn composities. Zijn klarinetspel, dat steeds de Klezmerziel in zich draagt, mengt zich moeiteloos in deze diverse stijlen. Zo is zijn nieuwste CD 'Songs for the Old Man' een mix van instrumentale Americana waar de klarinet de melodie speelt met een Klezmer flair. De toonbuigingen, de trillers of de zachte aanzet (touché) stralen een weergaloos mooie Joodse melancholie en weemoed uit. Heel klein en subtiel, maar zeer duidelijk aanwezig. Geen donkere gevoelens maar lichte smart die de Spanjaarden 'duende' en de Portugezen 'saudade' noemen. Een kleurrijke verbeelding die met o.a. mooi in de ruimte geplaatst gitaarwerk van Aurélien Naffrichoux tot de verbeelding spreekt, aangevuld met bas, drums, dobro (slide gitaar) en banjo. 'Songs for the Old Man' is een sprookje dat Yom opdraagt aan zijn vader. Een fraaie weerspiegeling van het leven dat opmerkelijk en prachtig minutieus is getekend door Fanny Ducassé in het bijgeleverde CD boekje. Yom toont op dit album weliswaar de vergankelijkheid van het leven maar draagt met zijn spel ook bij aan de duurzaamheid van de Klezmer die met zijn klarinetspel weer een heel ander cachet krijgt. We kijken uit naar zijn volgend album!
Meer Yom Klik Hier
English version
The French clarinettist Yom (Guillaume Humrey) released his new record 'Songs for the Old Man'. A lovely collection of Jewish tinted Klezmericana; a crossover between Klezmer and Americana. His latest album 'The Empire of Love' (2013) was full of synthesizers but this new one he almost only used acoustic instruments such as bass, drums and various stringed instruments and off course the clarinet.
No matter in what kind of musical environment you place the Parisian clarinetist Yom. He's musical omnivore. In his compositions he always uses different styles of  music. But his clarinet sounds still with a klezmer soul. His latest CD 'Songs for the Old Man' is an instrumental mix of Americana with Klezmer melodies played by the clarinet. Wonderful Jewish melancholy, very small and subtle, but very evident. No dark feelings, but emotions like you find in the Spanish 'duende' or the Portuguese 'saudade'. A colourful imagination with beautiful spatial guitar sounds by Aurélien Naffrichoux, complemented with bass, drums, dobro (slide guitar) and banjo. 'Songs for the Old Man' is like a fairy tale that Yom dedicates to his father. A beautiful reflection of life, remarkable and wonderful drawn by Fanny Ducassé in the CD-booklet. Yom shows on this album the impermanence of life, but also the sustainability of the Klezmer clarinet. We look forward to his next album!
More music by Yom Click Here
Yom: 'Songs for the Old Man' (Buda Musique/Xango)
© Mattie Poels.