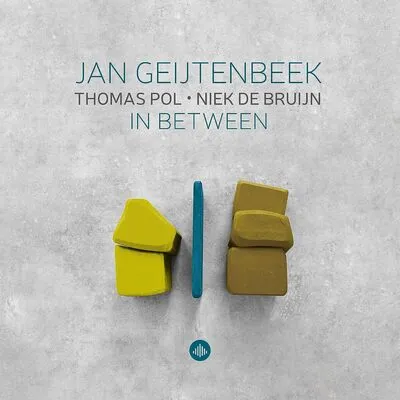 In between is de metaforische titel van het nieuwe album van pianist en componist Jan Geijtenbeek.
English version below
Pianist Jan Geijtenbeek (Ermelo, 1988) draait al heel wat jaren mee binnen de Nederlandse jazz-scene. Hij werkte o.a. met saxofonist Rolf Delfos, zangeres Esther van Hees, gitarist Anton Goudsmit en nam de CD's Today's Story (2014) en Silver is Gold (2015) op. Deze laatste is een ode aan de legendarische pianist Horace Silver.
De kiem voor zijn nieuwe album In Between start in 2019, als Geijtenbeek samen met zijn vrouw Anne Metje van Genderen naar Boston verhuist. Zij doet onderzoek aan de Harvard University en Jan pendelt heen en weer tussen Nederland en Amerika, tussen componeren, lesgeven, lekker eten en genieten van Boston, de hoofdstad van Massachusetts, in het oosten van de VS.
Deze inspirerende tijd levert fraaie, melodieuze composities op, die nu te vinden zijn op In Between. Hij wordt daarop bijgestaan door contrabassist Thomas Pol en drummer Niek de Bruijn. Opmerkelijk is de toewijding, de concentratie die uitstraalt in de muziek. Er klinken werken met een verfijnd gebruik van harmonieën en melodieuze thema's, die met zorg en aandacht worden gebracht. Er klinkt een ode aan de Oxford Street, de straat waar het stel verbleef. Het Sunny Day in Cambridge refereert aan de wijk Cambridge, dat een calypso-achtige folktune oplevert, terwijl het stuk Longfellow Brigde (brug over de rivier Charles) een overview geeft op de skyline van Boston, aan beide oevers, muzikaal getransformeerd in een onregelmatige maatsoort (5-tels). De ballade My Everything moet wel een ode aan zijn vrouw zijn. Een lied-(waltz)-zonder-woorden, met een kort thema dat fraai wordt ondersteund, met bas-solo en poly-ritmisch drumspel. Red Line is een speelse muzikale bewerking van de metrolijn in Boston. Een stuwende compositie, met swingend & roffelend drumsspel, markante baslijn en rollende piano met een ferme linkerhand in het intro.
Jan Geijtenbeek heeft een verzorgd touché waarmee hij nauwkeurig zijn noten kiest. Een speelwijze die met gemak aansluit bij het werk van Keith Jarrett. Het trio blinkt uit in coherent samenspel, met ruimte voor muzikale escapades, waarin ze elkaar de ruimte geven, aanvullen, inkleuren en ondersteunen. De arrangementen glijden hierdoor als een puzzel in elkaar, wat In Between een lust voor het oor maakt.
English version
In between is the metaphorical title of the new album by pianist and composer Jan Geijtenbeek.
Pianist Jan Geijtenbeek (Ermelo, 1988) has been active in the Dutch jazz scene for many years. He has worked with saxophonist Rolf Delfos, vocalist Esther van Hees, guitarist Anton Goudsmit and has recorded the CDs Today's Story (2014) and Silver is Gold (2015). The latter is an ode to the legendary pianist Horace Silver.
The idea for his new album In Between started in 2019, when Geijtenbeek moved to Boston together with his wife Anne Metje van Genderen. She did research at Harvard University and Jan commutes back and forth between the Netherlands and America, between composing, teaching, good food and enjoying Boston, the capital of Massachusetts, in the eastern part of the US.
This inspiring time produces beautiful, melodic compositions, which can now be found on In Between. He is assisted by double bassist Thomas Pol and drummer Niek de Bruijn. Remarkable is the dedication, the concentration that radiates in the music. There are works with a refined use of harmonies and melodic themes, which are performed with attention. There is an ode to Oxford Street, the street where the couple stayed. The composition Sunny Day in Cambridge refers to the Cambridge district, which produces a calypso-like folk tune, while the piece Longfellow Brigde (bridge over the river Charles) gives an overview of the Boston skyline, on both banks, musically transformed into an irregular time signature (5 counts). The ballad My Everything must be an ode to his wife. A song (waltz) without words, with a short theme that is beautifully supported, with bass solo and polyrhythmic drumming. Red Line is a playful musical adaptation of the Boston subway line. A driving composition, with swinging drums, striking bass line and rolling piano with a firm left hand in the intro.
Jan Geijtenbeek has a fine touché with which he accurately chooses his notes. A way of playing that easily matches the work of Keith Jarrett. The trio excels in coherent interplay, with room for musical escapades, in which they give each other space, complement, color and support. As a result, the arrangements slide together like a tight puzzle, which makes In Between a feast for your ears.
*Jan Geijtenbeek: In Between (Challenge Records)