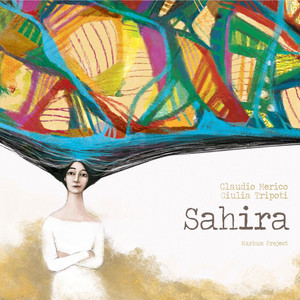 Het Karkum Project eert op Sahira de heroïsche vrouw. Muzikaal innoverend vertaald door de twee Italiaanse multi-instrumentalisten Claudio Merico & Giulia Tripoti en enkele gastmusici.
English version below
Sahira is het tweede album van Claudio Merico & Giulia Tripoti. Na vijf jaar van onderzoek en studie werd de CD begin maart '23 gepresenteerd in Teatro Manlio in het Italiaanse dorp Magliano Sabina, zo'n 150 km ten noorden van Rome. Het album is een eerbetoon aan de vrouw, aan de heroïsche vrouw, waarmee ze een brug slaan tussen geschiedenis en mythologie. Zo wordt de Roma-vrouw geëerd in Carmencita. Een eerbetoon aan de stiefmoeder van Penthesilea horen we in het openingsstuk Cleta. In Entella en Yentella komen respectievelijk de prinsessen uit Sicilië en Burkina Faso aan bod, terwijl Sayyida weer een eerbetoon is aan de piratenkonigin van het oud Al-Andalus in het Zuiden van Spanje.
Het duo componeerde elf nieuwe stukken die zich muzikaal bewegen over de gehele globe. Spaanse flamenco-klanken, Zuid-Europese folk, Arabische signaturen, Indiase en Bulgaarse kleuren tot aan het Afrikaanse metier. Dat klinkt allemaal erg overdadig en dat is het ook maar de uitwerking is betoverend. Gedurfd, enerverend met prachtig glooiende melodieën die herkenbaar zijn, maar ook een zekere authenticiteit in zich dragen. Deze worden gezongen door Giulia Tripoti. Zij heeft een levendige stem die perfect past bij dit repertoire. Helder, met een fraai gedoseerd vibrato. Daarnaast speelt zij o.a. fluit, saz, percussie en elektronica. Claudio Merico bespeelt o.a. violen, Arabische luit (ûd), sarod (Hindoestaans snaarinstrument), dilruba (Indiaas strijkinstrument), percussie en elektronica. Samen vormen ze het Karkum Project en worden bijgestaan door zeven gastmusici op Flamenco-gitaar, (Bulgaarse)zang, tabla, kora (West-Afrikaanse harp), ney, duduk (Armeens dubbelriet) en tamà (dubbelzijdige trommel). Het album Sahira is naast een eerbetoon aan de (heroïsche) vrouw, ook een eerbetoon aan de diversiteit & cohesie van muziek, die op dit universele album bijzonder fraai is uitgewerkt. Waarbij stijlen en instrumenten uit diverse landen elkaar zo coherent aanvullen dat er universele muziek ontstaat.

English version
The Karkum Project honors the heroic woman on their album Sahira. Musically innovatively translated by the two Italian multi-instrumentalists Claudio Merico & Giulia Tripoti and several guest musicians.
Sahira is their second album. After five years of research and study, the CD was presented in March 23 at Teatro Manlio in the Italian village of Magliano Sabina, about 150 km north of Rome. The album is a tribute to women, to the heroic woman, bridging history and mythology. This is how the Roma woman is honored in Carmencita. We hear a tribute to Penthesilea's stepmother in the opening piece Cleta. Entella and Yentella feature the princesses from Sicily and Burkina Faso respectively, while Sayyida pays homage to the pirate queen of ancient Al-Andalus in southern Spain.
The duo composed eleven new pieces that move musically all over the globe. Spanish flamenco sounds, southern European folk, Arabic signatures, Indian and Bulgarian colors up to the African metier. That all sounds very lavish and it is, but the effect is enchanting. Daring and exciting music with beautifully rolling melodies that are recognizable but also carry a certain authenticity. These are sung by Giulia Tripoti. She has a lively voice that fits perfectly with this repertoire. Clear, with a beautifully dosed vibrato. She also plays flute, saz, percussion and electronics. Claudio Merico plays violins, Arabian lute (ûd), sarod (Hindu string instrument), dilruba (Indian string instrument), percussion and electronics. Together they form the Karkum Project and are assisted by seven guest musicians on Flamenco guitar, (Bulgarian) vocals, tabla, kora (West African harp), ney, duduk (Armenian double reed) and tamà (double sided drum). In addition to a tribute to the (heroic) woman, the album Sahira is also a tribute to the diversity & cohesion of (world) music that has been beautifully developed on this universal and excellent album.
*Karkum Project: Sahira (karkumproject.it)
© Mattie Poels.