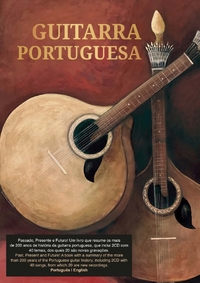 Guitarra Portuguesa is de titel van een 2-delig album waarop 40 tracks staan met oud en nieuw instrumentaal Portugees repertoire, gespeeld op de Portugese gitaar.
English version below
De Portugese gitaar is een 12-snarig instrument dat gebruikt wordt bij het begeleiden van de fado, het Portugese levenslied. Er bestaan twee modellen: een uit Lissabon en een uit Coimbra. De variant uit Lissabon is wat verfijnder van bouw en ook iets kleiner. Bovendien is de klank helderder en draagt het geluid verder. Ook is de vorm van beide varianten is verschillend. Zo heeft de Portugese gitaar (foto rechts) uit Coimbra de vorm van een traan (de lagrima) en de gitaar uit Lissabon (foto links) is ronder van vorm. Welke van de twee de musicus kiest, is een smaakkeuze. De guitarra Portuguesa uit de studentenstad Coimbra werd oorspronkelijk gebruikt voor het begeleiden van mannenstemmen, met de bekende balkon-scenes. De variant uit Lissabon komen we tegen op de concertpodia en in de diverse fado-huizen.
Op het prachtige dubbelalbum Guitarra Portuguesa treffen we oud en nieuw werk aan van oude en nieuwe meesters en een uitgebreide uitleg over het instrument en de artiesten in het 62 pagina's tellende boekje. De guitarra Portuguesa heeft 12 snaren die getokkeld worden bespeeld, veelal de melodie (om)spelend en improviserend. Het instrument heeft een fris twinkelend en zeer herkenbaar timbre dat de saudade (de heimwee) bij elke Portugees en fado-liefhebber aanwakkert.
Het repertoire op dit compilatie-album bestaat zowel uit solo-stukken als ook uit werken die begeleid worden op gitaar, (contra)bas en in een enkel nummer viool, piano, slagwerk en zelfs elektronica. Dat de ontwikkeling van fado (gerelateerde muziek) niet heeft stilgestaan, wordt overduidelijk in dit prachtige overzicht waar in chronologische volgorde composities de revue passeren. Traditionele fado-stukken gaan vooraf door werken met pop- en jazz-invloeden, Oriëntaalse kleuren, flamenco en zelfs elektronische invloeden. Zo ontstaat er een schitterend exposé van een van de mooiste snaarinstrumenten. En natuurlijk treffen we werk aan van Custódio Castelo (hier met Georgete). De guitarra Portuguesa virtuoos die met zijn toenmalige vrouw, de fadista Cristina Branco, aan de vooravond stond van de fado-hausse die Nederland in de jaren '90 overspoelde.
English version
Guitarra Portuguesa is the title of a 2-part CD album, containing 40 tracks with old and new instrumental Portuguese repertoire, played on the Portuguese guitar.
The Portuguese guitar is a 12-string instrument used to accompany fado, the Portuguese song of life. There are two models of the guitarra: one from Lisbon and one from Coimbra. The variant from Lisbon (photo right) has a more refined construction and is also slightly smaller. In addition, the sound is clearer and carries further. The shape of both variants is also different. The Portuguese guitar from Coimbra (photo left), for example, has the shape of a teardrop (the lagrima) and the guitar from Lisbon has a rounder shape. Which of the two the musician chooses, is a matter of taste. The guitarra Portuguesa from the student city of Coimbra was originally used to accompany male voices, with the well-known balcony scenes. We encounter the variant from Lisbon on the concert stages and in the various fado houses.
On the beautiful double album Guitarra Portuguesa we find old and new work by old and new masters and a detailed explanation about the instrument and the artists in 62 paged booklet. The guitarra Portuguesa has 12 strings that are plucked, often playing melody and improvising. The instrument has a fresh twinkling and very recognizable timbre that stirs up the saudade (homesickness) in every Portuguese and fado enthusiast.
The repertoire on this compilation album consists of solo pieces as well as works accompanied by guitar, (double) bass and in a single song violin, piano, percussion and even electronics. The fado (related music) has also developed. In this beautiful double album pieces are reviewed in chronological order. Traditional fado pieces are preceded by works with pop and jazz influences, Oriental timbre, flamenco and even electronic influences. In this way, these CD's contain a magnificent exposé of one of the most beautiful stringed instruments. And of course we find music played by Custódio Castelo (here with Georgete). This excellent guitarra Portuguesa virtuoso recorded with his wife, fadista Cristina Branco, a few heartbreaking records in which he created the fado boom that swept the Netherlands in the 1990s.
Guitarra Portuguesa: diverse artiesten (Seven Muses Books / Xango)