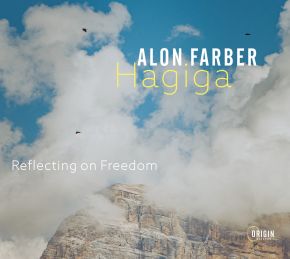 De Israelische saxofonist Alon Farber nam met zijn band Hagiga het energieke album Reflecting on Freedom op.
English version below
De band Hagiga speelt een zeer gevarieerd repertoire. Swing, jazz, funk en zelfs Marokkaans georiënteerde muziek komen voorbij. Reflecting on Freedom is daardoor een afwisselend album is geworden. Hagiga speelt strak en vakkundig: drie blazers en ritme-sectie horen we in fraaie thema's, met voortreffelijke solo's van alle musici. Dubbel-tempo, tegenritmes, virtuositeit; het klinkt allemaal zeer organisch. Het album opent met Israeli Song. Een subliem stuk dat met een eeuwig-durende melodie meteen de aandacht trekt. Het lied wordt fonetisch gezongen door gastvocaliste Saria Zak-Levi en is gecomponeerd door de trombonist van Hagiga, Oded Meir. Hij is ook de componist van het minder geslaagde Theme for Michal dat doordrenkt is met de Braziliaanse Bossa-nova. Hij maakt weliswaar mooi gebruik van onregelmatige maatsoort en akkoord-omkeringen, waardoor heel subtiel koraal-achtige elementen het spectrum versterken. Helaas trekt de fonetische zang (van Zak-Levi) teveel de aandacht, waardoor deze keer oppervlakkigheid op de loer ligt. Daarentegen, het orkestrale Ima, is adembenemend vol talrijke blazerskleuren. Net zoals de uptempo-swing in Fresh Start met innovatief solowerk van tenor saxofonist Yehonatan Cohen, trombonist Oded Meir en pianist Eden Giat. Giat speelt daarnaast een fraai intro in More Monkeys, please. Een schilderachtig werk in 5-tels maat van Alon Farber. Hammadou, traditioneel (gnawa) stuk uit Marokko, wordt verrijkt met ritmisch en dynamisch slagwerk van drummer Roy Oliel en gast-percussionist Rond Iwryn. Opvallend in dit arrangement is het unisono gespeelde thema. Reflecting on Freedom is het vierde album van de in 2001 opgerichte band Hagiga van saxofonist Alon Farber. Een groep die de vrijheid neemt om dát te spelen waar ze zin in hebben, waardoor het plezier en het vakmanschap ervanaf spat!
English version
The Israeli saxophonist Alon Farber recorded the energetic album Reflecting on Freedom with his band Hagiga.
The band Hagiga of saxophonist Alon Farber plays a collection of varied pieces. Swing, jazz, funk and even Moroccan-oriented music are featured. Reflecting on Freedom has become a fine varied album.  Hagiga plays tight and skilfully: we hear three wind instruments and a rhythm section in beautiful themes, with excellent solos by all musicians. Double tempo, counter rhythms, virtuosity; it all sounds very organic. The album opens with the excellent piece Israeli Song. A sublime song with a kind of everlasting melody, which immediately attracts attention. The song is phonetically performed by guest vocalist Saria Zak-Levi and composed by Hagiga's trombonist Oded Meir. He is also the composer of the less-successful Theme for Michal, which is infused with Brazilian Bossa nova. He does make fine use of irregular time signatures and chord inversions, which allow very subtle coral-like elements to amplify the spectrum. Unfortunately the phonetic vocals (by Zak-Levi) draw too much attention, so that superficiality is lurking. In contrast, the orchestral Ima,  is breathtakingly full of numerous wind instruments. Just like the uptempo swing in Fresh Start with excellent solo work by tenor saxophonist Yehonatan Cohen, trombonist Oded Meir and pianist Eden Giat. Giat also plays a nice intro in More Monkeys, please. A picturesque work in 5-beat by Alon Farber. Hammadou, a traditional (in gnawa style) piece from Morocco with a theme played in unison, is enriched with excellent rhythmic and dynamic percussion by drummer Roy Oliel and guest percussionist Rond Iwryn. Reflecting on Freedom is the fourth album by saxophonist Alon Farber's band Hagiga, founded in 2001. The group takes the freedom to play what they feel like, which radiates fun and craftsmanship!
Alon Farber Hagiga: Reflecting on Freedom (Origin records / Challenge Records)
Band photo: Yossi Zwecker
© Mattie Poels.