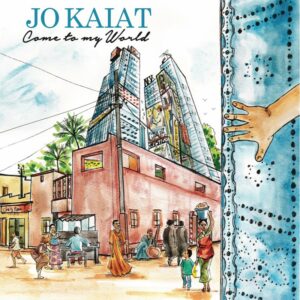 De Franse pianist Jo Kaiat brengt op zijn album Come to My World een muzikaal bezoek aan de wereld. In trio-vorm horen we wereldse geïmproviseerde muziek.
English version below
Jo Kaiat, geboren in Nice (Zuid-Frankrijk), is een echte muzikale wereldreiziger. Hij startte met het spelen van jazz en later volgde de muziek van Bela Bartok, Olivier Messiaen, Stravinsky en de impressionisten. Hij woonde vijf jaar in Parijs en studeerde in Israel aan de Rubin Academy in Jeruzalem. Hij werkte twee jaar in New York. In Marokko speelde hij samen met gnawa (Sufi musici) en Berbers en woont vanaf 1995 vijf jaar in Mali. Daarnaast werkte hij met het Delhi trio, met violist Johar Ali Kahn en Shabaz Hussein Kahn op tabla (Indiase handtrommel). Het is een beetje een opsomming, maar het geeft wel aan wat voor een breed georiënteerd musicus hij is. Op zijn nieuwe album Welcome to my World leidt hij je inderdaad rond in zijn muzikale wereld van jazz en geïmproviseerde muziek tegen een achtergrond van Afrikaanse, Afro-Cubaanse, Avant-Garde en Israelische muziek. Niet overal even duidelijk hoorbaar maar het geheel vormt een indrukwekkend mooi exposé van een dynamische crossover-mix. Opvallend is de onafhankelijkheid van zijn linker- en rechterhand, die elkaar soms volledig lijken te doorkruisen maar elkaar daarna weer naadloos aanvullen. Zoals in Naa Donke, waar de linkerhand een obligate riff (unisono met de contrabas) speelt en de rechterhand er heerlijk los over improviseert. Jo Kaiat wordt bijgestaan door de contrabassisten Avishai Cohen en Gilad Abro en de drummers Noam David en Ilan Katchka. In wisselende bezetting zijn ze in trio-vorm te horen. In het solo-stuk What did the angel say horen we Kaiat ook op de melodica, in een verrassende solo. Drummer Katchka speelt overigens ook percussie, zoals darbouka (vaastrommel), enerverend in Flamencato. In deze compositie horen we de Zuid-Spaanse invloeden, waardoor Kaiat's spel een link krijgt naar het werk van de pianisten Michel Camilo (ook in het Afro-Cubaanse Souvenirs) en Chick Corea (zijn album My Spanish Heart). Alle composities zijn door Kaiat geschreven op Be'er Basadeh na, dat werd gecomponeerd door de Hebreeuwse zanger Emanuel Zamir. Come to my World is een innoverend album waarin je met tijdloze muziek wordt ondergedompeld  in een voortreffelijk wereldse mix!
Klik hier voor de Youtube-versie van Welcome to my World
English version
The French pianist Jo Kaiat pays a musical visit to the world on his album Come to My World. In trio form we hear great improvised worldly music.
Click here for the Youtube-version of Welcome to my World.
Born in Nice (South of France), Jo Kaiat is a true musical world traveler. He started playing jazz and later on the music by Bela Bartok, Olivier Messiaen, Stravinsky and the French Impressionists. He lived in Paris for five years and studied in Israel at the Rubin Academy in Jerusalem. He worked in New York for two years. In Morocco he played together with gnawa (Sufi musicians) and Berbers and has lived in Mali for five years since 1995. He also worked with the Delhi trio, with violinist Johar Ali Kahn and Shabaz Hussein Kahn on tabla (Indian hand drum). It is a bit of a summary, but it does indicate what a broadly oriented musician he is. Indeed, on his new album Welcome to my World, he guides you through his musical world of jazz and improvised music against a background of African, Afro-Cuban, Avant-Garde and Israeli music. Not equally clearly audible everywhere, but the music is an impressively beautiful exposé of a dynamic crossover mix of styles. Striking is the independence of his left and right hand. Sometimes it seems they cross each other completely, but then complement each other seamlessly. Like in Naa Donke, where the left hand plays an obligatory riff (unison with the double bass) and the right hand improvises wonderfully loosely. Jo Kaiat is assisted by the double bassists Avishai Cohen and Gilad Abro and the drummers Noam David and Ilan Katchka. They can be heard in trio form in varying line-up. In the solo piece What did the angel say we hear Kaiat on the melodica (surprising) as well as on the grand piano. Drummer Katchka also plays percussion, such as darbouka (vase drum), which can be heard excitingly in Flamencato. In this composition there are some southern Spanish influences, which gives his music a link to the work of the pianists Michel Camilo (also in the Afro-Cuban piece Souvenirs) and Chick Corea (his album My Spanish Heart). All compositions are written by Jo Kaiat except for Be'er Basadeh, which was composed by the Hebrew singer Emanuel Zamir. Come to my World is an innovative album in which you are immersed with timeless music in an excellent worldly mix!
Jo Kaiat: Come to my World (Imago Records / Xango)
Photo's by Emilie Camatte
© Mattie Poels.