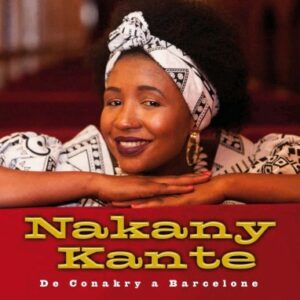 De Guineese zangeres Nakany Kanté maakt op haar nieuwe album De Conakry a Barcelone een wondermix van West-Afrikaans Malinese en Europese muziek.
English version below
Zangeres Nakany Kanté wordt geboren in Suigiri, een plaats in het noord-oosten van Guinee, West-Afrika. In haar tienerjaren woont ze een aantal jaren in Bamako, de hoofdstad van Mali, dat zo'n 200 km ten noord-oosten ligt van Suigiri. Vanaf 2009, ze is dan 18 jaar oud, woont ze in Barcelona. Haar derde album De Conakry a Barcelone nam ze op in Conakry, de hoofdstad van Guinee en in Barcelona, in verschillende bezettingen met o.a. (bas)gitaar, djembé (grote trommel), drums, keyboards, talking drum, balofoon (kleine marimba), calabaza (shaker) en conga's. Nakany Kanté zingt in het Mandinga en het Frans. Haar stem is gedrenkt in een ongedwongen sfeer van vitaliteit, intimiteit en hartstocht. In een fraaie muzikale West-Afrikaanse en Europese mix zingt ze over uithuwelijken, liefdes op afstand, de Ramadan, de diversiteit van het leven en vrede. Innemend, ongelooflijk mooi en breekbaar is Papada (zie YouTube). Een soort kinderlied over het meisje Papada dat de wereld wil ontvluchten om naar het magische bos te gaan. Het lied wordt gevolgd door La Paix dat weer kenmerken heeft van Zuid-Afrikaanse muziek. In N'Massé horen we zelfs een vleugje flamenco in de gitaar-solo. De Conakry a Barcelone is een prachtig cross-over album. Door de vindingrijkheid van de arrangementen, alsof westerse muziek wordt gespeeld op Afrikaanse instrumenten, krijgt de muziek een heel eigen karakteristieke kleur die zowel de Afrikaanse als de Westerse muziekliefhebber zal aanspreken. Prachtig album!
English version
The Guinean singer Nakany Kanté creates a wonderful mix of West African Malian and European music on her new album De Conakry a Barcelona.
Singer Nakany Kanté was born in Suigiri, a town in the north-east of Guinea, West Africa. In her teens she lives for several years in Bamako, the capital of Mali, which is about 200 km north-east of Suigiri. In 2009, when she was 18 years old, she emigrates to Spain, to Barcelona. She recorded her third album De Conakry a Barcelone in Conakry, the capital of Guinea and in Barcelona, in various line-ups including (bass) guitar, djembé (large drum), drums, keyboards, talking drum, balofon (small marimba), calabaza (shaker) and congas. Nakany Kanté sings in Mandinga and in French. Her voice is drenched in a lovely atmosphere of vitality, intimacy and passion. In a beautiful musical West African and European mix, she sings about arranged marriages, love at a distance, the Ramadan, the diversity of life and peace. The song Papada (see YouTube) is captivating and incredibly beautiful and fragile. A kind of children's song about the girl Papada who wants to flee the world to go to the magical forest. The song is followed by La Paix which has lovely characteristics of South African music. In N'Massé we even hear a touch of flamenco in the guitar solo. De Conakry a Barcelona is a beautiful crossover album. The ingenuity of the arrangements give you the feeling that Western music is played on African instruments. That makes the music colourful that will appeal to both African and Western music lovers. Splendid album!
Nakany Kanté: De Conakry a Barcelone (Kasba Music / Xango)
© Mattie Poels.