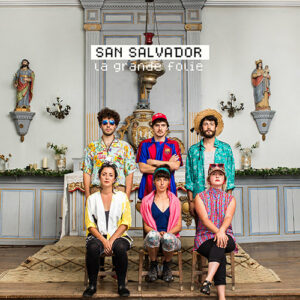 San Salvador zijn zes zangers uit Frankrijk die liederen zingen in het Occitaans dialect. Enerverend en vol vuur zijn de acht tracks op hun album La grande Folie (De Grote Waanzin).
English version below
Occitanië is de streek uit Zuid-Oost Frankrijk met als hoofdstad Toulouse. Daar waar de éénstemmige liederen vandaan komen. Eeuwenoude liederen die gezongen werden door trouvères en troubadours. Frankrijk is het land van de melodieën, van de liedjes, de chansons en de grote componisten als Darius Milhaud, Francis Poulenc en Eric Satie die allemaal componeerden vanuit de melodie. En dan is daar opeens de groep San Salvador. Zes zangers (drie vrouwen en drie mannen) zingen nieuw gecomponeerde liederen bewerkt in de rijke Occitaanse traditie tot meerstemmige bouwwerken en gezongen in het dialect. Hun aanpak is niet nieuw, maar deze wordt wel uitgevoerd met een heerlijke en duidelijke trefzekerheid. Ze zingen vol overtuiging. Hun stemmen klinken duizelingwekkend, waarbij de vocalen over en door elkaar duikelen aangevuld met ferme percussie op grote trom, tamboerijn, bekkens en handgeklap. Rete-strak, spatgelijk en zeer ritmisch. De melodieën worden veelal ondersteund door lange, hypnotiserende tonen. Daardoor wordt de muziek dynamisch en krijgt een enorme drive. De stukken zijn niet allemaal even sterk en soms ook wat aan de lange kant, maar de vitaliteit, de souplesse, de avontuurlijke en onuitputtelijke vocale veerkracht maakt van San Salvador een ongeëvenaard sextet zoals je niet vaak tegenkomt.
English version
San Salvador are six singers from France who sing songs in the Occitan dialect. Eight exciting and powerful tracks on their album La grande Folie (The Great Maddness).
Occitania is the region of South-East France with Toulouse as its capital. Where the in unison songs come from. Ancient songs that were sung by trouvères and troubadours. France is the country of melodies, songs, chansons and great composers such as Darius Milhaud, Francis Poulenc and Eric Satie who all composed with the melody in the centre of their compositions. And then suddenly there is the group San Salvador. Six singers (three women and three men) sing new composed songs in the rich Occitan tradition arranged into polyphonic monuments, sung in the dialect. Their approach is not new. But their expression is absolutely wonderful and full of clear accuracy. They sing with conviction. Their voices sound amazing and dizzying. The vocals tumbling over and through each other, complemented by firm percussion on the bass drum, tambourine, cymbals and clapping hands. Very tight and rhythmic songs. The melodies are often supported by long, hypnotic tones. This makes the music dynamic and it gets an enormous drive. Not all pieces are equally strong and sometimes quite long. But the vitality, the suppleness, the adventurous and the inexhaustible vocal resilience makes San Salvador an unparalleled sextet as you do not often encounter.
San Salvador: La Grande Folie (MDC / Xango)
© Mattie Poels.