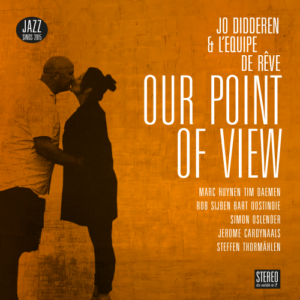 Contrabassist Jo Didderen nam met zijn L'Equipe De Rêve zes Herbie Hancock standards op. In coronatijd een behoorlijke opgave, aangezien jazz en geïmproviseerde muziek bij uitstek live-gespeeld moet worden opgenomen.
English version below
Jo Didderen werd in 2016 vijftig, mooie reden om zijn band L'Equipe de Rêve op te richten. Een octet dat hem muzikaal veel

mogelijkheden biedt. Als dan ook nog de legendarische jazz-pianist Herbie Hancock begin 2020 tachtig jaar wordt, is het duidelijk voor Jo. Zijn grote inspirator verdient een eerbetoon. In juli kreeg hij de mogelijkheid om met zijn L'Equipe de Rêve in twee dagen corona-vrije-opnames te maken in het Cultuurhuis in Heerlen. Daarna werden de urenlange opnames ge-edit in de huisstudio van trompettist en audio-technicus Marc Huynen. Het schitterende eindresultaat vinden we in zes strakke opnames die nu te vinden zijn op de nieuwe CD Our Point of view. Op dit album staan vijf composities van Hancock, aangevuld met een eigen stuk van de Limburgse bassist. De band bestaat uit drie blazers, pianist, gitarist en ritmesectie aangevuld met een percussionist. Jo Didderen koos voor stukken die Hancock opnam in de jaren '60. De tijd van de groovy jazz-periode met stukken als And What If I Don't, Jessica, Driftin' en het legendarische Watermelon Man. Opvallend is de compactheid van de muziek op Our Point of view, stukken met een warm jazz-bigband timbre. Dat komt voor een groot gedeelte door de strakke arrangementen van saxofonist Rob Sijben en Roel van Wijk. Deze arrangeurs blijven weliswaar dicht bij het origineel, maar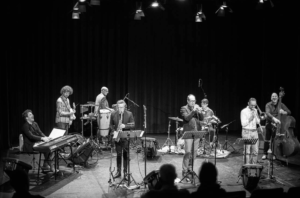 voegen toch een innig touché toe. Flamboyante solo's op de breed klinkende contrabas zijn te horen in het openingsstuk en Tell me a Bedtime Story. Fraai is ook de trombone-solo in Jessica die naadloos wordt overgenomen door de Fender Rhodes-solo, (bespeeld door de 23-jarige Simon Oslender) die vervolgens wordt overgoten met een rijke blazers-melange, gevolgd door een bassolo met gitaar en drums gelardeerd met blazers. Een volmaakte en gemêleerde bigband aanpak die bijzonder goed uitpakt. Daarna volgt het heerlijk ritmische Driftin' met een rijke sax solo van Rob Sijben en voortreffelijk piano solowerk. Dit bijzonder fijne album sluit af met de compositie La Jeunesse van Jo Didderen. Een melange van Fender Rhodes en gitaar die subtiel wordt besprenkeld met brede blazers-partijen. Mooie ritmische solo op de Fender Rhodes en een trompet-solo met een breekbare opbouw, prachtig! Contrabassist en aanjager Jo Didderen slaagt er weer in om een album af te leveren met zijn kijk op de muzikale zaak: dit keer op Herbie Hancock in het fraaie exposé Our Point of View.
Klik hier
voor de link naar een Facebook-video.
English version
Double bass player Jo Didderen recorded six Herbie Hancock standards with his band L'Equipe De Rêve. Quite a task in corona time, as jazz and improvised music should ideally be recorded live.
Click here 
for the link to a Facebook-video.
In 2016 Jo Didderen turned fifty. A good reason to start his band L'Equipe de Rêve. An octet that offers him a lot of musical

possibilities. When the legendary jazz pianist Herbie Hancock turns eighty at the beginning of 2020, it is obvious. His great inspirator deserves a tribute. In July, he was given the opportunity to make corona-free recordings in two days with his L'Equipe de Rêve in the Cultuurhuis in Heerlen (in Southern Netherlands). Afterwards, the hours of recordings were edited in the home studio of trumpet player and audio technician Marc Huynen. We find the brilliant result in six tight recordings that can now be found on the new CD Our Point of view. This album contains five compositions by Hancock, supplemented with an own piece by the bassist from Limburg. The band consists of three wind players, pianist, guitarist and rhythm section supplemented by a percussionist. Jo Didderen chose pieces which Hancock recorded in the 1960s. The time of the groovy jazz era with pieces like And What If I Don't, Jessica, Driftin' and the legendary Watermelon Man. Striking is the compactness of the music on Our Point of view, pieces with a warm jazz big band timbre. This is largely due to the tight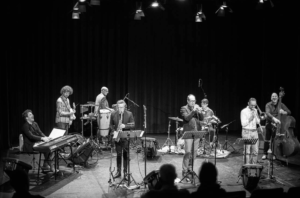 arrangements of saxophonist Rob Sijben and Roel van Wijk. They remained close to the original, but nevertheless added an intimate touché. Flamboyant solos on the broad sounding double bass can be heard in the opening piece Tell me a Bedtime Story. Also beautiful is the trombone solo in Jessica, which is seamlessly taken over by the Fender Rhodes solo, (played by the 23-year-old Simon Oslender), which is then topped with a rich brass melange, followed by a bass solo with guitar and drums laced with horns. A perfect and mixed big band approach that works out particularly well. This is followed by the wonderfully rhythmic Driftin' with a fine sax solo by Rob Sijben and excellent piano solo work. This particularly fine album closes with Jo Didderen's composition La Jeunesse. A blend of Fender Rhodes and guitar that is subtly sprinkled with broad brass parts. Beautiful rhythmic solo on the Fender Rhodes and a trumpet solo with a fragile structure, beautiful! Double bass player and booster Jo Didderen succeeds again in recording an album with his view on the music that matters: this time Herbie Hancock in the beautiful exposé Our Point of View.
Jo Didderen & L'Equipe de Rêve: Our Point of View (Inbetween Records)
Foto René Bradwolff
© Mattie Poels.