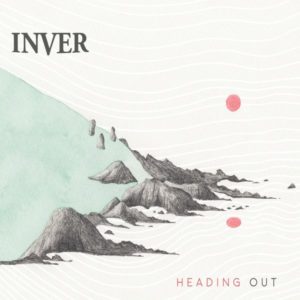 Heading Out is de titel van de hypnotiserende debuut-CD van het trio Inver uit Denemarken. Op gitaar, viool en accordeon/fluiten spelen deze bevlogen musici overwegend eigen stukken, refererend aan Keltische muziek. Melodisch, virtuoos en compact.
English version below
Het trio Inver bestaat uit de musici Rune Barslund op accordion/fluit, violist Keven Lees en gitarist Matthew Jones. Na twee jaar componeren en arrangeren heeft Inver zijn eigen transparante sound ontwikkeld. Ze spelen veelal zelf geschreven instrumentale stukken met prachtige melodieën die virtuoos worden omspeeld. Inver, een trio dus, drie muzikanten waarbij je regelmatig het idee hebt dat je naar meer dan drie instrumenten luistert. Zeer kundig vlechten zij hun arrangementen zo in elkaar dat de kleuring van de verschillende instrumenten fantastisch in elkaar grijpt. Waar de een tokkelt, speelt de andere lange noten en vice versa. Ballades worden afgewisseld met dansbaar repertoire zonder slagwerk, maar met een behoorlijke dosis swing. Fraai is de bas-voering: waar de melodie hetzelfde blijft maar de bas (op de gitaar) verandert en dus andere tonen speelt onder dezelfde melodie. Dit is bijvoorbeeld goed te horen in het openingstuk The Snag. Hierdoor verandert de kleur van de melodie wat een schitterend effect teweeg brengt. De gemiddelde luisteraar zal het waarschijnlijk niet opvallen. Deze zal genieten van drie bevlogen musici die stukken spelen waarin zowel een overtuigende melancholie als een vitale opgewektheid verscholen ligt. Een paradox die de kracht is van Inver. Schitterend!
English version
Heading Out is the title of the hypnotic debut CD of the trio Inver from Denmark. On guitar, violin and accordion / flutes these enthusiastic musicians mainly play their own pieces referring to Celtic music. Melodic, virtuoso and tight music.
The trio Inver consists of musicians Rune Barslund on accordion / flute, violinist Keven Lees and guitarist Matthew Jones. After two years of composing and arranging Inver has developed it's own transparent sound. They mostly play self-written instrumental pieces with beautiful melodies that are virtuoso played. Inver, yes a trio, three musicians who gives you the feeling that you are listening to more than three instruments. They skillfully interweave their arrangements by colouring the various instruments in way that they fit together fantastically. Where one play short notes, the other plays long ones and vice versa. Ballads are interspersed with danceable repertoire without percussion, but with a considerable dose of swing. The bass lining is beautiful: where the melody remains the same, the bass notes (on the guitar) changes. He plays different tones under the same melody. This can be heard, for example, in the opening piece The Snag. This changes the colour of the melody, creating a wonderful effect. The average listener will probably not notice it. They will enjoy these three enthusiastic musicians playing pieces with a convincing melancholy and a vital cheerfulness at the same time. A kind of paradox which is the power of Inver. Splendid!
Inver: Heading Out (GO' Danish Folk Music / Xango)
© Mattie Poels.