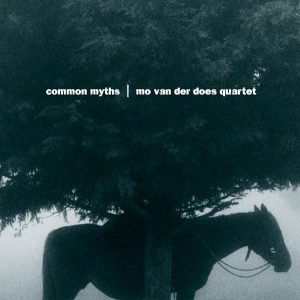 In het Nederlandse jazz-landschap is saxofonist Mo van der Does allang geen nieuwkomer meer. Hij speelde o.a. met de Hammond-legende Dr. Lonnie Smith, gitarist Anton Goudsmit en contrabassist Wilbert de Joode. Nu is er dan zijn debuut-album Common Myths dat hij opnam met zijn Mo van der Does Quartet.
English version below
Deze debuut-cd Common Myths van het Mo van der Does Quartet is een volwassen plaat. Muziek die staat als een huis. Avontuurlijk, met vindingrijke arrangementen en fraai samenspel. En bijzonder is dat er in dit kwartet geen akkoordinstrument voorkomt, dus geen gitaar, piano of orgel. De stukken zijn zo gearrangeerd dat je dat ook helemaal niet mist. Heldere composities waarbij het altsaxofoon-spel van Mo van der Does een organische eenheid vormt met de trompet van Ian Cleaver. De frisse twee-stemmigheid is adembenemend met een warm assimilerend timbre. Bovendien soleren beiden heren schitterend in verhalende vorm, geen noot teveel. Dat geldt ook voor het beweeglijke drumwerk van Wouter Kühne dat opvalt door zijn virtuoze speelsheid (met hier en daar heerlijke ghostnotes) zoals we dat horen in Circumstantial, met een obligaat-ritme op de achtergrond. Bassist Tijs Klaassen heeft een doortastende speelwijze die complementair aansluit bij het drumwerk, zoals de óp-de-tel-baspartij in het openingsstuk Opener. Het Mo van der Does Quartet speelt muziek die moeiteloos de diepte ingaat, waarbij kort en bondig het verhaal wordt verteld, zonder poespas en er-omheen-draaierij. Dat is waar het kwartet goed in is en zo voortreffelijk laat horen!
English version
In the Dutch jazz music scene saxophonist Mo van der Does is no longer a newcomer. This young musician played with the Hammond legend Dr. Lonnie Smith, guitarist Anton Goudsmit and double bass player Wilbert de Joode. Now there is his debut album Common Myths that he recorded with his Mo van der Does Quartet.
This debut CD is a splendid album. Adventurous, with ingenious arrangements and beautiful interplay. And special is that there is no chord instrument in this quartet, so no guitar, piano or organ. The pieces are arranged so that you do not miss that at all. Clear compositions in which the alto saxophone playing of Mo van der Does organicly fits with the trumpet of Ian Cleaver. They form a great organic duo. The fresh two-part voicings are breathtaking with a warm assimilating timbre. Moreover, both gentlemen perform beautifully in their solo's in a narrative form. That also applies to the lively drumming of Wouter Kühne that stands out for its virtuoso playfulness (with here and there wonderful ghost notes) as we can hear in Circumstantial, with an obligatory rhythm in the background. Bassist Tijs Klaasen stands out for his additionally playing style that fits nicely with the drums, such as the on-the-beat-bass part in the opening piece Opener. The Mo van der Does Quartet plays music that is not just music. In a tight way these guys tell their musical story without fuzzing around. That makes them so excellent!
Mo van der Does Quartet: Common Myths (Fattoria Musica Records)
Picture Amsterdam Blue Note Martin Cleaver
Picture Govert Driessen.
© Mattie Poels.