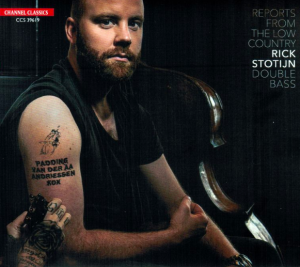 De contrabas is geen solo-instrument bij uitstek. Maar in handen van contrabassist Rick Stotijn verandert het strijk- en tokkelinstrument in een overtuigend solistisch muziekinstrument. Op zijn nieuwe album Reports from the low country speelt hij werk van vier Nederlandse componisten.
English version below
De contrabas is, zoals gezegd, een instrument dat we weinig tegenkomen als solo-instrument. Toch zijn er voorbeelden van contrabassisten die solistisch te werk gaan. De Franse bassist Renauld Garcia-Fons schrijft en speelt al jaren muziek waar de contrabas solo centraal staat. In wisselende bezettingen bracht hij CD's op de markt. Op zijn album Solo – The Marcevol Concert horen we hem zelfs volledig solo, met allerlei effecten (loop-station) en is hij te zien op bijgeleverde DVD. Ook in de jazz heeft de contrabas een grote functie, zoals de walking-bas die in de jaren '40 erg populair werd in de bebop. Vanuit deze jazz-stijl ontwikkelde het instrument tot een met solistische kenmerken. Grote jazzbassisten zijn o.a. Niels-Henning Ørsted Pedersen, Major Holley en Slam Stewart. De laatste twee zongen unisono de melodielijn van hun bassolo's mee. Een vervreemdend, maar geweldig effect. Slam Stewart een octaaf hoger dan zijn baspartij en Major Holley in hetzelfde lage octaaf, met zijn diepe basstem.

Contrabassist Rick Stotijn is een muzikaal koorddanser op zijn instrument. Een kunstenaar die op grote hoogte werk speelt van vier Nederlandse componisten. Met een ongekend gemak opent hij zijn nieuwe album met de compositie Reports from the low country van Martijn Padding. Een driedelig werk voor contrabas en symfonieorkest (met bandoneon) waarop hij acrobatisch te horen is, strijkend en plukkend met een weergaloos en melancholiek middendeel Ricochet. Naast werk van Padding horen we For the time being van Michel van der Aa. Een ritmisch extraverte en zelfs theatrale compositie waar we naast de contrabas ook pianist Hans Eijsackers, violiste Rosanne Philippens en mezzo sopraan Christianne Stotijn horen. Louis Andriessen schreef een Elegy voor piano en contrabas. Een fraaie transparante compositie waarin de contrabas schittert als een breed strijkinstrument, intenst mooi gespeeld door Rick Stotijn. Het slotwerk Four studies for double bass solo van Hans Kox bestaat uit vier korte stukken voor contrabas-solo. Spannend werk met onverwachte wendingen en ritmes waarin we Stotijn kunnen aanschouwen met een fabelachtige techniek. Hij is een overtuigend musicus met een trefzeker touché, onweerlegbaar een van de beste contrabas-solisten van zijn generatie!
English version
The double bass is not a solo instrument par excellence. But in the hands of double bass player Rick Stotijn, this string instrument becomes a convincing soloistic musical instrument. On his new album Reports from the low country, he recorded work composed by four Dutch composers.
The double bass is used rarely as a solo instrument. Yet there are a few examples of double bass players who work solo. For years now the French bass player Renauld Garcia-Fons wrote and played music especially for the double bass. He recorded CDs in varying settings. On his album Solo – The Marcevol Concert we even hear him completely solo, with all kinds of effects (loop-station), included a live-DVD. The double bass also plays a major role in jazz, such as the walking bass that became very popular in bebop in the 1940s. From this jazz style the instrument developed into one with solo characteristics. Major jazz bass players are, for example;Niels-Henning Ørsted Pedersen, Major Holley and Slam Stewart. The last two sang along with the melody line of their bass solos. An alienating but great effect. Slam Stewart sang one octave higher than his bass part and Major Holley sang along in the same low octave, with his deep bass voice.
Double bass player Rick Stotijn is a musical dancer on his instrument. An artist who play the pieces of four Dutch composers at a great height. With unprecedented ease he opens his new album with the composition Reports from the low country by Martijn Padding. A three-part work for double bass and symphony orchestra (with bandoneon) on which he can be heard acrobatically, with bow and plucking with an unparalleled and melancholy middle part Ricochet. In addition to Padding's work, we hear Michel van der Aa's For the time being. A rhythmic extrovert and even theatrical composition in which we hear also pianist Hans Eijsackers, violinist Rosanne Philippens and mezzo soprano Christianne Stotijn in addition to the double bass. Louis Andriessen wrote an Elegy for piano and double bass. A beautiful transparent composition in which the double bass shines like a broad string instrument, beautifully played by Rick Stotijn. The final piece Four studies for double bass solo by Hans Kox consists of four short pieces for double bass solo. Exciting work with unexpected twists and rhythms in which we can hear Stotijn from a great height. He is a convincing musician with an accurate touch. Undeniably one of the best double bass soloists of his generation!
Rick Stotijn: Reports from the low country (Channel Classics)
foto Stephan Vanfleteren
© Mattie Poels.